When we here at The Hockey Writers first profiled Joonas Korpisalo three months ago, he was eagerly anticipating the 2012 NHL Entry Draft.  He went into the draft in Pittsburgh as the third-highest ranked European goaltender, trailing only Andrei Vasilevskiy and Oscar Dansk.  The lanky 6'4″, 168-pound netminder was one of several Finnish players who were waiting for their chances to make their dreams come true and be chosen by NHL teams.  It is wise to say, though, that the last three months have been a complete rollercoaster ride for Korpisalo since then.  He has had some unforgettable experiences and he has had to make some tough decisions, both of which show that not only has his hockey career begun to grow but so has he as a person.
The first stop on Korpisalo's incredible expedition was Toronto for the NHL Draft Combine.  Korpisalo himself found the experience to be somewhat enjoyable.  He got to meet some of the other young talented players who were, like him, looking forward to the draft in only a few short weeks.  While Korpisalo may not have performed as well as some of his fellow draft hopefuls in some of the fitness tests, he found the experience to be rewarding in other ways.  He was there with two teammates from Jokerit, Teuvo Teräväinen and Esa Lindell, and he once again met players he contested against during the 2012 World Under-18 Hockey Championships, which were held in April.  It also gave him the chance to meet with several NHL teams and their representatives, giving them insight into his personality and what he would bring to their organizations.  The questions posed may have been a bit peculiar but Korpisalo handled each one with maturity and honesty.  He maintained his good humour and his happy-go-lucky attitude, something that showed that, above all else, he was a young man ready to make his dream come true.
*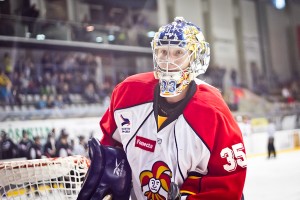 Three weeks later, Korpisalo traveled to Pittsburgh for the 2012 NHL Entry Draft.  On the first day of the draft, June 22, he watched from the seats at Consol Energy Center as his good friend Teuvo Teräväinen was chosen 18th overall by the Chicago Blackhawks.  The next day, June 23, was going to be even more euphoric.  In the second round, another good friend of his was chosen.  Ville Pokka, a stocky defenceman from Kärpät Oulu, was chosen 34th overall by the New York Islanders. He then realized that he did not have to wait much longer for the moment he always dreamed about.  With the first pick of the third round, 62nd overall, Korpisalo was drafted by the Columbus Blue Jackets. Remarkably, the Blue Jackets had also chosen another top European goalie earlier that day.  Oscar Dansk, the highest-ranked Swedish goalie, was picked with the first selection of the second round, 31st overall, by Columbus.
The happiness did not end there for Korpisalo, either.  Twelve picks after him, the Dallas Stars chose Esa Lindell, the other one of his Jokerit teammates with whom he attended the NHL Draft Combine.  In the fourth round, the Nashville Predators selected defenceman Mikko Vainonen with the 118th overall pick.  While Vainonen may have played for HIFK's under-20 team, Jokerit's biggest rival, he is actually one of Korpisalo's good friends.  The two played together on Finland's squad at the 2012 World Under-18s, a team Vainonen captained.  In the fifth round, with the 144th overall pick, Dallas selected another one of his friends, this time a fellow goaltender.  Henri Kiviaho is another tall and lanky netminder, much like Korpisalo, who is playing for KalPa Kuopio.  Four picks later, another friend and under-18 national teammate was chosen; blueliner Niklas Tikkinen was selected 148th overall by the Phoenix Coyotes. Lastly, another one of Korpisalo's teammates from Jokerit, defenceman Petteri Lindbohm was chosen in the sixth round (176th overall) by the St. Louis Blues.
All in all, the draft was very successful for Korpisalo on a professional perspective.  He found himself with hearty competition in net with Oscar Dansk.  The team solidified an already-young blueline in choosing offensive defenceman Ryan Murray second overall while picking stay-at-home defender Gianluca Curcuruto with the 182nd overall selection.  London Knights forward Josh Anderson and Rögle BK winger Daniel Zaar were also drafted — 95th and 152nd overall, respectively — to aid in the offence.
The draft also gave Korpisalo the opportunity to have a North American press conference.  Not one for speaking English that much, Korpisalo handled things very professionally.  (In fact, his tie matched his jersey quite well, despite his neckwear not having any red stripes.)  While he admits that he was beyond nervous, he surely showed during one interview the trademark calmness that he has in the net while he plays.
*
Not long after being drafted came another stop on Korpisalo's wild adventure.  He found himself in Chicago and, as he mentioned to me, he found himself remarkably bored.  Being in a city with over 2.7 million people — especially when one is from a city of only 83,192 — was certainly a paradigm shift for Korpisalo.  He did his best to keep himself occupied for the few days he was in Illinois before making the six-hour trip to Ohio for Blue Jackets development camp.
Before camp began came another draft on June 27, the 2012 CHL Import Draft.  Korpisalo's father Jari played one season in the QMJHL in 1985-86 with the Granby Bisons.  He knew that he was going to be chosen but he did not know by whom.  He watched as fellow Blue Jackets prospect Oscar Dansk was picked third overall by the OHL's Erie Otters, making the Swedish netminder the third import goalie for them in the last five years, joining Jaroslav Janus of Slovakia and Ramis Sadikov of Russia.  Korpisalo admitted to me that he was hopeful that he, too, would come to a team in the OHL.  Something, however, went awry.  Two picks after Dansk, with the fifth overall selection, Korpisalo was chosen by the WHL's Prince George Cougars.  The Cougars knew that they needed some stable goaltending for the 2012-13 season, especially with the graduation of 2012 team MVP Drew Owsley.  Korpisalo was not impressed.  This was not a team he had envisioned choosing him.  He decided that he was going to wait to decide his course of action for the 2012-13 campaign, which also had him with an offer to play in the Mestis, Finland's second-highest professional league.
Despite his disapproval of being chosen by a team he felt circumvented his wishes, Korpisalo did have something to be happy about during the CHL Import Draft.  Several players he knew from back home were also chosen.  The Kingston Frontenacs chose two of his good friends and under-18 teammates; Mikko Vainonen was picked right after Korpisalo with the sixth overall selection while Savonlinna native Henri Ikonen was chosen 66th overall.  Fellow goalie Eetu Laurikainen, who hails from Jyväskylä, was picked 20th overall by the Swift Current Broncos, a team hoping to not have a repeat of what happened the year before with Washington Capitals prospect Steffen Kent Søberg, the first Norwegian goaltender ever chosen in the NHL Entry Draft.  With the 42nd overall pick, the Peterborough Petes chose Jonatan Tanus, a Kuopio native who captained Finland's team at the World Under-17 Hockey Challenge.  With the 45th overall selection, another Jyväskylä native, Samu Markkula, was picked by the Barrie Colts.
To keep his mind off of the Cougars situation, Korpisalo threw himself into performing well at the Blue Jackets development camp.  His roommate at the camp was 22-year-old Swedish defenceman Anton Blomqvist, a 2009 draft pick, who is going into his third season with the AHL's Springfield Falcons this coming year.  (Blomqvist's two younger brothers, Albin and Axel, are going to play together in the WHL this season for the Lethbridge Hurricanes; Albin is going into his second season while Axel is going into his first.)  While at camp, Korpisalo got the chance to also meet the other two young netminders on Columbus' depth chart, Anton Forsberg and Martin Ouellette.  He also got to meet several of the other prospects in the system, including Ryan Murray, Cameron Atkinson, Gianluca Curcuruto, Dalton Prout, Dalton Smith, Boone Jenner, Petr Straka, Austin Madaisky, T.J. Tynan and Seth Ambroz.  All in all, it was a great experience for Korpisalo, who knew the ferocity of the competition but also the importance of staying level-headed and working hard.
*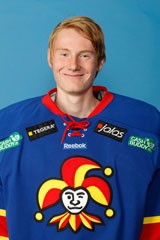 Finally, Korpisalo's long wild escapade landed him back home in Pori, Finland.  He was still uncertain about where he was going to play during the 2012-13 season.  He and his agent, Bill Zito, were looking to find a solution to the dilemma.  While at home, though, Korpisalo finally got the opportunity to just be any other 18-year-old.  He did not worry much about hockey.  He spent time with his family and friends, including good pal Atte Tolvanen, a fellow 1994-born goalie who plays for Ässät, the team Korpisalo's father Jari starred on for many years during his playing days.  Korpisalo enjoyed the remainder of his summer vacation, knowing that he had two more years of school ahead of him.  He relaxed, went to concerts, spent time with people who matter.  Finally, for the first time in almost three months, he could just be a typical teenager.
After much contemplation (and attempts at convincing on my part), Korpisalo finally made his decision in late August.  He chose to stay home and play in Finland.  He was guaranteed yet again the #1 job on Jokerit's under-20 team, who play in the Jr. A SM-liiga; he could once more tutor younger netminders, including incumbent backup Kasimir Kaskisuo.  Even more remarkably was his preseason début with Jokerit's SM-liiga team.  He split a shutout with Eero Kilpeläinen, himself a former CHL import goalie.  Korpisalo knew that the chances of making the SM-liiga full time was not likely for the 2012-13 campaign, especially with Kilpeläinen splitting the netminding duties with Edmonton Oilers draft pick Frans Tuohimaa.  Despite being three years younger than Toni Tammi, and five years younger than Jani Kautto, Korpisalo has also found himself given an opportunity to be the #1 netminder for Kiekko-Vantaa, a team in the Mestis only a half-hour away from Helsinki, where Jokerit is based.
The Prince George Cougars are still holding out on hope for Korpisalo's possible arrival.  They recognize that, at the moment, the young Finnish netminder may not come.  They have two young goalies hoping to make a statement this season in the event that Korpisalo does not report at all.  1994-born sophomore Devon Fordyce appeared in 14 games as Drew Owsley's backup last season, registering a 4.30 goals-against average and an .875% save percentage.  1995-born rookie Brett Zarowny had a 2.05 goals-against average and a .924% save percentage in 18 games with the Leduc Oil Kings AAA in the Alberta Midget Hockey League last year.
*
It has been a significant whirlwind of events since June for one of Finland's up-and-coming top goalies. Joonas Korpisalo is going to have success wherever he plays, whether it is in his homeland or in British Columbia, but only as long as he is happy with a decision he has made on his own.