With December quickly coming to an end, that only means one thing: the 2015 NHL Winter Classic is only a few days away and two of the biggest captains in the league will be going head-to-head. Chicago Blackhawks' Jonathan Toews will be looking for redemption after his team's last Winter Classic game in 2009 while Washington Capitals' Alex Ovechkin will just be looking to keep his team's winning record going. Love either of them or hate them, they definitely will be a great pair to watch battle it out on the ice with the skills and experience they both bring to the table.
Toews is serious for the best
There's no doubt that Toews was destined to be captain for Chicago. He's been wearing the "C" since he was 20-years-old and has been holding onto it ever since. Being part of the Blackhawks franchise comes with a lot of responsibility factors and two of those most important factors are dignity and poise, both of which Toews carries greatly.  Everyone knows that "serious" is always used to describe him as a person but with all that comes with wearing that special letter, it's just expected. With a combative playing style and always showing how he's wise beyond his years, there's no mystery where his success comes from and how he'll be using these talents to try to triumph over the Capitals on Jan. 1.
Toews is younger than Ovechkin but that doesn't make him any less effective. He's been stepping up to the plate against guys even in their thirties for a while on and off the ice. As one of the youngest captains in NHL history, he paved his name along the way with things like being nominated for the Calder Memorial Trophy and becoming the youngest player to become part of the Triple Gold Club.
The Blackhawks' first Winter Classic game against the Detroit Red Wings was close but not close enough. Toews didn't make any goals or have any major stand-out scores but he did have one assist at the end of the game. Being captain doesn't mean being a puck hog and being a complete jerk to win at any cost. Even with only one assist throughout the whole game, he helped his team find chances to shoot and score which was why Chicago was able to hold on until the very end. Pride is also one of the words always associated with Toews and with a loss like that in 2009, he will be on the prowl to find ways around the Capitals and especially their captain to make sure they win the second time around.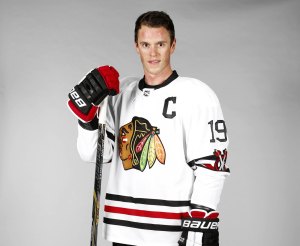 Ovechkin's all grown up
Just four years ago, the Capitals went up against the Pittsburgh Penguins for their first Winter Classic game and set a high standard for themselves by winning. For their captain to lead the way and help earn that "W" in just their first game, he probably already has an idea of what kind of outcome he wants against the Blackhawks. Ovechkin is going to be a tough customer to go up against Toews just because four years really makes a difference on a player's growth, especially when he already had the toughness and skill to begin with. Back when Bruce Boudreau was the Capitals' coach, he called the captain's playing style "reckless" but a few things or two have changed since then to show just how much he deserves to be able to wear the "C" proudly. Ovechkin loves to score, loves his team and especially loves winning so much that maybe even Toews and his right-hand men won't even be able to budge the Caps.
The Capitals saw something in the young Russian player when he first started playing as a rookie with them that showed just how much of a special asset he was going to become. After the final season of his rookie contract, Ovechkin signed a 13-year deal worth a whopping $124 million that comes out to $9.5 million a year and he definitely earned it with all of the hard work and passion he has put in. He was awarded the Lester B. Pearson Award, the Calder Memorial Trophy and has numerous other kinds of recognition.
The 2011  Winter Classic is still a big feat for the Capitals even though the captain didn't score any points. He kept his team going and helped them out with opportunities to keep their momentum going long enough to beat their rivals. Just like Toews, Ovechkin is all about pride and gritty work so don't plan on him losing this time around or at least going down easy.
Two top dogs
Of course there's a very distinct line between the fans about which captain they love more and how they are predicting the win to turn out for their favorite team on New Year's Day but both star players have proved to be more than just champions. On and off the ice, they have the talents to not only taken their teams above and beyond, but also to be each other's toughest opponents when the big day finally comes around. Lots of rough and meticulous playing will have to be used for both players just to get a chance to get past each other but there's no doubt they'll be one of the biggest parts in making the yearly game even more memorable.
I'm from the sunny sides of Anaheim, CA. I currently go to college and am majoring in journalism. I talk hockey in other places so check out my Twitter.