On the eve of the beginning of the tournament, the US team is primed and ready to make a serious run at gold. This forward corps is as deep as it's ever been, and the US has looked strong in their pre-tournament games, a 10-3 win over Sweden and 5-3 win over Germany. They open the tournament on the 26th with a game against Finland. Jack Eichel has been named captain, with Will Butcher and John Hayden being named assistants.
The cuts that brought the team to their current roster were the following: Forwards Michael McCarron, Adam Erne, Jeremy Bracco, and Cole Cassels. Defensemen Michael Downing, Jack Dougherty, and Steve Santini.
Below are the team's lines in their most recent game, with a player by player breakdown of the final US WJC roster.
Team USA F lines vs. SWE: Bracco-Eichel-Tuch; Milano-Matthews-Schmaltz; Motte-Larkin-Fasching; Wood-Compher-Hayden; De Leo.

— Chris Peters (@chrismpeters) December 23, 2014
The Forwards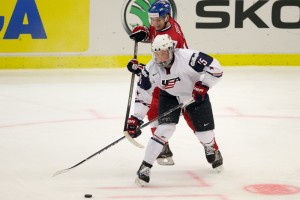 C Jack Eichel (NHL Rights: 2015 Draft Eligible): By now, we've all heard about the impending McDavid-Eichel heavyweight matchup that will occur this tournament. Eichel will be the driving force behind the US offense, centering the top line and controlling the power play.
His unreal speed and hands will be on full display, as many hockey fans get their first look at him in a game. Look for him to use his size and strength to protect the puck, which have led him to leading the NCAA in points at the break.
RW Alex Tuch (NHL Rights: Minnesota Wild): Before suiting up for the BC Eagles this year, Tuch had been a linemate of Eichel's for two years. The chemistry they have built up is palpable, and it's shown so far. Tuch had a hat trick in the win over Sweden when reunited with his old teammate. He has great size at 6'4″ 220, and possesses very soft hands for a player of his size. He is a classic power forward with a laser of a shot.
LW Sonny Milano (NHL Rights: Columbus Blue Jackets): After electing to go to the OHL instead of play for Boston College, Milano hasn't missed a beat. He's put up 31 points in 20 games, including 23 assists. Milano has slick hands, is very shifty, and is one of the most purely talented offensive players on the US roster. He's chiefly a pass-first player (he had 5 assists against Sweden), making him a good option to play with a goalscoring center. Last year it was Jack Eichel with the USNTDP, and at this tournament it will be 2016 eligible Auston Matthews.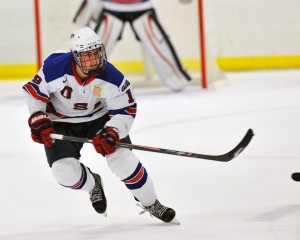 C Dylan Larkin (NHL Rights: Detroit Red Wings): A very versatile player, expect US coach Mark Osiecki to deploy Larkin in a number of roles. He's a polished two-way player that plays with some grit, and has good hands to go along with it. He's capable of playing any forward position as well. He's been a point-per-game player for the Michigan Wolvernies this season, meaning he will offer some useful secondary scoring. He's a prime candidate to be on a shutdown line when the US faces an elite offensive talent.
LW Tyler Motte (NHL Rights: Chicago Blackhawks): One of four Blackhawks prospects to populate the US forward corps, Motte is a player that brings a little bit of everything to the table. He's capable of playing on both special teams units, has good wheels, and solid hands. For the majority of camp, he has found himself as the left wing with Eichel and Tuch, and there's a decent chance he'll be in that role when the tournament begins.
C Auston Matthews (NHL Rights: 2016 Eligible): Matthews is currently the odds-on favorite to go #1 overall in 2016, and some believe he's in the same class as Eichel and McDavid. He already has NHL size at 6'2″ and nearly 200 pounds, and is producing points at a similar clip to Eichel's pace last year. He is able to do everything at top speed, is very evasive, and has deadly finishing ability that earned him 2 goals against the Swedes. He and Eichel are a downright scary 1-2 punch at center.
RW Nick Schmaltz (NHL Rights: Chicago Blackhawks): Typically a center, Schmaltz has moved to wing this tournament because of the US depth down the middle. Similar to Milano, Schmaltz is a pass-first player with quick hands that uses his vision and smarts to find teammates with passes. He and Milano are going to be feeding Matthews the puck all tournament. The line could end up being just as potent as Eichel's if the Swedish game was any indication.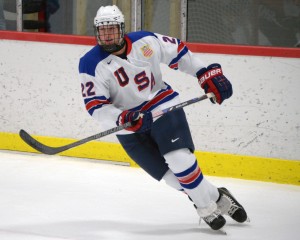 RW Hudson Fasching (NHL Rights: Buffalo Sabres):
One of two returning forwards from last year's team, Fasching brings a great combination of size, skating ability, and hands. He's extremely difficult to knock off the puck thanks to his large frame, and is very good along the boards in the cycle game. His scoring pace for the University of Minnesota has been lower this year compared to last, but he should still bring some depth scoring to the squad.
LW Miles Wood (NHL Rights: NJ Devils): A real surprise selection to the US squad, Wood has been plying his trade at prep school Noble & Greenough this year. The prep circuit is a number of steps below in terms of competition compared to the NCAA, CHL, and USHL, where the rest of the team has been playing. However, Wood showed the coaching staff enough to make the team. Wood is a finesse player that has strong hands and plays a smart game.
RW John Hayden (NHL Rights: Chicago Blackhawks): Hayden makes the third US right wing (Tuch, Fasching) that's over 6'2″, 200 pounds. He plays a similar game to the other two, using his size effectively on the forecheck and in front of the net. He doesn't have the hands that Tuch has, but gets to the dirty areas to produce points. He'll be useful in a classic crash-and-bang 4th line role.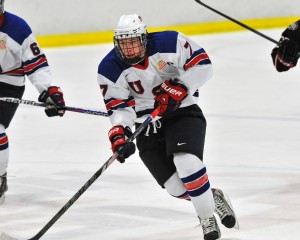 C JT Compher (NHL Rights: Buffalo Sabres):
A similar player to his University of Michigan teammate Larkin, Compher is a Swiss Army Knife of a player. He's capable of playing in a number of different roles, plays with a high intensity motor, and is a 200 foot player. Do not be surprised if he's moved to wing alongside Larkin to form a shutdown duo when the US needs to match up against a talented opponent. He scored on a shorthanded breakaway against the Swedes, and should be a fixture on the PK throughout the tournament.
LW Anthony Louis (NHL Rights: Chicago Blackhawks): Standing at a diminutive 5'7″ 150 lbs, Louis has been defying the odds his whole life. To be a productive member of the team, he'll need to utilize his speed, skill and creativity to produce offense because his play away from the puck is not his strength. He's very shifty and tough to cover due to his size.
C Chase De Leo (NHL Rights: Winnipeg Jets): Another diminutive forward (5'9″179 lbs), De Leo brings a similar shifty offensive game to the table. He's been over a point-per-game player the last two years for the Portland Winterhawks, and is a strong playmaker from the center ice position. Unlike Louis, De Leo is a solid two-way player that has been featured on the penalty kill in the pre-tournament matchups.
A Summary: The two biggest things that stick out with this group is that they are big (with two exceptions in Louis and De Leo) and they are very fast. USA Hockey has been preaching size and skating the past few years, and those themes ring true with this corps. The top six is extremely talented, and could be the best in the entire tournament.
The Defense
Team USA D pair vs. SWE: Butcher-Carlo; Hanifin-McCoshen; Werenski-DeAngelo; Collins. Goalies: Demko, Halverson (Nedeljkovic sits)

— Chris Peters (@chrismpeters) December 23, 2014
Will Butcher (NHL Rights: Colorado Avalanche): A returner that put up 5 points in 5 games in last year's tournament, Butcher will be relied upon again for his offensive abilities and skating. Butcher is very mobile, and relies upon his strong positioning and smarts to defend well in his own zone. He was a powerplay quarterback for the team last year, and will likely fill that role again this year.
Noah Hanifin (NHL Rights: 2015 Eligible): The odds-on favorite to go #3 overall behind Eichel and McDavid, Hanifin is a future stud on the blueline. His best assets are his skating ability, smarts, and decision making. He is incredibly calm and poised with the puck, even under fire, and rarely makes mistakes. He'll be playing big minutes in all situations as a 17 year old in what is usually a tournament dominated by 19 year olds.
Ian McCoshen (NHL Rights: Florida Panthers): A teammate of Hanifin's at BC, McCoshen was on the team last year but did not play a big role, finishing the tournament as the 7th defenseman. He's a solid overall defenseman that doesn't stand out in any particular area. He's a good skater with solid size at 6'3″ 218, can move the puck, and keeps things simple in his own zone.
Zach Werenski (NHL Rights: 2015 Eligible): A smooth skater with strong offensive instincts, Werenski accelerated to be able to attend the University of Michigan this fall. He's been a strong performer there so far, with 12 points  in 15 games. He's a very tough competitor that plays effectively in all scenarios. He's expected to be taken in the top half of the first round in June, perhaps in the top 10.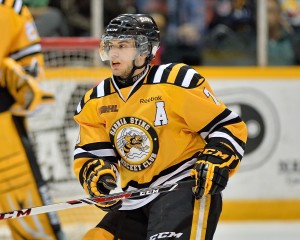 Anthony DeAngelo (NHL Rights: Tampa Bay Lightning): A defenseman with incredible offensive skills and awareness, DeAngelo plays more like a 4th forward than a defenseman. He loves to rush the puck, and is very confident out on the ice. The defensive side of the puck is the weakest part of his game, where his size and lack of physicality tend to hurt him. As long as he can minimize the mistakes in his own zone, he will be a very valuable weapon for the US, especially on the power play.
Ryan Collins (NHL Rights: Columbus Blue Jackets): Already standing at 6'5″, Collins makes his mark on the game with his physicality in the defensive zone. He has limited offensive upside, but can make a good first pass and is a good skater considering his size. In his own zone, he's a mean physical player that uses his size and reach to defend very effectively.
Brandon Carlo (NHL Rights: 2015 Eligible): Carlo is a similar player to Collins, but brings a little more offensive upside to the table. He makes the simple, smart play when operating in his own zone and plays a physical style. He's not as polished as Collins because of his age, but would fill the same type of role.
A Summary: Similar to the forwards, the defenders are both big and can skate very well. The last cut on defense was made on Christmas day, as Steve Santini's surgically repaired wrist did not heal well enough to be able to play. That's a bit loss for this US defense, as Santini is a lockdown defender in his own zone, and would have brought valuable experience. Now, the youngsters will be relied upon to step up and perform even more.
The Goalies
Thatcher Demko (NHL Rights: Vancouver Canucks): The last of four BC Eagles on the team (Tuch, Hanifin, McCoshen), Demko appears to have a strong hold on the starting job. He was the 3rd goaltender on the team last year, but did not get into game action. He's been strong in his sophomore season at BC, and should give the US some of the best goaltending in the tournament. He's big, athletic, and has the looks of a future starter in the NHL.
Alex Nedeljkovic (NHL Rights: Carolina Hurricanes): Playing for the Plymouth Whalers this year, Nedeljkovic has seen his GAA go up, and save percentage go down this season compared to last. He doesn't have ideal size, but makes up for it with strong positioning and athleticism.
Brandon Halverson (NHL Rights: New York Rangers): In Sault Ste. Marie, Halverson has made slight improvements on his GAA and save percentage this year. He's a big goalie at 6'4″ that loves to play the puck and help out his defense. Right now, he relies chiefly on his size and athleticism to make saves, as his positioning could use a little work.
A Summary: Barring disaster, Demko should be in net for every game of consequence in the tournament. It's unclear who will dress as his backup, and who will be in the stands as the #3 goalie. Nedeljkovic backed up against the Germans, and Halverson backed up against the Swedes. There's a decent chance whoever the backup is will play against Germany, but that will likely be their only action.
Bill Schoeninger is a Philadelphia Flyers writer and current Boston University student studying business. Coming to THW from Hometown Hockey, Bill follows and writes about the Flyers, Boston University Terriers, and NHL Draft prospects. Follow him on twitter @BSchoeninger17