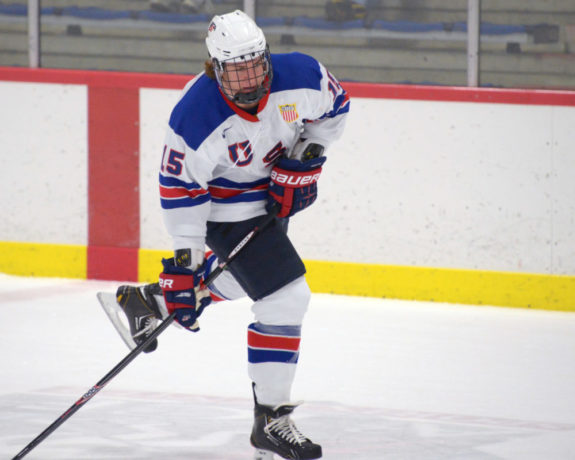 John Hayden THW Close-Up:
Date of birth:  February 14th, 1995
Place of birth:  Greenwich, Conn
Ht:  6'3″   Wt:  221
Shoots:  Right
Position:  Center / Right Wing
NHL Draft Eligibility: 2013 1st year eligible
Twitter:  hayds51
THW The Next Ones Ranking (January 2013):  72
Other Rankings (If available)
·                       THW War Room Rankings (April):  57
·                       ISS:  Not Ranked
·                       Future Considerations:  Not Ranked
·                       Craig Button:  Not Ranked
·                       CS Final Rankings:  (29th among N.American skaters)

***
[NHL 2013 Draft Guide – The Next Ones Draft Headquarters: Your quintessential draft resource]
***
Hayden Heads Up Slowly
John Hayden will be entering Yale University in the Fall. He still has room for moving up in the draft because Hayden is a grindstone type of player with size and a knack to get to the dirty areas. There are still some who are not sure of his true talent ceiling, hence the hesitation in moving him up further along the draft board. His March featured nine points in eleven games as it seemed the Center was starting to find his offensive way. There are several aspects of his game that still concern some scouts. However, when the rest of his game catches up, Hayden is going to be quite the handful for the opposition.
Something that has to be said also is that the future draft prospect carries a heavy workout load. The fact that he wanted to stay close to home is an indication of strong family ties and the kind of person he is. His work ethic and leadership are things that have to be noted. Hayden will defend his teammates and can more than handle his own as evidenced by his ability to fight.
Where Will He End Up in June:
This is a rough call but it does seem that John Hayden may rise just a little bit more. Some have him pegged in the late second or early third round. However, if a team took a shot at him in the forties or fifties, I would not be surprised.
Scout's Honor:
The right-shooting center has seven goals and 20 points in 43 games for Team USA this year. Those might not be eye-popping stats until you consider that the Under-18 squad goes head-to-head against older players in the NCAA ranks, as well as more seasoned skaters in the USHL.
Kirk Luedeke — Scout for NEHJ and NYHJ
***
John Hayden, a forward blessed with great size (6-3, 216) and physical strength, has shown a willingness to win battles and employ an effective net drive. The Americans will utilize Hayden's power forward game while he attempts to show scouts that his soft hands and offensive skills are worthy of being drafted into the National Hockey League. Hayden found the back of the net 16 times and added 16 assists for 32 points in his draft year.
Brendan Ross — The Hockey Writers
Hayden is an energetic and hard working player, Hayden is immensely respected in the locker room by his teammates. Has the skill to make plays and contribute offensively, he draws very strong comparisons to Philadelphia's Scott Hartnell.
Aaron Vickers — Future Considerations
Statistics:
Bio/Interview(s)/Link(s):
USA Hockey HQ talks to John Hayden
Yale coach draws John Hayden to school.
International Tournaments:
Hayden had one point in five games for Team USA in the WHC-17 tournament last year.

He then produced two points in seven games for the U-18 team this year.

Hayden also participated in the Five Nations Cup and the Four Nations tourney in Ann Arbor.
ETA :
3-4 years
Risk-Reward Analysis:
Risk = 2/5   Reward =3 /5
NHL Potential:
Top six forward in time, potential PP1 or PP2 presence.
Strengths:
Shot

Leadership

Work Ethic

Above average hands

Physicality (Fights too)

Competitiveness

Starting to find offensive game
Flaws/Aspects He Needs To Work On:
Skating

Two way presence

Has tendency to almost be in awe of level of competition

Must continue to hit the net, hit the net, hit the net

Must watch more video to develop game.
Fantasy Hockey Potential:
Offensive = 7/10   Defensive = 6/10
NHL Player(s) Comparison:
– A guy that looks like James Van Riemsdyk crossed with a little bit of Dave Andreychuk in him at least from a size potential standpoint. Some have also said Scotty Hartnell as well.
– Cross-sport comparison: Vernon Davis — San Fransisco 49'ers Tight End. Hayden has that raw power and ability to move fast when the momentum is going.
Video(s):
Off The Iron (Interesting Notes):
Hayden is a New York Rangers fan but has a certain attachment to the Colorado Avalanche stemming from his days of living in Denver. Joe Sakic was a player he looked up to even though he likes to model himself as a Brandon Dubinsky type.

Has the ability of proficiently punch from both the southpaw and normal stances.
***
THW's The Next Ones prospect profile template design architect: Chris Ralph
Simply a hockey writer who is a jack of all trades. No question is too big or too small and in fantasy hockey there is no such thing as a stupid question. Now a proud, accredited member of the FSWA. I am also a New Jersey Devils lead writer, prospects writer, humorist, and so much more. You can find me on Twitter at @ChrisWasselDFS