The tale of Scott Laughton's professional career, like most young players in their early 20s, has been battling the beast of inconsistency. As a freshly turned 22-year old now with two professional seasons under his belt (one full NHL), maturity will start to be on his side as he continues to grow and develop into the player the Philadelphia Flyers envision him being.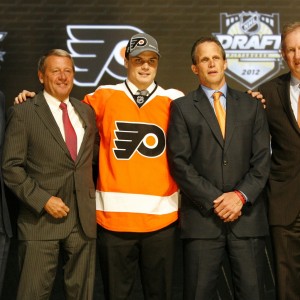 Laughton was selected 20th overall by the Flyers in the 2012 NHL Entry Draft. Laughton possesses a number of intriguing qualities in a player that includes a combination of speed, grit, puck skills, along with a quick and accurate release.
However, it's one thing for a player to have these said qualities, it's another animal to put it all together at the NHL level.
Laughton was a two-way center in his Canadian Junior days and by the end he was an elite offensive force, finishing his final season in juniors with 40 goals and 87 points in only 54 games.
The Flyers have believed all along he has the skills to be a potential top-six forward with two-way ability. However, the facts are that he has struggled mightily in his own zone playing center, so far.
When he was called up after a scorching start in the AHL to begin the 2014-15 season, coach Craig Berube was on record to saying he didn't want him on the team playing a fourth line role, because he's a scorer.
Berube played him as that, and Laughton found himself playing in a top-six role with power-play time. Then the first speed bump of his pro career hit him, and hit him hard.
He got caught with his head down and suffered a devastating concussion at the hands of Washington Capitals defenseman Matt Niskanen.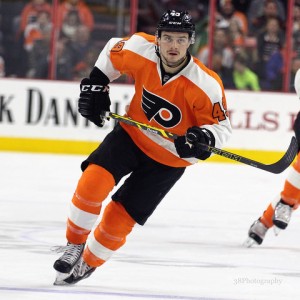 From there, Laughton never seemed to get the groove back that he had prior to the injury.
He often looked a shell of himself, found himself playing fourth line minutes, which eventually led to him finishing the season with the Lehigh Valley Phantoms.
The only thing Laughton could do was learn from the injury and set out to get his spot back on the team out of training camp for the 2015-16 season.
He did just that, however the top-six role he found his groove under then-head coach Berube wasn't his anymore.
Laughton saw himself playing third and fourth line minutes most of the season under new head coach Dave Hakstol, which eventually led to him being a healthy scratch towards the end of the year.
After finishing with 21 points in 71 games as a 21-year old in his first full NHL season, there's no need to be discouraged. Not everyone is an NHL superstar, and most of the time even the best players in the NHL need a few years to become men, grow into their bodies, and learn how to be a pro.
Scott Laughton / Scott Laughton wants to be a top-six forward as early as next https://t.co/QbQ43rodc5 #NHL #PHI

— Philadelphia Flyers (@Flyers__News) May 8, 2016
There's no reason to think, with two seasons under his belt, learning how to play in the league, and with the skills he possesses, Laughton can't turn into a player that contributes 40-50 points per season for the Flyers.
Glen Stricker is a Temple University graduate with a degree in Media & Communication. He is the Lead Writer for the Philadelphia Flyers for The Hockey Writers as well as the social media coordinator and contributor for @PHLFlyersNation