Relocation and expansion is becoming a far more popular topic in the world of sports with the NHL recently deciding to expand to Las Vegas, and the NFL relocating the St. Louis Rams back to Los Angeles.
The ability to relocate teams has made its way into titles like Madden NFL and NBA 2k, but it's now set to make its debut in the EA Sports NHL series with NHL 17. Fans will be able to move teams to one of a number of cities in the newly revamped Franchise Mode.
Players will have over 15 cities – including Hartford, Las Vegas, Quebec City and Milwaukee, among others – to choose from when it comes to moving a team. However, it won't be like relocating in Madden NFL where you can just pick a city and go. There's a lot more to the feature in NHL 17.
"It has owner approval," NHL 17 associate producer Andy Agostini said. "You have to ask the owner if he'd even be interested in moving. From there you'd move over to the different cities that you might be able to move to. Some will be interested, and some won't."
[RELATED: How the ECHL Joined NHL 17]
The game will feature dynamic city interest when it comes to relocating, meaning that no Franchise Mode, team or year will see the same cities have the same interest in bringing an NHL team to their locale. If a city like Hamilton is interested in you relocating the Columbus Blue Jackets one year, they may not necessarily be ready for them the next year, and vice-versa.  There is also negotiating that needs to be done in order to make a move work.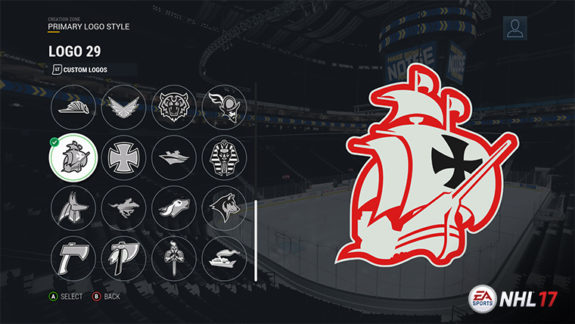 "You'll be able to negotiate with a city based on lease and how much money and concessions you're going to get versus the city," Agostini said. "There's about five or six items you can negotiate on."
After you negotiate with a city and come to an agreement, players will have the ability to go negotiate with other cities to make sure they are truly getting the best deal to leave their current city. Just because you've agreed to a deal with a new city doesn't mean you're stuck, it's a nice way to make sure you aren't hurting your team's future too much just for the sake of moving.
"You can have that deal in place and on hold, and you can go look at another city to see how many cities you might have a choice from to move," he said. "Whatever you decide at the end ultimately effects your bottom line going forward. It can either hurt your profits long term or result in becoming more profitable than ever."
After making the decision to relocate and settling on a city and deal, players will get to create their jerseys and arena using the most in-depth customization set the series has ever seen. From the style of the seats to what fans will be able to buy at the concessions, everything is yours to change and upgrade in NHL 17.
Michael is a former Managing Editor for The Hockey Writers. He's covered the Buffalo Sabres, along with the NHL in general, for various outlets since 2009. His work has been featured on outlets such as Yahoo, Sports Illustrated and Fox Sports.