The Edmonton Oilers are riddled with issues.
Scarce on defensive depth and skill, weak in terms of bottom line wingers and essentially no goaltending depth. These are just a few deficiencies which the Oilers must address if they hope to re-gain relevance in the NHL.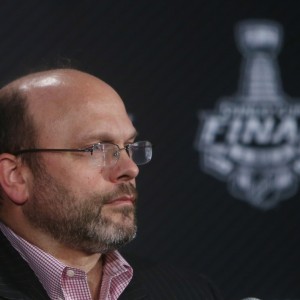 However, General Manager Peter Chiarelli is well aware of the challenges facing his team, and understands than in order for Edmonton to contend for a playoff spot, he must be adequately address these glaring problems, the most prominent of which being defense. With an abundance of top-six forwards and young skill, a trade for impactful defensive help is seemingly imminent, while the Oilers are fortunate to have recently acquired or developed a number of versatile and capable bottom-six forwards who will provide Edmonton with improved depth.
Yet, the one area of concern which the Oilers are, and likely plan to do little to address in the near future is their goaltending department. With Cam Talbot locked up to a contract extension as the definitive number-one, and promising prospect Laurent Brossoit waiting in the wings, all would appear well in the Oilers crease.
But if one thing is true in life, especially with the Oilers, it is that if something is too good to be true – it probably is.
Crease Complications
Upon first glance at the Oilers current goaltending situation, all looks relatively well.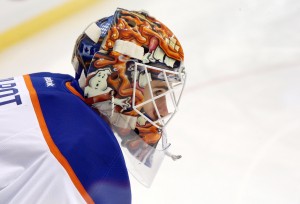 Talbot has been sensational in 2015-16 behind what is quite likely the League's worst defense, and after dominating the AHL on a consistent basis, top goaltending prospect Brossoit looks ready to legitimately challenge Talbot for the starting role.
A goaltending battle in Edmonton? WHAT?
But, let's pause there. Because unfortunately, we have to look at the specifics, and this is where things start to take a turn.
Recently, the Oilers signed Talbot to a three-year contract extension at the price tag of $12.5 Million, or what is a $4.16 Million cap hit over the next three seasons. Let's not sell this contract short for what it is – a potential steal for the Oilers, especially if Talbot continues to play at the exceptional level which he has to date.
Similarly, the Oilers also inked Brossoit to a two-year extension worth $1.5 Million, or a cap hit of $750 Thousand. If he can consistently perform at the same level in which he has in a small sample size, the Oilers could have two terrific goalies locked down at relatively no financial burden.
However, that is where the gravy train ends, as other than Talbot and Brossoit, the Oilers are amazingly short of goaltending talent and prospects.
The Poor Prospect Pool
In case you'd like to argue the opposite, let's take a quick look at the Oilers' current cast of goaltending prospects.
Eetu Laurikainen is the Oilers top goaltending prospect, and was signed by Edmonton in May of 2015. Following parts of two seasons playing in the SM-liiga, a European Elite Hockey League, the Oilers brought the then 22 year-old back to North America, as he had played two seasons in the WHL with the Swift Current Broncos.
In his first professional season, Laurikainen's playing time has been limited, and his play can best be described as average in that time, holding a .900% SVP and GAA above 3.00.
Acquired by the Oilers in the trade which sent Anders Nilsson to the St. Louis Blues, Niklas Lundstrom is also a 23 year-old with considerable time spent overseas, in particular parts of six seasons in various levels of Swedish Hockey. A former fifth round pick by the Blues in 2013, Lundstrom spent the majority of his time over the past two seasons in the ECHL. Since coming to the Oilers, Lundstorm has played with the Bakersfield Condors, where his SVP has been under .900% and his GAA has hovered near 4.00.
Drafted by the Oilers in the fourth round in 2014, Nagelvoort is currently in his third season with the University of Michigan, who play in the Big-10. While his freshmen season was spectacular, posting a 2.20 GAA and .929% SVP, Nagelvoort's play has dropped off over the past two seasons, as in his Junior year, he carries a GAA of 3.00 and SVP of .893%.
If these are the Oilers best goaltending prospects, and I can assure you they are, Edmonton could be in big trouble in a couple of years if Talbot hits Free Agency and signs elsewhere while Brossoit fails to pan out.
The Good Ol' Draft
Given the Oilers lack of goaltending prospects who, in reality, have little chance of one day becoming a consistent number-one in the NHL, it appears as though Edmonton will once again turn to its good friend, the NHL Entry Draft.
The annual draft has been more than helpful to the Oilers over the years, and this time Edmonton must turn to the event with hopes of landing a legitimate goaltending prospect. Fortunately for the Oil, there are a number of players, this draft and in 2017, who could blossom into quality starting netminders.
2016 NHL Entry Draft
Ranked 6th best among North American goalies in the NHL Mid-Term Rankings, Tyler Parsons is a 6'0″, 170 pound goaltender who plays for the London Knights of the Ontario Hockey League. Following an average rookie season, Parsons' play has improved drastically as the Knights' full-time starting netminder, leading the way with a .920% SVP and 2.30 GAA, marks good for second best, and best League-wide.

Parsons is projected to be a third-round selection in the 2016 Draft, where the Oilers coincidentally hold three picks.
The top ranked North American goaltender in the NHL Mid-Term Rankings, Carter Hart is a 6'0″, 165 pound netminder playing in his third season for the Everett Silvertips of the Western Hockey League. Coming off of a strong rookie season as the Silvertips' backup, Hart has earned his high ranking through his elite and consistent play. In his draft year, Hart leads the WHL in GAA, while his SVP of .918% is fifth best in the League.

Projected the be selected early in the second round, the Oilers could fall perfectly in place to draft Hart, unless the Oilers decide to surrender this years second rounder, a conditional pick, to the Bruins rather than in 2017.
2017 NHL Entry Draft
Should the Oilers wait an additional year to address their goaltending needs, there is one standout netminder who they can instead focus on.
His name may be Dipietro, but Michael, currently in his rookie season with the Windsor Spitfires, is the real deal.
Not eligible until the 2017 Draft, Dipietro hasn't waited until his draft year to begin impressing scouts, as the 6'0″, 190 pound netminder has already begun to dominate the OHL. As a rookie, DiPietro not only secured the starting role, but has also  impressed under the spotlight, posting a 2.50 GAA and .910% SVP, amazing numbers for a 16 year-old whose team just scraped into the playoffs as the eight seed and will play the powerhouse Erie Otters in the first round.

Choices Aplenty
Unlike the Oilers' current pool of goaltending prospects, there are a number of standouts available in the 2016, as well as 2017 Drafts who possess incredible talent and potential.
Cam Talbot can't carry the Oilers forever, and considering he will be 32 come the end of his current contract, the Oilers would do well to retain a quality goaltending prospect in the case that Brossoit fails to materialize.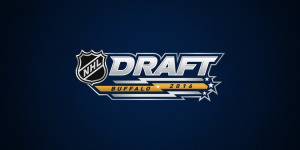 All of Parsons, Hart and DiPietro are incredibly talented, as we have seen, and will only continue to improve as they develop throughout their respective junior careers. If the Oilers were fortunate enough to add just one of the players despite their emphasis on defense, it would provide Edmonton with a sense of security as they move into an uncertain future.
Although the emphasis in the coming draft, and potentially in 2017 also, will be on selecting defensemen, the Oilers clearly must prioritize the use of one draft pick, whether it be a first, second or third, in order to draft a solid goaltending prospect.
***
Can't get enough hockey? Want to talk about it with our writers, and fellow fans? Join The Hockey Writers Group on Facebook today!