We're just about a quarter of the way into the NHL season, and there have been some storylines that have surprised more than a few people. Coming into the season, it was expected that 2016 top picks Auston Matthews and Patrik Laine would battle it out for the title of 2016-17's best freshman. For the most part, those two have delivered on the pre-season hype, save for a lengthy goal drought from the Leafs' top pick.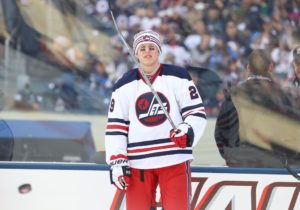 However, it's been the play of several other rookies that have been capturing headlines for the majority of the season. Toronto's other two super rookies, Mitch Marner and William Nylander, have not-so-quietly been racking up points for the resurgent Leafs. Other unheralded rookies have been making quite the impression as well, with rookie blueliner Zach Werenski already racking up 14 points on the year and Jimmy Vesey proving the Rangers' decision to sign him as a college unrestricted free agent one of the best moves of the offseason.
Young, talented players on cheap entry-level contracts have proven to be more valuable than ever in the NHL's salary cap era, but it's not easy to grab a future NHL contributor outside of the surefire prospective NHLers taken near the top of the draft. Here are a few prospects who might not be getting as much attention as the top prospects for 2017, but could end up becoming NHL stars in their own right.
Shane Bowers, C, Waterloo Blackhawks (USHL)
A rarity in Canada as a minor midget player who opted to go the U.S. college route, Shane Bowers was drafted with the fourth overall pick in the 2015 QMJHL Draft but currently plays in the United States Hockey League with the Waterloo Blackhawks. Despite his decision to shun the team that drafted him, Bowers has made a good impression with Hockey Canada and has already been selected to represent Canada in an international tournament twice.
He's one of the top young two-way centres in Canada for the 2017 Draft, but he doesn't seem to be getting the love he deserves from several scouting agencies, who rank him as a late first round pick at this point in the season. The speedy forward is already improving by leaps and bounds from his first season in the USHL, as he's racked up 16 points through his first 17 games of the season.
He's still ranked as a near-consensus first round pick, but Bowers' top-six potential and maturity at such a young age deserve more consideration for a lottery selection in the 2017 Draft. If the Boston University commit can continue to play at such a high level, his draft stock could rise monumentally before the draft next June.
Lukas Elvenes, RW, Rogle BK (SHL)
Lukas Elvenes has been a staple for Sweden's national team since he was 15 years old, but he's really turned into an offensive threat in his pre-draft season. After starting the season strong with a goal and three points in the Ivan Hlinka Tournament, Elvenes carried his offensive production to the J20 SuperElit, where he posted an impressive 22 points in 22 games in Sweden's highest level of junior hockey. Elvenes has also played a big role in Sweden's third place finish in the recent U-18 Five Nations Tournament, contributing a goal and an assist in addition to eight shots on goal in the four-game tournament.
He's since been promoted to the Swedish Elite League, where he's played a minimal role in three games for Rogle BK. However, as one of the league's youngest players, Elvenes has already established himself as one of Sweden's top prospects available in 2017. He's a creative offensive player armed with a dangerous arsenal of moves and a deadly shot, and doesn't give up much on the defensive end of the ice.
Despite his advanced offensive game, Elvenes is ranked as a likely candidate to slip out of the first round of the draft. He's still got some growing to do, as he currently weighs in at just over 170 pounds and could become an offensive force if he bulks up. If he can get an expanded role with Rogle as the season progresses, Elvenes has the potential to explode offensively and become a strong candidate for first round consideration.
Jacob Tortora, LW, U.S. National U-18 Team (USHL)
In the past few seasons, the U.S. National Development Team has produced severael high-level NHL prospects. Clayton Keller and Kieffer Bellows both cracked the first round of the draft last year, and that list could be expanded to include Auston Matthews, Jack Eichel, and Matthew Tkachuk (although they played out their pre-draft seasons elsewhere).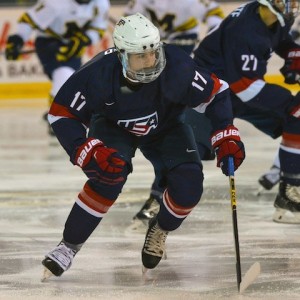 Although this year's edition of the team lacks a clear candidate for the first round of the draft, there is still some fine young talent to be had. Jacob Tortora, the team's current leader in both goals and points, could be the next young American star to emerge from the Development Program. Taken in the first round of the 2015 OHL Draft, Tortora remains committed to Boston College and has spent the last two seasons suiting up for the USNTDP.
Ranked as just a "C" prospect in NHL Central Scouting's November Rankings, indicating he's projected to be selected anywhere in rounds four to six, Tortora seems to be flying under the radar despite his early production. It's unsurprising that he's ranked so low, given his diminutive stature (5'8″, 160 pounds) and lack of real defensive instincts. However, Tortora's elite skating and puck skills deserve consideration in the early rounds, and he could prove to be a draft steal if he can continue on his upwards trajectory in the next few seasons.
Nathan Schnarr, C, Guelph Storm (OHL)
You probably haven't heard of Nathan Schnarr yet, but he's quickly making a name for himself in his first OHL season. A huge centreman with good two-way instincts, Schnarr was an overlooked third round pick of the Guelph Storm in 2015 but has quickly proven he's a player to keep an eye on as the season progresses. Spending all of last season in the Junior A level Greater Ontario Junior Hockey League, Schnarr posted 54 points in just 45 games, earning himself a roster spot on Guelph after being cut from last year's last-place team.
Early in the 2016-17 season, the returns on Schnarr have been surprising, to say the least. Even with Guelph still struggling to keep up with the rest of their division, Schnarr ranks fourth on the team with 14 points in just 21 games, good enough for fifth among all OHL rookies. The 6'3″ pivot has already shot up draft boards, and is considered a "B" prospect (second or third round) by NHL Central Scouting on their November list.
Schnarr's production as a late bloomer and his physical attributes draw similar comparisons to current NHL scoring leader Mark Scheifele, who also waited until his pre-draft season to crack an OHL lineup. While it's unlikely Schnarr will ever reach the levels Scheifele has scraped at the tender age of 23, it's Schnarr's combination of size and skill that make him a tantalizing prospect just outside the first round of the draft.