The New York Riveters had been through a lot this past week, as had all of the players in the NWHL when the news broke that the second-year league would be forcing a pay cut in order to keep from folding. But maybe for the Riveters, more than the other three teams, this can be a rallying point – for their team more than any of the others had the most turnover on their roster from last season. They had already started to show signs of gelling when they took three of four points in back-to-back games in Buffalo, and followed that up with their first shutout in franchise history, a 4-0 home win over the Connecticut Whale.
Led by Rebecca Russo's offense (two goals) and Katie Fitzgerald's saves (28), the Riveters moved into second place without three key injured players (Amanda Kessel, Courtney Burke, and Kiira Dosdall) and finished the month of November without a regulation loss. This was three days after the stunning news that they received as a group prior to practice. But when they hit the ice for their sixth game of the season, hockey was their sole focus and it showed as they played perhaps the most complete game in team history.
Final: @NYRiveters 4 Whale 0 pic.twitter.com/StFFGTlLBx

— Dan Rice (@DRdiabloTHW) November 20, 2016
All Systems Go
"I thought the first ten minutes was all Connecticut, I thought we had a real rocky start," Riveters coach Chad Wiseman told The Hockey Writers. "Once we settled in, we got that first goal, I think the compete level raised (for us). We started doing the little things; we were taking a few shortcuts early and we kind of fell into the game plan and I thought we had a great, great second half of the first period and we kind of took over from there."
"I didn't tell them, but the only thing going through my head (starting the third period with a 3-0 lead) was the 3-0 lead that we had last year against Connecticut, that we blew in the third, but I didn't want to bring that up," Wiseman said with a chuckle. "Just do the little things (I told them): the puck's got to get at the blue, it's got to get deep, limit the turnovers in the neutral zone, less pinching."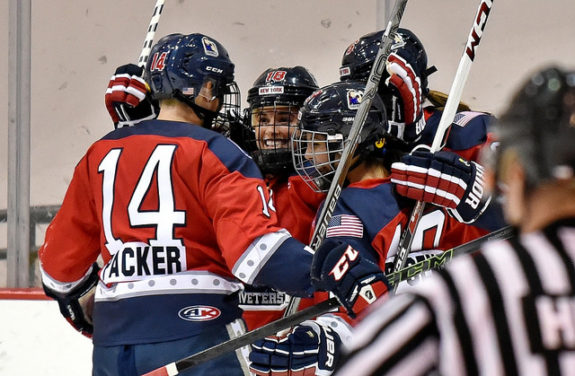 "It's tough to compare this year and last year because it's totally different teams, but yeah," captain Ashley Johnston told THW when we asked if this was the most complete game in franchise history. "A complete game last year looks probably very different from what a complete game looks like this year; we still have a lot of small things we need to fix. Hockey's a game of mistakes, and who recovers the best from those mistakes, and today we did. It's still a work in progress; ideally, we want to peak come playoff time. So hopefully that will be our most complete game, an Isobel Cup game."
"At the end of the day the girls decided to play, which I think is the right thing to do until they can settle their differences with the league," the coach said regarding the news of salaries being cut. "They showed up. There's a lot of character in that room. The message last night before the rink was: come to the rink, we're playing a hockey game today. Nothing from outside the rink will be brought into the room, and they didn't do that."
An emotional Johnston lets everyone know why she loves hockey and is committed to making the NWHL work:
Video: @strettyit talks to media after the @NYRiveters shutout win about the #NWHL salary cuts and the league itself. pic.twitter.com/SBQKmli90F

— The Ice Garden (@TheIceGarden) November 21, 2016
VIDEO Part Two: @strettyit talks to media after the @NYRiveters shutout win about the #NWHL salary cuts and the league itself. pic.twitter.com/EkFINBjiQP

— The Ice Garden (@TheIceGarden) November 21, 2016
The Speed Demon
"It feels good. It feels really good," Russo said with a Kool-Aid smile following the Riveters' first win in their new home in Newark, New Jersey. "It feels really good to put up the points," she added, after increasing her season total to seven (3g-4a), "but you can't really do that without the help of your linemates and your teammates. I think that kind of stems from what we've been talking about lately in the locker room, as a line with me, Alexa (Gruschow) and (Madison) Packer."
"I can't get those goals without the passes from Packer," said Russo who scored on both of her shots on goal in the game/three of 12 this season. "I think today that win felt extra good, I'm pretty happy all around. Although she only had two shots on net, there were many chances her entire line had throughout the game, and their speed often caught the Whale flat-footed and scrambling. Russo displayed the same speed that got her noticed (and earned her a job) at the NWHL's Free Agent Camp in June at this same building.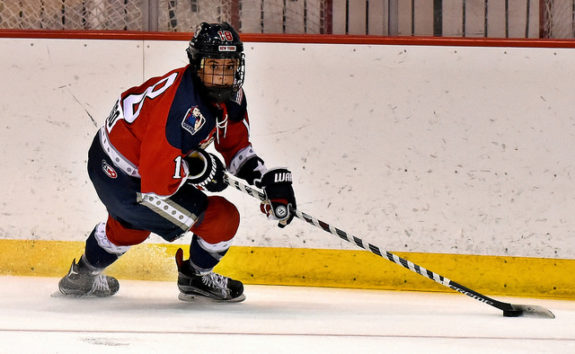 "I am a little superstitious, I hate that I am," the Boston University grad said with a giggle when THW asked if she was after potting a pair of goals. "I can't really help it sometimes. I have a peanut butter and jelly sandwich before every game, I always do the same kind of things." After points in each of the last three games (3g-2a), you better believe Russo is having some PB&J again before the Rivs' next two games (both at home) on Dec. 3 and 4. "I think the support from the fans gave me a little extra push today. I have to thank them for that."
Just being around Russo for a few minutes you can see why she is successful. She's confident, always smiling, likes to crack jokes, and on the ice – she leaves it all out there – a hustler, a team player, and a battler. She was skating around some Connecticut players in the game like they were cones during a camp drill, not professional players. Chances are she was doing it with a smile too. One that may not have been on her face too often the past few days.
"The last couple of days have been hard. Getting that news on Thursday was heartbreaking; I cried. I cried my eyes out because…money is one thing, and yes we all love money…but this is bigger than money. I don't really care about the money when it comes to: I want to do this for all the little girls that are standing out there (in the lobby) waiting for our autographs."
She tried to block out the idea of netting her first pro hat trick, sitting on a two-goal game for the entire third period. "I try not to think about that because it'll mess me up, my main focus was to get the win. Coach put us out there (with Connecticut's net empty), but we were all defense that shift. I'm alright with playing defense and helping Fitzy get that shutout."
The Brick Wall
"Not going to lie, it was in the back of my mind," Fitzgerald said with a huge grin when asked if she was worried about giving up a goal during the Whale's late-game push towards her net. "But, it's always in the back of your mind; you want that shutout. At that point, I was just happy with the win. We had three goals – and Kaleigh Fratkin sold herself out (to block a shot, inevitably with her hand); beauty, I loved it. Everyone sold themselves out for the team. Everyone did what they had to do to get the job done…and it worked out well," she added with a laugh.
"I remember looking up at the clock, there were four minutes left and I'm thinking we're up by three goals. I turned to Fitzy and said 'we're doing this for you,'" Fratkin said after the game with a bag of ice on her noticeably swollen hand. "She's been playing unbelievable these past three games, and she played unbelievable today. When she's in a position to get a shutout, you do whatever it takes to block a shot."
That face (and ice pack) when you block a shot to help preserve the first shutout in @NYRiveters team history. @fratkin13 is a boss. #NWHL pic.twitter.com/iOHg8jXmCb

— Connor Murphy (@CAMurphy91) November 20, 2016
"She's a great kid. She's a big goalie. She's coming into her own, she's building confidence," said Wiseman of the goalie he signed to replace the injured Jaimie Leonoff, right before camp.
"My road has been, a bit of the one less traveled. Retiring and then getting the opportunity to come back, to the sport that I love and what I love to do. I feel so fortunate to be able to do this. It's just so much fun. Even in practice, letting up a goal – I don't even care that much. I get to play hockey today!" Fitzgerald proclaimed with a smile. "It's incredible."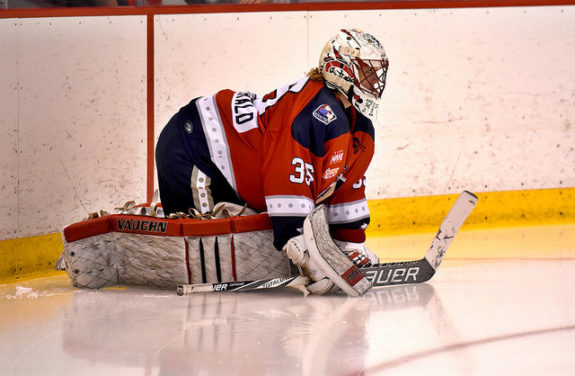 "Fitzy played unbelievable today," Russo told the media after the game of her fellow Riveters rookie. "Yes we scored four goals, but it could have been closer if she didn't make those unbelievable saves. I'm not really sure how many saves she had, but I'm really happy for her. The first shutout in the Riveters' history is something special and we couldn't win this game today without her."
Come Together
"With everything going on this week, we actually got better. Our team came together and a lot of positives came from this week," Wiseman said following the game. "The girls are putting their heads together for different ideas to move forward with the league. Our team wants to play, and they want this league to succeed. I think maybe we were the only team this week that got better." Winning helps that too, and it builds a culture of success. Even though many probably feel enthusiastic about just playing hockey like Fitzgerald admitted, winning makes it even more fun, helps a lot of new faces become new friends, and it makes the memories sweeter.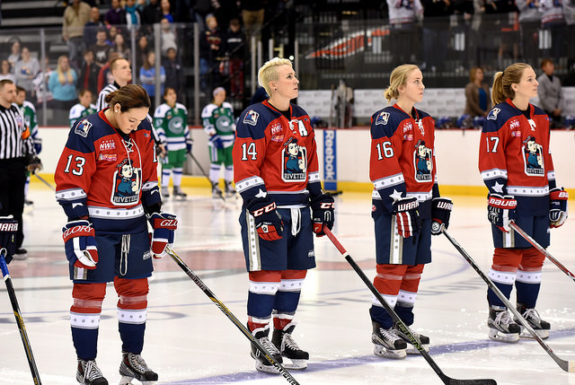 "Work ethic and skating," said Fratkin describing her team's recent success. "We have a lot of speed on our team, all the way through; and last weekend when we played Buffalo we used our speed and our work ethic (to our advantage). We have a lot of grinding hockey players out there, but we also capitalized as well. I think when you're playing a team like Connecticut, where they have three really deep lines – they have a power first two lines in terms of scoring – the biggest thing is you want to capitalize.
"The first thing in order to do that is to skate and work hard. We're gelling together as a team; it's a long process. Everyone makes the playoffs; if you can get better each game and come together more as a team, that's all we're looking for."