After picking up six out of a possible eight points on their recent road trip, including wins over both the Atlantic and Metropolitan Division leaders, the Florida Panthers could hardly ask for more good news.
Monday morning, more good news is exactly what the Cats got.
Good news for the Florida Panthers: Nick Bjugstad cleared, back in lineup Tuesday v Flyers.https://t.co/RYcU9YNipN pic.twitter.com/zn4ebjTrTi

— George Richards (@GeorgeRichards) November 21, 2016
Nick Bjugstad hasn't played since breaking his hand during a preseason game in Dallas on October 4. Now that he's healthy, where does the big centerman fit in the Panthers' lineup? Just before the Cats left on their four-game road trip, I asked head coach Gerard Gallant if he might give Bjugstad time to find his game by easing him in on the fourth line.
"He's not a fourth-line player," Gallant said. "No easing Bjugstad in there. When he's ready, he's ready to go, 100 percent."
With the fourth line seemingly off the table, where does the 6-foot-6 forward fit?
Florida's Bjugstad "Problem"
With the emergence of rookie pivot Denis Malgin, who's picked up four goals and six points over the last 10 games, Bjugstad's return gives Florida five healthy NHL-level centers. Unless Gallant decides to make history by icing five forward lines (not a chance), someone will have to move to the wing. Could that someone be Bjugstad? Some in the Twittersphere think so.
Wouldn't be surprised to see Bjugstad play wing to start…Barkov, Trocheck fill top-6 C, and Malgin had been very good as 3rd C.

— Cats On The Prowl (@Cats0ntheprowl) November 21, 2016
Though it's an intriguing theory (and after Jaromir Jagr retires, a permanent move to right wing for Bjugstad makes sense), Minnesota's 2010 "Mr. Hockey" has almost exclusively played center for the Panthers. Trying to get him up to game speed while playing an unfamiliar position would seem an unnecessary hardship. No, Bjugstad needs to play center…for now, anyway.
Clearly, Aleksander Barkov and Vincent Trocheck aren't going anywhere. Gallant has already ruled out the fourth line for "Bjugy," so he'll likely center the third. Putting the big man back on that line could be a very smart move.
Moving Malgin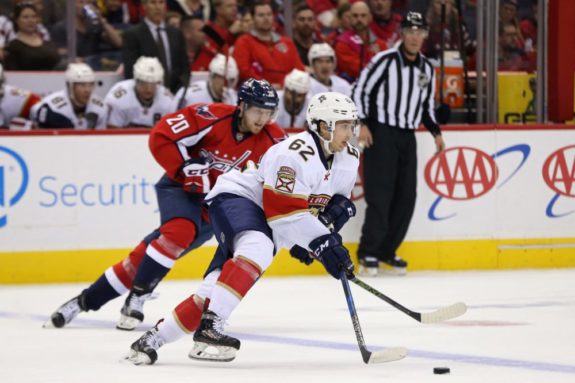 Precisely because the talented rookie has done such a good job centering the third line, moving Malgin to team captain Derek MacKenzie's line would give the Panthers a franchise first: scoring threats on all four lines.
The captain, a southpaw, could move to Malgin's left wing, while Greg McKegg, Shawn Thornton and Seth Griffith would rotate from game-to-game on the right side, according to Gallant's strategic needs.
Bjugstad, meanwhile, would be reunited with college teammate Kyle Rau while learning to play with newcomer Colton Sceviour on a dangerous third line. With Jared McCann on his way to AHL Springfield in order to clear a roster spot for Bjugstad, the new-and-improved Panthers forward lines could look like this:
Jokinen-Barkov-Jagr
Marchessault-Trocheck-Smith
Rau-Bjugstad-Sceviour
MacKenzie-Malgin-Thornton/McKegg/Griffith
 If those lines look good now, Panthers fans, just wait until Jonathan Huberdeau comes back.
And Now, the Bad News
Because it wouldn't be Florida if it didn't rain from time to time:
Another injury blow for Florida — Petrovic (ankle) out two months https://t.co/r9UzEgPBWC

— NHL on NBC (@NHLonNBCSports) November 21, 2016
Alex Petrovic's ankle injury is a tough break (no pun intended) for both the defenseman and his team. Jakub Kindl, who's played the last two games, and recent acquisition Dylan McIlrath will get the first shot at filling Petro's skates.
Should they come up short, Florida's 2013 second-round draft pick, Ian McCoshen, will likely make his NHL debut. McCoshen, a left-shooting defenseman out of Boston College, turned pro over the summer. In 12 games with Springfield, he has two goals and is tied for second on the team in plus/minus, at plus-five.