One of the major issues that the Carolina Hurricanes faced this offseason was to address the lack of goal scoring that plagued the team in 2015-16. In many cases, finding players to chip in with extra goals is easier said than done.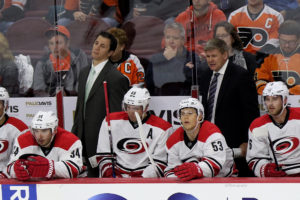 High scoring UFAs, in most cases, ask for incredible sums of money come July 1, which is an issue for teams with an internal salary cap such as the Hurricanes. However, finding a proven goal scorer on the trade market has its own disadvantages — the asking price for these types of players can be astronomical, forcing teams to give up key prospects or core team members in return. Since Carolina was not willing to sacrifice its young stars, this route did not appear to be an option either.
So General Manager Ron Francis had to get creative, and looked for low-risk, high-reward players that would make his team better. The result of this search was the addition of Teuvo Teravainen from a trade with Chicago, as well as the signing of free agent Lee Stempniak.
Along with this, Carolina looked for talent internally and found 19-year-old Sebastian Aho, who got his first start with the Hurricanes this season.
Together, these new additions have combined for 29 points in 17 games, helping to provide some much-needed depth scoring options for the Canes.
Sebastian Aho
Sebastian Aho comes into the year as the youngest current member of the Carolina Hurricanes. Drafted 35th overall in 2015, he impressed many with his strong skating ability and high hockey IQ. In 2015, Aho dominated when playing in the Finnish Elite League, as he went point-per-game, posting 20 goals and 25 assists in 45 games. Aho also shined internationally as an alternate captain for the gold medal-winning team Finland at the World Juniors.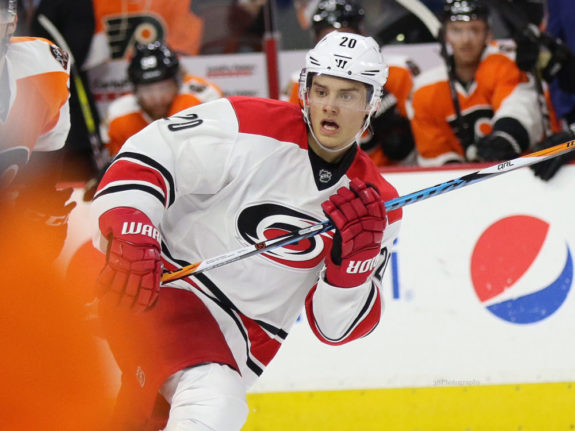 So far this year, Aho has demonstrated that he is among the best that this rookie class has to offer, as he sits ninth in league rookie scoring, and is tied for third among his teammates. Due to the strong performance that Aho has displayed, he has become a mainstay in Carolina's top six, playing predominantly alongside players such as Jordan Staal, Elias Lindholm, and Teuvo Teravainen.
Teuvo Teravainen
Teuvo Teravainen found his way to Carolina after spending two seasons with the Chicago Blackhawks, where he had become a Stanley Cup champion at the age of only 20. While he was a contributor in Chicago, it seems safe to say that he has really come into his own in Carolina. Through the first 17, Teravainen's season looks almost identical to that of Sebastian Aho. Both are tied in scoring at ten points apiece, both have secured spots in the top six due to their outstanding play, and both drive possession numbers with a relative Corsi-for percentage above 5.
With all this said, it should come as no surprise to find out that the two Finns play on the same line at each other's opposite wing. With this line being productive, the Canes no longer have to rely solely on their top unit to drive offense.
Lee Stempniak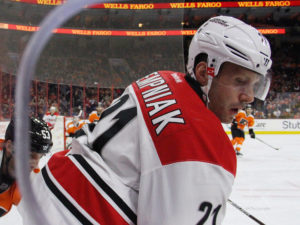 Lee Stempniak is somewhat of a globetrotter. In his 11-year NHL career, he has been a member of ten different teams, with his longest tenure being a four-year stint with the St. Louis Blues at the start of his career. Stempniak may not be a consistent point producer over the span of his career, but he showed flashes of brilliance last season that ensured he was worth the gamble. In 2015-16 Stempniak scored 51 points split between his time in New Jersey and Boston, a point total that would have tied Jeff Skinner's team lead in points for the same year.
Considering the fact that Stempniak is signed to a very reasonable two-year deal worth only $2.5 million, Stempniak's contract could be a steal if he comes near last season's production.
Josh Burns is from Ontario Canada and is an avid hockey lover, and covers the Carolina Hurricanes