The NWHL, the first professional women's hockey league in North America to pay players, is facing some tough financial realities. They announced Friday they will be slashing player salaries for the remainder of the season because of lower than expected revenue during the first stretch of the league's second season.
On a conference call Friday, commissioner Dani Rylan declined to confirm how steep the pay cut will be or exactly how revenues aren't meeting expectations. However, a report from The Fourth Period prior to Friday's call indicates that all players will be taking a 50 percent pay cut. New York Riveters captain Ashley Johnston did not correct that number on the conference call when it was cited to her. Puck Daddy's Jen Neale reports that the pay cuts will be distributed equally to all players, regardless of their star power or marketability. Player will retain their standard cut of merchandise sold with their name on it.
"In the interest of keeping the league economically viable, we had to enact salary cuts, effective immediately," Rylan said. "We're doing everything we can to build the league, and in the process, we're learning that sometimes you have to take a step back."
Some players are going to be impacted more than others, said Rylan. League will be working with those who need help. #NWHL

— Hannah Bevis (@Hannah_Bevis1) November 18, 2016
How all of this plays out is still unknown because players have not yet formally agreed to the pay cuts. Each player will need to sign a contract addendum, agreeing to the salary slash, according to Rylan. They have yet to do so because players were only informed of the decision Thursday night.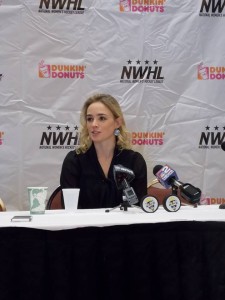 Rylan confirmed the decision to cut player salaries was made without any input from the NWHLPA, who is supposed to represent the players' interests in league-wide matters. "We had to make a business decision," Rylan said without explaining why the Players' Association wasn't a part of that decision. The lack of input from the PA is surprising, particularly considering that the few players who have spoken out so far have said emphasized how everyone is in it together and how players have a strong desire to see the league succeed.
"We had no idea. When I first heard the news… probably gut-wrenching is the best way to describe it," Johnston said on Friday's call. "We are all very, very invested in this league pretty [much] in every aspect of our lives. To hear that it's something that had to happen, it's a tough thing to hear. It's not a good day."
The situation is still developing so it's not clear if these cuts are enough to create a sustainable budget going forward or if this just floats them through the end of the season. Though many league admin and staff are volunteers, salaried staff are not taking pay cuts along with the players.
The league's primary sponsor, Dunkin Donuts, stepped up and donated $50,000 this week when they heard of league's financial woes, according to Rylan. All of that is going directly to player salaries. That sponsorship has been big for the league, but a broadcast partnership hasn't fallen into place, though it wasn't expected to be the league's primary source of revenue. Just four days ago the NWHL announced a partnership with little-known digital broadcaster Cheddar for the remainder of the season. The first broadcast with Cheddar is scheduled for Sunday, Nov. 20.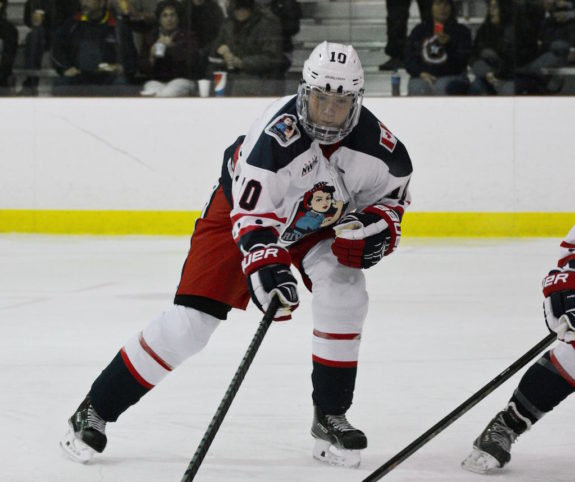 The epicenter of the problem appears the league's primary source of income: merchandise and ticket sales. Attendance is below projections for the season currently. Part of that may have to do with three of the league's four teams changing arenas in the second season. Arguably, though the capacity is lower, the only upgrade is the New York Riveters moving into the practice facility of the New Jersey Devils from Brooklyn's Aviator Arena. Though it's a better facility and closer for residents of Manhattan and much of Queens, the new arena is more expensive to get to for fans taking public transportation. The Riveters have only had one home game so far this season and THW's Dan Rice reports that it was a sellout.
The NWHL has not provided attendance numbers for the season to date.
It's time to roll up our sleeves and prove ourselves now @NWHL hearing 'No' never stopped me before… you taught me that. @CTWhale_NWHL 💙💚🐳

— Anya Packer (@battaglinoa) November 18, 2016
Players are expected to meet Friday afternoon and evening to discuss the addendum, per The Fourth Period's David Pagnotta. "This is the place where we want to play. We are all invested in this league. We all want to see it succeed," Johnston said. "The easy thing right now would be for everyone to pack up their bags and go home. But I'm never one to really think that the easy thing is the right thing to do. It's just going to be figuring out next steps and where we go as a team, as a league, as a family from here."
"This is a huge setback for us," Rylan said, "but the future is still bright. We have every hope and expectation that the league will be around for years to come."
Dustin Nelson writes about news and the Minnesota Wild for The Hockey Writers.