When the Edmonton Oilers started the season 7-1, everyone thought (hoped) that they were a different team. Sure, they weren't playing perfect hockey, but they were getting results in the standings (a definite change), and they weren't folding when the going got tough (a needed change). But the warm and fuzzies have worn off thanks to a tough stretch in which they've gone 2-7-1 in their last 10 games including five straight losses. What's going wrong?
Slow Starts Are Plaguing the Team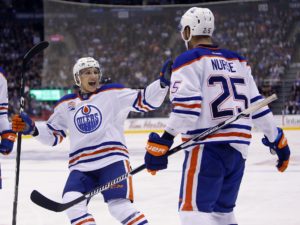 Through 18 games so far, the Oilers have surrendered the opening goal 12 times. It's a concerning stat because it suggests that they aren't ready to start games and are constantly forced to play catch-up. Every team has a game plan going in but that can change in a hurry when you fall behind early. The Oilers end up chasing the game rather than dictating the play, and they can't execute they way they want to. It's especially troubling when they play teams that like to shut things down when they have a lead.
The Oilers' game, and especially that of Connor McDavid, relies on speed and opening up the neutral zone. That fails to work when the opposition slows things down and doesn't have to play as aggressive. McDavid is hooked, held, mauled, slashed and interfered with every time he has the puck. And unfortunately, his teammates aren't picking up the slack. He has now gone 10 games without a goal. He is visibly frustrated at the lack of calls he's receiving, but that's part in parcel of being one of the most skilled players in the game.
McLellan on rough treatment 97 is getting: "It's called the NHL." Translation: teams.playing McDavid hard but he says fair. No whining

— Jim Matheson (@NHLbyMatty) November 18, 2016
The Oilers are making a lot of familiar mistakes as they navigate this losing skid. The sloppy turnovers, the lack of communication, the missed assignments and the inability to sustain offensive zone time. Todd McLellan has been juggling his lines and defensive pairings but nothing seems to be working. What's the solution to the slow starts? Is it on the coaching to fix? The players? Is it a lack of preparation or focus? The Oilers have young players like McDavid, Jesse Puljujarvi, Leon Draisaitl and Darnell Nurse, but they have plenty of veterans as well. There's no excuse for not being ready to play.
Trade Them All or Be Patient
Things just don't feel right with the Oilers. They aren't connecting on passes, they aren't gelling, they're not a cohesive unit. They have been dealing with some injuries, the loss of defenceman Kris Russell is having an impact, but guys like Ryan Nugent-Hopkins and Jordan Eberle, in particular, have been struggling. Milan Lucic is still trying to find his place. Puljujarvi might be best served with some seasoning in the AHL, but the lack of depth on the wing makes it a difficult move.
The question is, are we judging this team based on what we thought they would be when the season started or based on the hot start they had? Because now the expectations have been raised a little, perhaps raised a little too quickly. There is an obvious concern in Oilers nation, though the idea of making a big trade may be premature. The Oilers aren't a 7-1 team, but they aren't a 2-7 team either. They're likely guilty of trying to do too much, and making mistakes becuase of it, while the opposition is too good not to capitalize on those mistakes.
Five straight losses, that's more like the Oilers we know..

— Shane Sander (@SanderTHW) November 18, 2016
Patience is probably the last thing Oilers fans want to hear right now because they've been patient for 10 years. The losing streak has dropped the Oilers to 6th place in the Western Conference, though they're tied with two other teams in points. As Ray Ferraro so eloquently put it, the Oilers are on the right path, but there are going to be some potholes along the way. They're in a giant one right now. Even the most loyal fan knew they wouldn't be able to sustain the start they had.
The Los Angeles Kings, down their best player and starting goalie, played the Oilers perfectly on Thursday night. They suffocated them, but still played aggressively on the attack. Jonas Gustavsson wasn't spectacular but he was also hung out to dry on a few occasions. Next up on the docket is a tilt with the Dallas Stars, a team with lots of firepower but often suspect goaltending.
At first, the Oilers looked like they were forging the identity of a skilled but tough team, which was perfect for the Western Conference. But it appears as though they have regressed. There's a lack of confidence with some players right now, they pass off instead of shooting, they make rushed plays instead of looking for the best option. The reality is, the Oilers' identity has been mired in losing and the expectation of failure for so long that it's ingrained in the team.
There is promise with this squad, no doubt about it, but storming out of the gate set the bar a little too high. Small picture, the Oilers haven't been ready to start games, but big picture, they aren't ready to be an elite team either.