The Winnipeg Jets have no shortage of young, talented players in their system — most notably on the offensive side — and that fact has never been more clear than it is right now.
The organization, led by general manager Kevin Cheveldayoff, has done a remarkable job of stockpiling picks and prospects over the years since its move from Atlanta to Peg City. Many of these high-end assets have been acquired during times of struggle and frustration but are now paying fantastic dividends, contributing to the team's success on a nightly basis.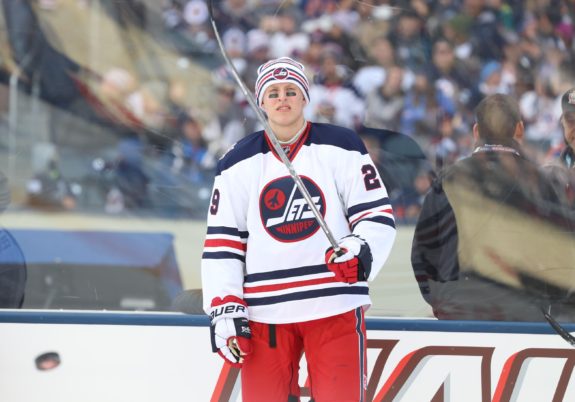 The youth movement in Winnipeg has really come together within the last few seasons to merge with the team's somewhat ageing core. Some franchises just have to sacrifice the short-term goals for the long term.
Reaping the Rewards of Their Labour
After moving to Winnipeg, the Jets' rebuild plan immediately began with their decision to choose Mark Scheifele in the first round (seventh overall) of the 2011 NHL Entry Draft. Where is he now? Oh, he's just been spending his days at the top of the NHL's scoring race, that's where.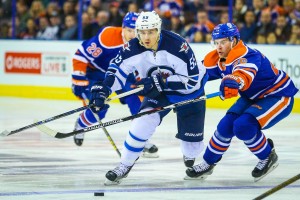 Through 19 games, Scheifele has scored 10 goals and 12 assists to go along with a plus-8 rating while shooting at a 20.8 percent clip. The only area of his game that I can point out as needing serious improvement is on the face-off dot — he's only winning 44.4 percent of his draws. Regardless, Scheifele has become an elite centre and is on his way to creating new vibes in Winnipeg.
Although he's been off to a slow start in terms of numbers this season — probably due to the fact that he held out of his contract for the first 15 games — there's no doubt Jacob Trouba is still a key component in the Jets' plan of success. The gritty 22-year-old defenseman is without a point this season, but he's been noticeable since his return and if history is any indication of his play, he shouldn't be quiet for long.
The 2014 first round pick, Nikolaj Ehlers, has been on a very positive development path since joining the league. After a solid rookie season (15G-23A-38P in 72 GP) he's followed up with impressive 2016-17 numbers, scoring four goals and 13 assists in 19 games. While traditionally viewed as a prototypical goal scorer in junior, Ehlers' ability to pass and create plays for his linemates has come to the forefront of his game, and he deserves tons of credit. Check out this slick passing play between himself, Scheifele and Wheeler.
Wow. Just wow. pic.twitter.com/QEs5mNbxqL

— Winnipeg Jets (@NHLJets) 18 November 2016
It's amazing that I've mentioned almost a handful of highly skilled players and have just now gotten to the second overall pick from this year's draft: Patrik Laine. The big finnish sniper has been sharp in his rookie season with 17 points and is boasting a league-leading 12 goals to go along with his five assists. There are overall generational talents, then there are generational goal scorers, and he's the latter. In respect to players like Tarasenko, Stamkos and Seguin, Laine seems to score more naturally than others. He's not necessarily a better player then the above just yet, but he's firing away and producing more results at his age than they did at the time. His physical tools — especially those freakishly powerful wrists — will create difficulty for defenders throughout his career.
The unique skill sets of these players allow them to stand out from each other, yet collectively share success together.
Consistency in Secondary Scoring
An important, yet very obvious news flash: The Jets have even more young guns with skill.
All of the names mentioned above are the ones we hear/read about on the news more often than not, which has unfortunately taken a majority of the spotlight away from some other promising Jets.
Nic Petan is one of them. A second round pick in 2013 — who honestly could've been gone somewhere in the first round — Petan has quietly provided some solid offense since being plugged into the lineup on a consistent basis. Through eight games, he's already scored six points, three of which are on the power play, and with increased responsibility, has developed some nice chemistry with captain Blake Wheeler. He's not too bad at face-off draws either, having won 53.62 percent of them so far this season.
Everyone: SHOOT
Enstrom: ?: ? pic.twitter.com/XbFwdXIBpu

— Winnipeg Jets (@NHLJets) 13 November 2016
The other forgotten name is that of Marko Dano. After being drafted in the first round (27th overall) in the same draft as Petan, Dano struggled to find a home in stints with the Columbus Blue Jackets and Chicago Blackhawks. Though it's early, he's calmly settled down in Winnipeg and has been very noticeable while on the ice since he's been a regular in the lineup. Getting time on the power play, and quality minutes skating with the likes of Wheeler and Petan, has elevated his game and helped him find his confidence, which in turn has helped the Jets win some games. In nine games so far, Dano has scored three goals and three assists while shooting at a surprising 25 percent clip.
The youthful, high-flying Jets in Winnipeg have continuously earned the trust of their coaching staff. With the right deployment, this group has shown that it can go toe-to-toe with the best of them. You can see the oozing potential night after night. They still have to get a lot better, but that's a testament to just how good they are and can be down the road.
If the goaltending situation figures itself out and the veterans pick up some of the slack, this team could very well open the door to the playoffs this spring. All that can be said is that this team is very well set up to sustain long-term success, thanks to the plethora of high-calibre talent that's been built over the last few years.