Now that Matt Murray is healthy and regularly playing again, a question that has been brewing for half a year must be asked. Ever since Murray took on the starting role in place of a concussed Marc-Andre Fleury in the playoffs, how is Pittsburgh handling having two goalies of starting caliber?
What Is the Goalie Pattern So Far?
To start this analysis, I'll lay out the start pattern of Pittsburgh's goalies since Oct. 25, the day Murray was first healthy enough to sit on the bench as backup.

If Sullivan continues with this pattern, then we can expect a regular alternation of the two goalies with Murray currently playing more often than Fleury in order to make up for the time he missed at the beginning of the season. As of now, it seems that Sullivan is trying to alternate the two as best he can rather than choosing a clear favorite.
What Can We Take from Wednesday's 7-1 Blowout to the Caps?
Let's call that game an outlier in terms of determining goaltender performance. Murray had to leave three goals in because of Malkin's accidental stick to his face during a fight meant to protect his honor; Fleury, put in cold, was immediately scored on. This game lowered both of the goalies' save averages significantly.
Here's what we can focus on about this game, in terms of how to determine a pattern of starts: Murray was meant to start, continuing the pattern of a Fleury start followed by two Murray starts. And luckily for the Penguins, Murray was back on the bench by the end of the game, so the high stick to the face won't mean anything significant in terms of injury.
Murray said he's fine. Had to go through concussion protocol. After that it was coach's decision to keep him out after that. -MC

— Pens Inside Scoop (@PensInsideScoop) November 17, 2016
Who Will Be Pittsburgh's Starting Goalie for Now?
For some reason, the Penguins have been playing their best when they're playing in front of Murray this season. Before the disaster of a blowout to the Capitals, Murray had won each of the four games he'd started. Murray usually seemed to have the advantage of a better defense in front of him; despite playing about half the games Fleury has played, he's faced only a third of the shots against that Fleury has. Other teams aren't only scoring more against Fleury, who has an average of about 3.2 goals against to Murray's 1.6, they're shooting more against him, too, and that's on the Penguins' defense.
This idea of the defense being generally stronger for Murray is said with the exception of Wednesday's 7-1 loss to the Capitals, which was a collapse from the top of the team down. It stems from the captain sitting in the box for a petty slashing call to an uncharacteristically soft goal let in by Murray.
Sullivan has said time and time again that the two goaltenders' playing times will depend on their performances. "Performance" means more than just their number of wins; after all, wins and losses are often far beyond a goaltender's control.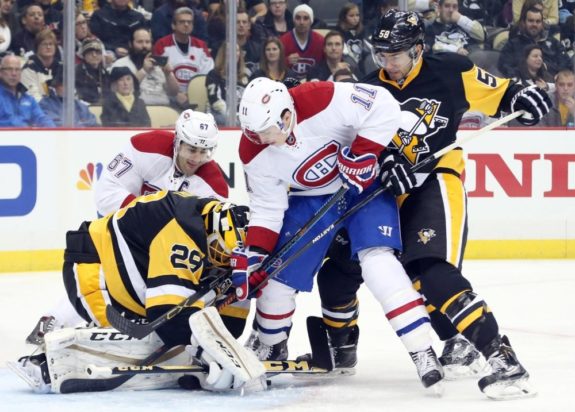 "When we say performance, we're not saying you have to win to stay in," said Pittsburgh's goalie coach, Mike Bales.
According to him, there are many other things that are more important to track than wins in assessing a goaltender's individual performance, such as rebound control and tracking the puck.
How Sullivan will play the goalies from here on out depends on more than the number of marks in the W column next to their name. That being said, maybe there is something to note in the only one of the two recording a shutout so far this season is Murray, who managed to keep the San Jose Sharks off the scoreboard on Nov. 5.
3 points for Hagelin.
2 goals for Crosby.
1 shutout for Murray.
Yeah, it was a good night. pic.twitter.com/QUMPnwv96F

— Pittsburgh Penguins (@penguins) November 6, 2016
Overall, there's a conclusion we can draw: both of the goalies have weaknesses, and both are good enough to have earned the starting position had the other not been on the team. However, for some reason, the team so far seems to be playing their best game when it's in front of Murray. For now, my prediction is that Sullivan will continue to follow the pattern he's established this month and alternate the goaltenders until they each have a similar number of starts under their belts. Right now, Murray has only started in five games to Fleury's 12; expect to see those numbers even out. Barring injuries or a hot streak, this is the pattern we can expect to see.
Finding out who will be in goal for the Penguins will be a daily question for now while both of the two goalies remain healthy. Murray is starting tonight against the Islanders; although this disrupts the pattern, it makes sense if we consider the game against the Capitals an outlier, as Murray didn't get the chance to play a full 60 minutes on the ice. Because the Penguins have back-to-back games on Friday and Saturday, Sullivan might put him in goal on Saturday as well just to maintain momentum if he plays well. He won't be the starter forever, though; we'll see Fleury back in the net soon.
Such is Pittsburgh's current goalie pattern.