A winning streak is defined as a consecutive number of games won, beginning with the third consecutive victory; back-to-back wins are only considered two consecutive victories. The latter is what the Carolina Hurricanes currently own by virtue of the home victories over the Washington Capitals and the San Jose Sharks. After Friday night against the Montreal Canadiens, they hope to own a winning streak.
Looking Good
This is a big deal to the Hurricanes because they have not had a winning streak thus far this season. For that matter, they have not had back-to-back wins either.
"You've got to build some momentum," Hurricanes goalie Cam Ward said after the game. "Certainly these last two games have been our best two games of the year and we did it in a real good fashion. We played the way that we really wanted to play and dominated at times. So that's a compliment to the guys because those are two very tough teams. It's not going to get any easier but we've shown what we can do when we're on for sure."
Ward is right in that, at times, the Hurricanes have looked really good. The problem is that there have been more times when they have not lived up to their potential.
Cam Ward starts in net for the #Canes tonight. He's allowed just 10 goals in six November games (3-1-2, 1.62 GAA, .941 SV%). #MTLvsCAR pic.twitter.com/wvzSJGGsDo

— Carolina Hurricanes (@Canes) November 18, 2016
Hurricanes head coach Bill Peters acknowledged that Ward's play of late has been good, and that he will keep him between the pipes as a result.
"He's been good in the month of November and things go hand in hand," Peters said after the Sharks game. "We're better in front of him and he's better behind us. And what happens now is the schedule's kind of allowed us to ride the hot goaltender and that's what we're going to continue to do for the foreseeable future."
Seabass Not Floundering
Hurricanes forward Sebastian Aho has finally started to find his way. Netting two goals in the win over the Capitals, Aho was able to silence those who have been questioning when he was going to score. His first goal was a beauty:
https://twitter.com/tim_boran/status/797857215982006272
Aho had quite the run of hype preceding the season, with expectations that he would come in and add a needed scoring spark for the Hurricanes. With his teammate Elias Lindholm still not having broken through on his first goal of the season, it was good for Aho to get on the board.
"Seabass," as he has been  glossed by his teammates, reminds me a lot of Lindholm a couple of years ago. He has great upside potential and could have a tremendous year for the 'Canes.
Big Hurdle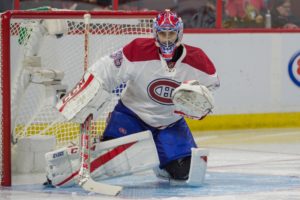 The Hurricanes face the Habs Friday night, not exactly a weak team to go up against when looking to start a winning streak. As has become the custom when teams visit Raleigh's PNC Arena, it will be the Canadiens' backup goalie in between the pipes.
Al Montoya, not Carey Price, will get the start, with a 3-2-1 record, a goals against average of 3.14 and a save percentage of .909.
The Habs will also be without winger Alexander Radulov, who is out sick. Radulov has three goals and 11 assists on the season and is a plus-7. Even without Radulov and Price, the Habs are a formidable foe, with a 13-2-2 record thus far. But, a win is not out of the question for the Hurricanes, and it would give them a much-needed streak.