Road trips are a part of life in the OHL and most teams expect to play three games in a weekend at least once or twice during a season. The Windsor Spitfires, though, are about to embark on a road trip that will challenge historic OHL records.
The FINA World Swimming Championships are being held at the WFCU Centre in Windsor from Dec. 6-11, kicking the Spitfires out of their home for over a month. Windsor and the OHL had to get creative when finalizing their 2016-17 schedule and the result was one of the longest numbers of consecutive road games in league history.
Life Away from WFCU Centre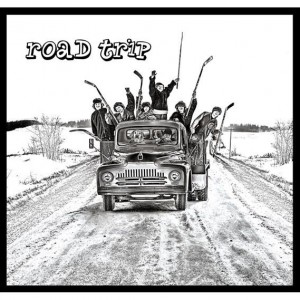 Starting on Sunday, Nov. 20 in London against the Knights, the Spitfires will play 13 straight games on the road. The road swing ends on Dec. 28 when they play the Spirit in Saginaw.
Their total road schedule is as follows:
Nov. 20 in London
Nov. 24 in Peterborough
Nov. 25 in Ottawa
Nov. 27 in Kingston
Nov. 30 in Sault Ste Marie
Dec. 3 in Flint
Dec. 4 in Saginaw
Dec. 8 in Barrie
Dec. 10 in Sudbury
Dec. 11 in North Bay
Dec. 16 in Erie
Dec. 17 in Niagara
Dec. 28 in Saginaw
In Good Company
Since the start of the 2003-04 season, several teams have embarked on stretches that involve five, six or even seven straight games on the road. Where do 13 straight games land on the historic scale?
Here are the top five numbers of consecutive road games for a team since the 2003-04 season:
1. Windsor Spitfires – 13 – 2016-17 – due to FINA World Swimming Championships
2. Peterborough Petes – 10 – 2003-04 – renovations at the Peterborough Memorial Centre
T – 3 – North Bay Battalion – 9 – 2003-04 – finishing renovations at North Bay Memorial Gardens
T – 3 – Ottawa 67s – 9 – 2012-13 – finishing renovations at Lansdowne Park, where the 67s rink is located
T – 5 – Kitchener Rangers – 8 – 2012-13 – renovations at Kitchener Memorial Auditorium
T – 5 – London Knights – 8 – 2005-06 – reason unknown
T – 5 – Sault Ste. Marie Greyhounds – 8 – 2006-07 – finishing off the newly-built arena
Check out this video of the North Bay Memorial Gardens being renovated to accommodate the Battalion:
Make the Most of It
While the month-long endeavor will clearly be a challenge for the Spitfires players, management and fans, you have to look at the positives. The team has recently acquired two big names – forward Graham Knott and defenceman Sean Day – and there hasn't been a great opportunity for those two to get out of the city and really bond with the team.
Road trips are a way for teams to get to know each other off the ice, better than they would in day-to-day living, and become a solid, formidable unit.
With the Spitfires hosting the Memorial Cup this season, it's also a chance for management to really get a good look at the roster. You get away from the hometown fans and see how players perform under pressure and in different situations.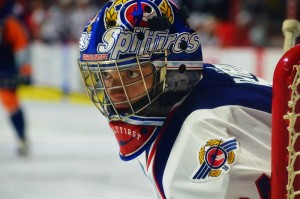 The team currently sits 10-1-1 at home but is 3-3-1 on the road. If they play to their potential, 10 wins in the 13 games isn't out of the question, and it could help them maintain their spot near the top of the Western Conference standings.
They will rely on the leadership of the veterans as well as the always-strong goaltending of Michael DiPietro (pictured, above right) and Mario Culina to get the job done.
It's going to be a long month for Spitfires fans but they can be rest assured that, while they won't see many home games in December, those will be made up at the end of May. That's a trade-off almost anyone in the OHL would take.