The month of November has been good to the Boston Bruins so far. This month we have seen the Bruins improve, which has allowed them to win eight of their last ten games. Even though they are winning, there is still progress that has to be made, especially on defense. Tuukka Rask has been outstanding in net, which has saved the defense from being completely exposed at times. Fortunately for the Bruins, a familiar reinforcement should be reintroduced shortly.
In the Bruins' last preseason game on Oct. 8, Kevan Miller suffered a fractured hand. Surgery was required on his hand to repair it. Miller was given a recovery time of six weeks, and his recovery seems to be moving right on schedule. Last Tuesday, Miller met the Bruins in Denver, where he participated in his first team practice since the injury. There is no set date for his return, but he is getting closer to suiting up.
It looks like it could be 'Miller Time' for the Boston Bruins.

Last Call
Last season was one to forget for Boston. Many different Bruins struggled over the course of the year, with Miller being one of them. Even though the struggles were apparent when watching the game, his numbers were not all bad when compared to the rest of the defensemen.
He played in 71 games and registered 18 total points. Those 18 points put him third among Bruin defenders. The five goals he netted placed him second to Zdeno Chara. He also ranked first among defensemen on the team with a plus-15 rating. The stat line tells us that he was one of the better Bruins defenders, but the all-important eye test told a much different story.

However, it is extremely important to remember why he struggled as much as he did. Miller was playing in a role he was not meant for. The role he should be in is one of a bottom-pairing defenseman ideally getting 14 to 16 minutes of ice time a night. Last year, he was being thrown on the ice for a little over 19 minutes a game as a top-four defenseman.
Many of his minutes came on the penalty kill and against top six forwards. It was not a recipe for success, and it was almost unfair for him to be placed in a role that asked him to shut down top-six forwards. Miller was in this position because Claude Julien did not have many other options.
Happy Hour
Bruins fans seem to be dreading the return of Miller to the lineup. After last season, their worries are somewhat warranted. So why should you be happy for his return?
Unlike last season, Miller will be brought into a situation that will not require him to play top-four minutes. The emergence of Brandon Carlo should relegate Miller back to his bottom-pairing role, where he should see more bottom-six forwards and a lot less of the opposing team's top lines. In this role, Miller can be a serviceable player.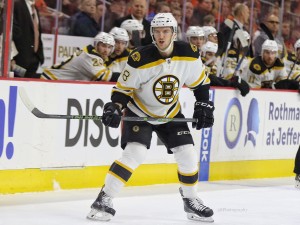 Looking at what the Bruins have used for defensive pairs so far this season, it appears Miller will be placed on the right side of John-Michael Liles on the bottom pair. Liles has been averaging 16:20 of ice time so far this season, so you can expect Miller's time to fall right around that mark, which is a nice improvement from last year's 19-minute average.
Moving Kevan Miller into the lineup will most likely send Colin Miller out of a nightly role. High expectations were placed on Colin Miller for a breakout season, but he has performed well below those expectations to this point. He has been scratched in favor of Joe Morrow the past two games.
There is no doubt that Kevan Miller will be placed in the lineup as soon as he is cleared. Just like when Adam McQuaid returned, Miller will probably get off to a rough start. The good news is that if he struggles for a long period of time, Julien will have replacement options. Knowing his spot is not automatic, Miller will hopefully be able to escalate his game from last season.
Concerning Hiccups
There are certainly some concerns with Miller. The Bruins have put emphasis on their defensemen moving the puck quicker and more efficiently this season. Unfortunately, Miller is not the best at moving the puck and creating transition. He has a tendency to panic in his own zone, which leads to costly turnovers. His ability to break the puck out of the defensive zone will be something to keep an eye on when he is in the lineup.
Another big concern is how he will be used. If Julien decides to use him in a top-four role, then there will be a lot of problems. However, if he is utilized in the bottom pairing role that was mentioned earlier, Miller will have the chance to perform well. It seems like a no-brainer to reduce his minutes, but Julien has elected to use him heavily in the past.
The last worry about Miller is his injury history. He has a history of shoulder problems and he plays a very physical game. The last thing the Bruins want to see is Miller come back strong only to tweak his shoulder again and be out for an extended period of time. With the streak of injuries occurring in the NHL lately, Miller's health will be something to watch.
Closing Time
Despite the mostly negative view of Miller in Boston, fans should give Miller a fair chance to prove himself. His addition will not dramatically change the defense, but if he is on top of his game he can add a level of stability Morrow and Colin Miller have not been able to achieve so far. He has a lot to improve on before he wins the support of fans again, but he can be a positive contributor to the team.