Welcome to the second part of our 2017 THW Writer's Mock Draft. We now reveal the rest of the first round picks 16-31. In case you missed our first part where we unveiled picks 1-15, you can find that here.
With a couple of surprises within the first 15 picks, teams picking later in the first round saw an opportunity to grab a player they didn't think would be available. The Calgary Flames start us off at pick 16.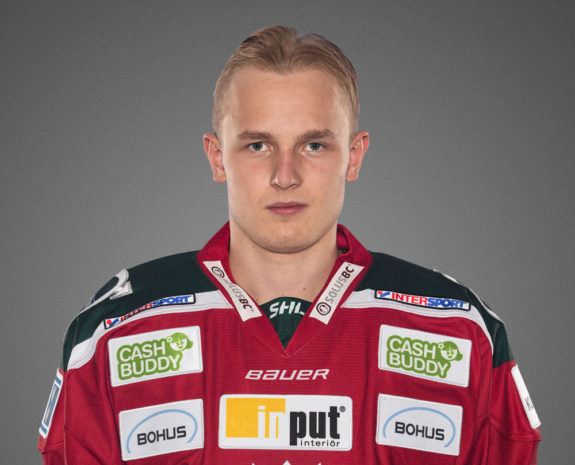 THW Writer's Mock Draft: Picks 16-31
16. Calgary – Ryan Pike – Kristian Vesalainen (LW) Frolunda
The Flames have built strong depth on the blueline and up the middle in recent drafts, but lack size and skill on the wings. Selecting the versatile Vesalainen, who can play either side, gives the Flames both of those attributes.
17. Toronto – Andrew Forbes – Nic Hague (D) Mississauga Steelheads
Hague makes for a great pick when it comes to the Leafs' needs. Sure, it may be higher than some expected the defenceman to go, but at six-foot-six and over 200 pounds, with more growing to do, he's a kid that can develop into that top-four and even top pairing defenceman that the Leafs need. If his 18 goals and 46 points last season in the OHL are any indication of the offence he possesses, he'll be a great option at both ends of the ice for the Leafs at 17.
18. Boston – Brandon Share-Cohen – Eeli Tolvanen (LW) Sioux City Musketeers
Though the Boston Bruins are entering the 2017 NHL Entry Draft with a bevy of left-wing prospects who are all candidates to see NHL playing time as of the 2017-18 regular season – including Frank Vatrano, Jake DeBrusk, Danton Heinen, Peter Cehlarik and Anders Bjork, players like Tolvanen don't often drop to the 18th pick in a draft. While there were other needs that could have been addressed at this spot, the best player available was taken and the Bruins couldn't be happier.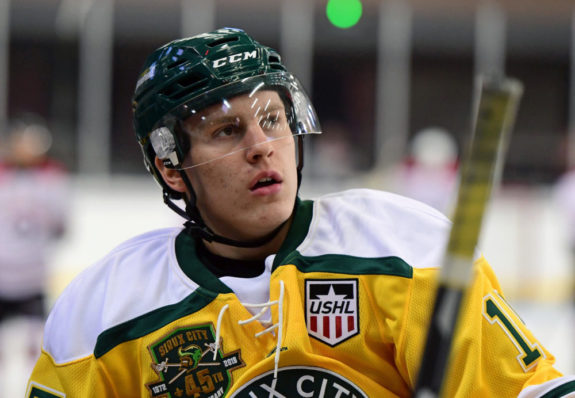 19. San José – Lias Andersson (C) HV-71 Sweden
The Sharks are happy to take Andersson with the 19th pick thanks to the way he plays the game in all three zones. He's one of the most consistent players in this draft and his leadership is clear every time you watch him play. Andersson has two seasons under his belt in Sweden and hasn't been outclassed. He'll be a welcomed addition to a Sharks team looking to add depth down the middle.
20. St Louis – Nick Olson – Martin Necas (C) HC Kometa Brno
Sitting at pick 20 we knew that getting the likes of Nolan Patrick, Nico Hischier, or Callan Foote was out of the question. Our sights were set on C Ryan Poehling from St. Cloud State University. When he was selected by New York at #15, we immediately moved to Martin Necas who was our next ranked player on our big board. We did not think Necas would be available as every major scouting outlet ranks Necas as a top-12 pick or better. With that being said we are ecstatic to add Necas to our club. He sees the ice extremely well and he is a great skater. When combined with his agility, he can open up a lot of ice for himself and his teammates. He has a great wrist shot and a deadly snapshot. When you add the fact that Necas is a natural leader that captained the Czech Republic at the 2016 Ivan Hlinka Memorial Cup, it makes for an amazing combination that couldn't be passed up.
21. NY Rangers – Tom Dianora – Elias Pettersson (C), Timra IK (Sweden)
The Rangers have plenty of forward depth and some glaring needs on the blue line, but in a draft, it makes more sense to err on the side of skill and talent and not team needs (of course, it's great when the two overlap). This is especially true when considering that most prospects will not immediately make the jump to the NHL. When they do, their team could look much different. At No. 21, Pettersson, a center/winger, was too good to pass up. The 18-year-old Swede will need to fill out his 6-foot-1 frame, as he only weighs 161 pounds. That should be doable, though, and in the end, the Rangers could glean great value from this pick if Pettersson's playmaking skills and offensive creativity translate to the NHL. In the near future, the Rangers could have a game-breaking forward on their hands.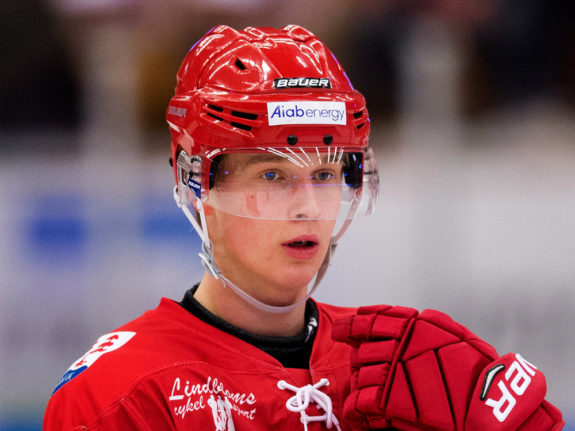 22. Edmonton – Shane Sander – Kole Lind (RW) Kelowna Rockets
He has the potential to be that top-six goal scorer the Oilers crave. He scored 30 goals and 87 points in 70 games with the Rockets this season and continued to improve his all-around game. He's not the biggest player at 6-foot-1 and 175 pounds, but he has a physical part to his game and is valuable on the forecheck. If he can continue to progress, you could be looking at a 200-foot player that can ultimately put the puck in the net too. In 146 WHL games, Lind has nearly been a point-per-game player with 44 goals and 129 points.
23. Arizona via Minnesota – Jeff Langridge – Jake Oettinger (G) Boston University
Look at the Coyotes depth chart in goal. Mike Smith's tenure with the team could come to an end this offseason. Louis Domingue hasn't exactly done well as the backup. Their biggest hope is 20-year-old Adin Hill, but he is still years away from even tasting the NHL. It would be smart to use of their first-round picks on a goaltender and Oettinger is one of the best available this year. Oettinger was a star for Boston University this  past season and will probably compete for the starting role with Team USA at the 2018 World Juniors. With no guarantee he would be available by their next pick, best pick now.
24. Columbus – Mark Scheig – Robert Thomas (C) London Knights
The Blue Jackets are thrilled to welcome Thomas into the fold. Thought of as a top-10 pick by some experts, Thomas brings a relentless two-way game who can excel at both ends of the ice. He may very well be one of the 10-best players in this draft and could fill a need as a top-six center in a year or two.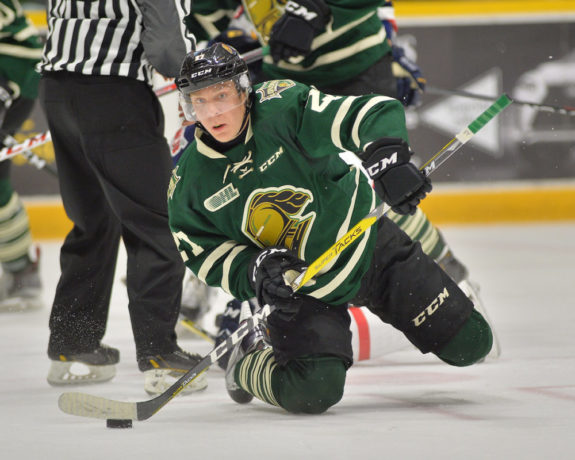 25. Montreal – Nick Guido – Shane Bowers (C) Waterloo Blackhawks
There's no doubt what the Montreal Canadiens biggest need is. Center depth has hindered the Habs for many years. If you look through their system, the only high-end prospect up the middle is Charles Hudon, who for some reason can't seem to crack the roster. Bowers is a good size listed at 6-foot-1, 170 pounds, and should fill out his frame as he develops. He's not a pure scorer but he's a complete player that could develop into a solid, two-way second line center for the Canadiens in the future. Choosing him at 25 would be solid value for Marc Bergevin and company.
26. Chicago – Scott Kline – Henri Jokiharju (D) Portland Winterhawks
My strategy for the first two rounds was to focus on defense and the center positions. Among the players that were still available, this pick came down to Jokiharju, Josh Norris and Conor Timmins. I went with Jokiharju because I liked his film even though he doesn't have the greatest measurables. In addition to what our team covered in his THW prospect profile, I saw a good skater and very instinctual player. Has a knack for making the right read on defense and right pass on offense. I think he can peak as a top-four defensemen and be effective on the power play. I liked his speed, which I also wanted to be a focus of this draft. Capable of being a puck-moving defenseman.
27. St Louis via Washington – Isaac Ratcliffe (LW) Guelph Storm
Our eyes were on this guy for months now. At 6-foot-6 and 200 pounds Ratcliffe is one of the biggest players in this year's draft. For someone of his size, he skates extremely well and oozes offensive potential. He is already a force in front of the net and he is only 18 years old meaning that he is still growing into his gigantic frame. Ratcliffe may be a few years away from NHL action but it will be worth the wait.
28. Ottawa – Kailer Yamamoto (RW) Spokane Chiefs
The Senators get a player in Yamamoto who likely goes before the 28th pick at the real draft. Although his size and strength is an issue, you cannot question the skill he brings offensively. He's one of the most dynamic players in this draft and will bring a level of excitement to Ottawa in the coming years.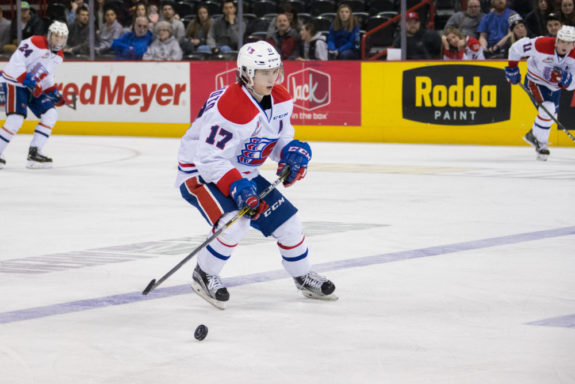 29. Dallas via Anaheim -Pete Griffith – Urho Vaakanainen (D) JYP Jyvaskyla
The Dallas Stars have a second pick in the first round (unless they are able to trade the #3 overall spot, that is) with the #29 pick acquired from the Ducks.  Since we know the Stars are at home acquiring players from Finland — including defensemen, Julius Honka and Esa Lindell, and next year's back up goalie, either Kari Lehtonen or Antti Niemi — and with Urho Vaakanainen available in our mock draft at position #29, we're picking him as our late first round choice.  The Stars will need to continue to build up their depleted blue line corps and hopefully Vaakanainen will be able to start contributing at the NHL level soon.  He can see the ice well, set up plays, has a pretty strong shot from the point and possesses stellar defensive skills.
30. Nashville – Jaret Anderson-Dolan (C) Spokane Chiefs
The Predators are pleased to welcome one of the fastest skaters in Anderson-Dolan to the fold. His work ethic and creativity make him one of the better centers in this draft with intriguing upside. He also fills a need down the middle that will benefit the Predators for many years.
31. Pittsburgh – Jason Robertson (LW) Kingston Frontenacs
The Penguins get one of the best scorers in this draft in Robertson. He was in offense in Kingston scoring 42 goals on a team that scored the second fewest goals in the CHL. Robertson's size and speed could make an impact on Crosby or Malkin's wing in the near future.
And that's a wrap for the first round. Stay tuned as we will unveil round two soon.