Final 2018 Edition
The 2017-18 hockey season is complete in every corner of the hockey world. The playoffs are all over. More importantly, the major bodies that produce rankings for the 2018 National Hockey League Draft have completed their final tallies for the year. As a result, it's time for the final 2018 NHL Draft Consensus Final Rankings, averaging out the variation in the major rankings to produce a single semi-definitive ordering of prospects. Don't forget to check out our complete guide to the 2018 NHL Draft for a complete picture of the 2018 draft class.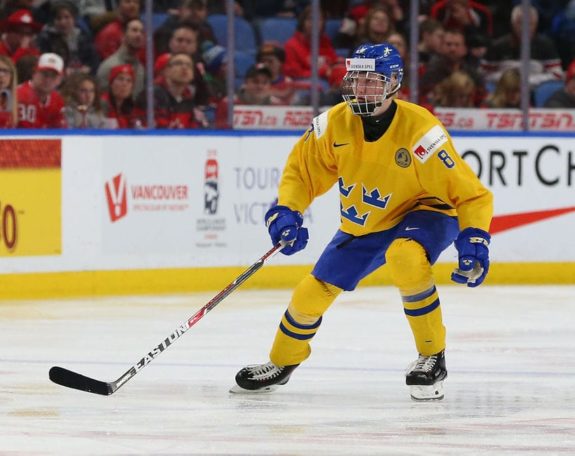 Here's the projected consensus first round (the top 31 ranked players) according to the major rankers.
Included Rankings
We've included six major rankings.
The Hockey News' 2018 Draft Preview magazine rankings
Sportsnet didn't produce a final June ranking and are excluded.
Notes on the Top 31
The positional breakdown of the Top 31 is:
0 goaltenders
12 defensemen
19 forwards (11 centers, 8 wingers)
The league breakdown of the Top 31 is:
8 Ontario Hockey League (6 domestic, 2 imports)
6 Quebec Major Junior Hockey League (5 domestic, 1 import)
4 United States Hockey League
2 Swedish Hockey League
2 NCAA
2 SuperElit
2 SM-Liiga
2 Western Hockey League (1 domestic, 1 import)
1 Minor Hockey League
1 Czech Extraliga
1 Kontinental Hockey League
It's a fairly European-heavy class at the high end: 13 consensus first round players hail from Europe, including four playing as imports in Canadian major-junior hockey. On the flip-side, it's a lean year for Canadian talent: the first Canadian is ranked seventh and there are just two in the consensus top 10.
There's a very well-defined top four: Rasmus Dahlin, Andrei Svechnikov, and then a coin-toss between Filip Zadina and Brady Tkachuk. After that? It's going to be a wild draft.
Consensus Rankings
Mid-season consensus ranking in brackets. "NR" means not ranked in top 31.
Rank
[Mid]

Player
Pos.
Primary Team
ISS
McKenzie
Button
HP
FC
THN
1 [1]
Rasmus Dahlin
D
Frolunda HC (SHL)
1
1
1
1
1
1
2 [2]
Andrei Svechnikov
RW
Barrie (OHL)
2
2
2
2
2
2
3 [4]
Filip Zadina
LW
Halifax (QMJHL)
3
4
3
4
3
4
4 [3]
Brady Tkachuk
C
Boston University (NCAA)
4
3
4
3
4
3
5 [7]
Quinn Hughes
D
U of Michigan (NCAA)
7
8
6
9
6
6
6 [6]
Oliver Wahlstrom
C
U.S. National Dev. (USHL)
5
9
10
7
5
8
7 [9]
Noah Dobson
D
Acadie-Bathurst (QMJHL)
8
6
8
5
10
9
8 [8]
Evan Bouchard
D
London (OHL)
6
7
9
10
8
7
9 [5]
Adam Boqvist
D
Brynas IF (SuperElit)
9
10
12
11
7
5
10 [19]
Jesperi Kotkaniemi
C
Assat (SM-Liiga)
16
5
5
8
13
18
11 [15]
Barrett Hayton
C
Sault Ste. Marie (OHL)
12
11
7
18
11
12
12 [13]
Joel Farabee
LW
U.S. National Dev. (USHL)
11
17
11
12
15
13
13 [11]
Ty Smith
D
Spokane (WHL)
19
13
22
17
9
10
14 [18]
Grigori Denisenko
LW
Loko Yaroslavl (MHL)
18
15
13
15
18
22
15 [16]
Joseph Veleno
C
Drummondville (QMJHL)
10
14
28
14
11
16 [14]
Isac Lundestrom
C
Lulea HF (SHL)
20
21
19
22
21
14
17 [10]
Bode Wilde
D
U.S. National Dev. (USHL)
23
25
16
31
12
15
18 [12]
Rasmus Kupari
C
Karpat (SM-Liiga)
15
20
27
19
16
25
19 [NR]
Vitali Kravtsov
RW
Traktor Chelyabinsk (KHL)
—
12
23
6
28
24
20 [28]
Serron Noel
RW
Oshawa (OHL)
14
19
14
21
29
29
21 [29]
Rasmus Sandin
D
Sault Ste. Marie (OHL)
—
27
15
30
19
17
22 [27]
Akil Thomas
C
Niagara (OHL)
27
27
17
—
17
19
23 [31]
Martin Kaut
RW
Dynamo Pardubice (Extraliga)
13
16
—
—
22
27
24 [NR]
Ty Dellandrea
C
Flint (OHL)
—
23
18
29
30
16
25 [NR]
Dominik Bokk
RW
Vaxjo Lakers (SuperElit)
28
18
30
13
—
28
26 [21]
Ryan McLeod
C
Mississauga (OHL)
26
22
29
—
23
20
27 [30]
K'Andre Miller
D
U.S. National Dev. (USHL)
—
24
31
20
20
26
28 [17]
Jared McIsaac
D
Halifax (QMJHL)
21
26
26
—
27
—
29 [NR]
Nicolas Beaudin
D
Drummondville (QMJHL)
—
—
20
25
—
—
30 [NR]
Alexander Alexeyev
D
Red Deer (WHL)
24
30
—
23
—
—
31 [24]
Benoit-Olivier Groulx
C
Halifax (QMJHL)
22
—
—
—
24
—