While the San Jose Sharks have had depth scoring issues this season, the reality of the matter is they have the forward talent to get the job done. The real depth concern is on the blue line where the Sharks have struggled when any of their top-four defensemen have gone down with an injury. Now the Sharks are right up against the salary cap and so it is next to impossible for them to make a big name addition without giving away an important asset to balance the salary. However, with the season halfway over, the amount of space essentially doubles in that the team will be paying less than half of an incoming player's salary. Given a tweak here or there, the Sharks certainly are capable of finding a way to add a depth defenseman to their third pair if they see fit.
When it comes to the Sharks' third defense pair, Brenden Dillon has been having a solid season. His defense partners for the most part though have been a revolving door, that is until recently. The past few weeks, rookie Dylan Demelo has looked better and better, playing in every single game. Tuesday's game against Winnipeg was his best of the season.
Easily Dylan demelos best nhl game, extremely poised out there tonight, reversing at the right times, breaking up plays, good outlet passes

— Andrew Bensch (@BenchWarmerView) January 13, 2016
Despite Demelo's improved play recently, the Sharks would be wise to add some more experience to the blue line because behind the current top-six, there isn't much depth. Matt Tennyson hasn't played in weeks, having lost the spot to Demelo and Mirco Mueller has taken a step back in his development this season. Furthermore, Dillon has struggled when asked to move up into a top-four role. Ideally the Sharks would be able to acquire a veteran third-pair right-handed shot that can move up and play top-four minutes in a pinch.
Looking at the pending free agent defensemen this season, there are a few players that make sense for the Sharks. One of them is somebody that Sharks fans are quite familiar with.
Dan Boyle (New York Rangers)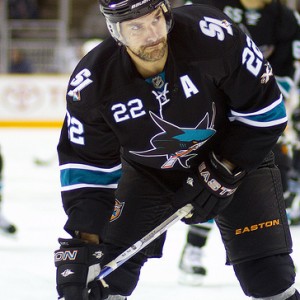 A far cry from his prime years with the Tampa Bay Lightning and the Sharks, the 39-year-old Boyle is still an effective puck mover on the third pair. He would not only be a great fit to play alongside Dillon on the third pair, but he would also be a big boost to the Sharks' second power-play unit that hasn't done much this season.
While Boyle's Corsi is just 47% in third pair minutes this season, his goals-for sits at a very nice 57%. The New York Rangers certainly have use for Boyle. They currently are second in their division but let's be honest here. New York's overall game has been far too reliant on Henrik Lundqvist between the pipes. They are significantly worse than the past few years when they have made deep runs to the playoffs. It is hard to envision them making another deep playoff run, and the Rangers brass may realize this. They may want to get a mid-round pick back for Boyle who will be a free agent at the end of the season.
Boyle's cap hit comes in at $4.5 and the Sharks would likely have to move out a player like Tommy Wingels to make the cap balance out. Wingels is having his worst season as a Shark, and it might be worth it to bring back Boyle for the next few months. If someone like Burns were to be injured, Boyle has chemistry with Marc-Edouard Vlasic. Boyle would probably be overmatched in top-pair shut-down role at this stage of his career, but he and Vlasic could face second tier competition with Paul Martin and Justin Braun taking the top shut-down minutes. Plus Boyle would be the best possible fill-in on the power play for Burns as he has years of built up chemistry with the Sharks top power play unit.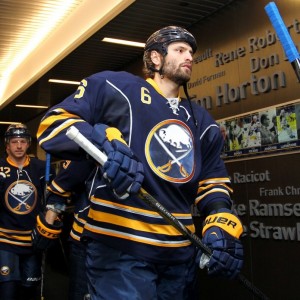 Mike Weber (Buffalo Sabres)
While not a right-handed shot, 28-year-old veteran blueliner Mike Weber would be an intriguing option and a much cheaper one than Boyle. The Sabres are clearly in sell mode as my offseason prediction that they would make the playoffs looks foolish. Buffalo is second to last in the Eastern Conference and nine points out of a Wild Card spot. Giving up their seventh most utilized defenseman would make a lot of sense. Now why would the Sharks want Buffalo's seventh best defenseman? Well, despite playing extremely limited minutes, Weber leads the Sabres blue line by far in both Corsi-for percentage at 53.1 and in goals-for percentage at 55.6. He has put up these impressive numbers while leading all Sabres blue liners in defensive zone starts. Perhaps the Sabres should be giving him some more ice time with these kinds of numbers. None of the other Buffalo defenseman are within five percent of Weber's goals-for nor within four percent of his Corsi. Based on Weber's 100.3 PDO, he isn't exactly getting lucky either.
Weber is currently in the last year of his deal that pays him just $1.67 million and so adding him at the deadline shouldn't be difficult at all. A fourth-round pick, maybe a third at most would likely be the high end asking price. When we consider Dillon has the experience playing his off-side, Dillon and Weber could be an excellent third pair. Plus perhaps Weber could fill in for a Paul Martin better than Dillon has this season, if Martin were to go down with an injury.
Ben Lovejoy (Pittsburgh Penguins)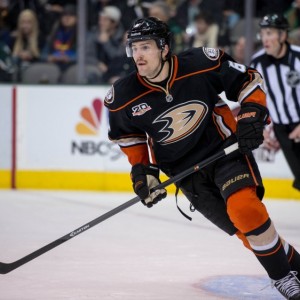 Veteran right-handed shooting defenseman Ben Lovejoy is also in the last year of his contract with the Penguins. While Pittsburgh is only a few points out of a Wild Card spot, they simply don't look like a team capable of making a deep run. They have already fired their coach and still seem to lack an identity. Despite having tons of offensive talent on paper, they have had trouble scoring goals all season long and their defense hasn't been the same this year. Kris Letang has been injury prone and one more concussion could really ruin his and Pittsburgh's chances of staying in the playoff race at all. Do the Penguins want to risk losing Lovejoy to free agency for nothing?
The 31-year-old defenseman is currently making just $1.1 million and would be easy enough to fit into the Sharks cap. Lovejoy has been Pittsburgh's second most utilized defenseman this season so he would likely be a better top-four fit with the Sharks than either Boyle or Weber. He leads the Penguins defense in zone starts at 37.7% and has a respectable 51.1% Corsi with a solid 54.5% goals-for.
In terms of assets, Lovejoy would probably be the most costly of these potential defense targets the Sharks could go after.  A second-round pick seems like fair value given the Penguins will likely be fielding multiple offers from various teams.
Who do you think makes most sense for the Sharks to go after at the deadline? Boyle, Weber, Lovejoy or another pending free agent defenseman? Leave your thoughts in the comments section down below!
Andrew has been credentialed to cover the Sharks since 2010 and the 49ers since 2012. He graduated with his BA in Broadcast Electronic Communication Arts in 2013 from San Francisco State University.