The Detroit Red Wings, while improving from last year, still have a lot of issues they need to work on. Mainly, issues of consistency.
If the regular season ended today, the Red Wings would clinch the third spot in the Atlantic Division and face the Montreal Canadiens in the first round — a far cry from last year, when they were scrapping the bottom of the barrel for points and clinched the very last wild-card spot.
This is a different team this season. The kids are a year older and have another year of experience under their belt, Stephen Weiss is healthy and performing like the team hoped he would when they signed him two summers ago and Jimmy Howard is playing up to his high standards.
However, that doesn't mean there isn't room for improvement. Here are three New Year's resolutions the Red Wings should work on keeping for 2015.
Avoid Slow Starts
In the past two games, the Red Wings have had what coach Mike Babcock called "turkey legs." After the Christmas break, the Red Wings came out slow and sluggish against the Ottawa Senators.
It led to two one-goal leads for the Senators, but Gustav Nyquist's heroics in overtime sealed the win for the Red Wings.
Against the Boston Bruins on Monday night, the Red Wings again fell victim to the turkey legs. Boston took a 3-1 lead after the first period and never relinquished that lead in a 5-2 win. The Red Wings allowed a season-high 45 shots on Jimmy Howard. The previous high was 39, which also was against Boston in the third game of the season.
All things considered, slow starts haven't hurt the Red Wings as much as they probably should have. After last night's loss, the Red Wings are 9-5-3 when allowing the first goal. It's pretty impressive to be slightly over .500 when giving up the first goal. But with 17 of their next 23 games on the road, getting off to good starts will be more imperative than ever.
Work on Shootouts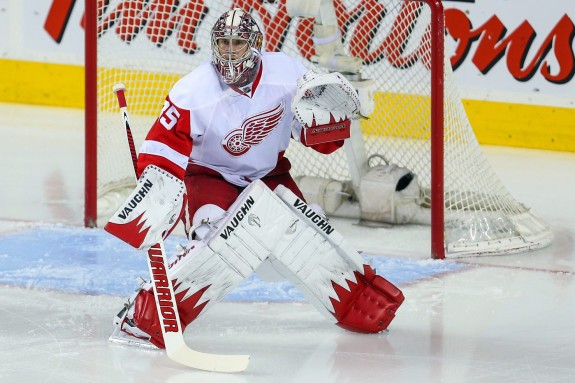 Luckily for the Red Wings, they have managed to avoid the shootout in their past three games, especially against Ottawa, when Nyquist scored the game winner with 48 seconds remaining.
The team has talked about how much they work on shootouts in the past, but they still aren't getting the results they want.
It's strictly a confidence issue at this point. We've seen the moves guys like Nyquist, Henrik Zetterberg and Pavel Datsyuk make during the games, but when they get to a shootout, they lose all their confidence.
Same goes for Howard. He has proven in the past he is very capable at winning shootouts, but he hasn't shown that same consistency level in the past two seasons.
The only thing that can help them get over that is more practice. The more you practice something, the more confident you become. Obviously, it's impossible to recreate a shootout atmosphere in practice, but if they can string a couple of shootout wins in a row, it'll go a long way toward winning more shootouts than losing them.
Find Top-Four Defenseman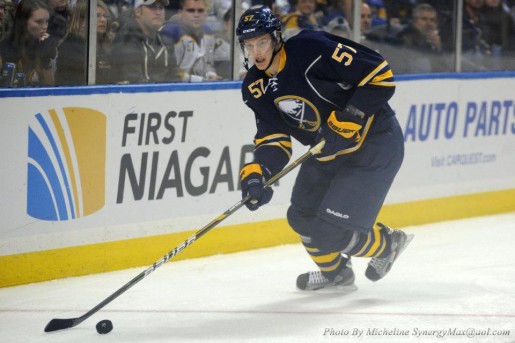 It's clear Babcock isn't particularly high on either Jakub Kindl and Brian Lashoff at this point. The two of have been rotating in and out of the lineup since the beginning of the season. Kindl has the edge, playing in 28 games to Lashoff's 11, but either of them would probably be a seventh defenseman on most teams rather than a sixth defenseman.
I'd like to see general manager Ken Holland get a top-four defenseman before the trade deadline. My worry is the asking price will be too high for Holland.
Detroit still is being linked to Buffalo's Tyler Myers, but the Sabres' asking price is steep. It reportedly would include prospect Dylan Larkin — who is tearing it up in the World Junior Championship with three goals and two assists in three games for the United States — a roster player such as Riley Sheahan or Tomas Jurco and a first-round pick.
Is Myers really worth all of that? Myers has the potential to be a great defenseman, but is it worth giving up a first-round pick in Larkin, Sheahan or Jurco and a future first-round pick?
Holland also has looked at Edmonton's Jeff Petry. Petry, however, would be nothing more than a rental, and the Oilers reportedly asked for a center like Darren Helm, which is a lot to give up for a rental.
The Red Wings cannot be looking for rentals. They need a player who will stick around for the next three or four years. One defenseman will not put them over the top this season, but with the kids gaining more experience, they could be contenders in the coming years.
Oliver Ekman-Larsson is a possibility for the Red Wings. He's only 23 years old and has been successful on a struggling Arizona Coyotes team. He does come with a hefty price ($5.5 million cap hit), and the Coyotes aren't going to let him go for cheap.
Myers and Ekman-Larsson fit the bill as far as a players under contract, but can Myers replicate his rookie season again, and can the Red Wings find a reasonable price for either?
With all of this being said, I don't want to see a trade just for the sake of trading. The Red Wings have enough talent in Grand Rapids; if they feel like the asking price for a current NHLer is too high, they can be at ease knowing they have plenty of prospects to choose from.
Xavier Ouellet, for instance, probably should take Kindl or Lashoff's spot in the lineup. But with the experience he is gaining in Grand Rapids, I expect him to be a heavy contributor for the team next season.
Subscribe to our Red Wings stories to get email updates every time a new story is published.
Tom Mitsos is a Detroit Red Wings and Grand Rapids Griffins staff writer for The Hockey Writers. You can follow him on Twitter @tom_mitsos.
Tom Mitsos is a writer from Michigan who covers the Red Wings and the Red Wings' AHL affiliate, the Grand Rapids Griffins, for The Hockey Writers.