Last season, the Minnesota Wild saw a handful of new players step up and become indispensable members of the team. Although this was great for the Wild in some ways, it also had a downside. While players like Jason Zucker, Marco Scandella and Matt Dumba brought their game to a new level, other players took a backseat.
These players that had a slow season last year need to get serious and step it up in 2015-16. Minnesota has a roster full of talent and potential, but this team will only make it far if everyone is contributing. Here are three players that must improve their game this year:
1. Mikael Granlund
Mikael Granlund is a mystery. The Oulu, Finland, native looked like a scoring star back when he played with HIFK Helsinki, but since he's transitioned to the NHL, it's all seemed to disappear.
Since joining the Minnesota Wild, Granlund has yet to have a truly incredible season. In three years, he has scored no more than eight goals, and recorded 41 points at most. As Granlund's HERO chart (below) indicates, he is playing near top-line minutes, but contributing around the rate of a fourth- or third-liner. Granlund is also having relatively little impact on his linemates Corsi.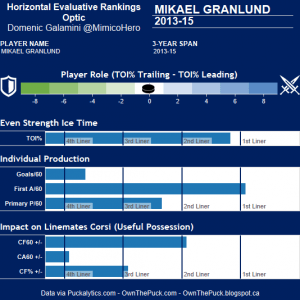 That's just not good enough for the Wild's supposed "top-line center."
The Minnesota Wild need their centers to step up this season, and Granlund is no exception. After signing a two-year extension this offseason, Granlund must realize his job in Minnesota is on the line. He needs
to prove he's worth a bigger deal, and he should do that sooner than later. No more waiting around for a breakout season. Granlund needs to step it up this year.
 "Wild centers were among the least productive (49 goals) in the NHL last season," – via NHL.com
2. Charlie Coyle
Alright, so before I bash Charlie Coyle's game in 2014-15, I want to preface the next paragraph with this: the Minnesota Wild didn't exactly make it easy for Coyle to break out last season. Coyle, normally a right-wing, was moved to center, demoted to the third line, and given less time on the ice.
However, with all that being said, Coyle is still a professional athlete, and he should be able to adjust his game to fit a new role, no matter what.
Last season, Coyle scored 11 goals in 82 games – an average of only .13 goals per game. The Wild had three defencemen with higher GPG than that. Coyle just has to find a way to produce more.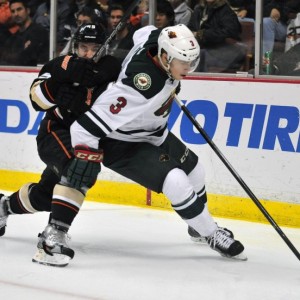 This year, Coyle isn't going to have time figure out what he needs to do. He's hopefully coming into the season knowing exactly what Minnesota wants and needs this time around. The Wild need a centerman that can win more than 46 percent of his face-offs. They need Coyle to use his 6'3″ frame to start playing a little more aggressively, and they need him to start playing like a key member of this team.
With three years in the NHL under his belt, and five more years with the Wild ahead of him, the 23-year-old should realize he's part of this team's future; He needs to start playing like it. The Wild are thin at center, and Coyle can make a big impact with this team at this position. This season is his chance to do so.
3. Thomas Vanek
It's no surprise Thomas Vanek is on this list.
Some people might disagree, saying Vanek scored 20+ goals this season, or Vanek really turned it on toward the end of the season, but that just wasn't enough.
In the past 12 years of his professional hockey career, Vanek has been consistently consistent, scoring around 30 to 40 goals per season. The veteran was supposed to bring the same consistency to the Wild in 2014-15. Yes, he did score 21 goals last season, but it took a lot for him to get there. He looked slow, uncoordinated and disorganized for a good part of the season. He really had to work to score as many goals as he did.
"In a lot of ways, Vanek's season directly mirrored that of Minnesota as a whole. He started slow, so did they. He got going late in the year, notching 19 points in 23 games from early February through late March — and the Wild went on a tremendous roll. As for the postseason? Vanek's offense deserted him, and his team ultimately bowed out earlier than they had hoped for.

To be fair, some of that is coincidence. And much of Minnesota's roller coaster ride hinged directly on the play in net — specifically, the arrival of Dubnyk in January. Still, it is a reminder of the pivotal player Vanek can be," – via Today's Slapshot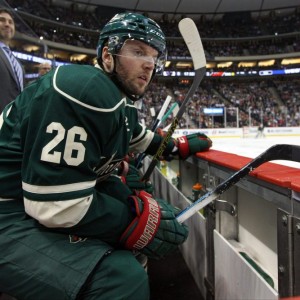 Vanek looked nothing like the scoring whiz he was in years past. He finished with 52 points – the last time he finished with so few points was his rookie season in 2005-06, with 48 points. On top of all that, none of those 21 goals were scored in the playoffs. Vanek contributed only four points in the Wild's 11 postseason games.
GM Chuck Fletcher brought Vanek to Minnesota with the expectation that he'd be able to bring his scoring touch with him. While he did bring some offense, Vanek looked quite lackluster last season. This year, Vanek will hopefully stay injury-free and be able to step up his game a little more. He clearly has the ability to impact this team; This season, it's time for him to do so in a positive way.