Already we're heading into the third day of the World Cup of Hockey with all teams having played their first round-robin game. The first day hockey fans were treated to two unlikely shutouts with Canada beating the Czech Republic 6-0 and the integrated Team Europe defeating the Americans 3-0.
Yesterday, the Lundqvist-less Team Sweden held off Russia 2-1 and the young guns of Team North America landed with a splash against Finland with a 4-1 finish.
Now, heading into the second game of a three-game round robin, here's a look at some need-to-knows ahead of Day 3.
Russia and Czech Republic Must Win
While they aren't technically must-win games just yet, the Russians and Czech Republic are facing important games on Monday. Already sitting with one loss, a second defeat could leave both teams on the outside looking in when it comes to the semifinal games on Saturday.
A 1-2 record likely won't serve these teams well. So it may be a situation where both clubs will have to win their final two games.
That being said, the Europeans will look to all but solidify their spot among the semifinalists with a win over the Czech team while the Russians will look to stand in the way of Team North America's second win in two days.
Both teams will surely be coming out with a lot of fight as they'll look to keep their World Cup hopes alive.
Rask: The Finnish Saviour?
After a 4-1 loss to the North Americans in a game where starting goaltender Pekka Rinne did not look comfortable, could the Finns be looking to the bench for their second game on Tuesday when they take on their rival Swedes?
While Rinne can't be the sole scapegoat for Finland after the young kids fired 43 shots on the Finnish net, the number of times that he thought he'd covered up the puck when he hadn't surely plays against him.
Rinne has a 238-136-53 record in 447 career regular season games in the NHL with a 2.37 goals against average and .917 save percentage. The problem is that like Russia and Czech Republic, Rinne's Finns are one loss away from a really tough spot in this tournament.
With the Swedes likely having Lundqvist back in net for their Tuesday matchup, Finland will need a stellar performance from their goaltender and Rask might be the one they go to.
In 330 regular season games, Rask holds a record of 167-103-43 with a 2.24 goals against average and .924 save percentage to go along with 30 shutouts. Not a bad guy to turn to in a must-win affair.
Polarizing Performances: Ovi and Auston
One won and the other lost. Is that polarizing enough? Maybe not, but both Alexander Ovechkin and Auston Matthews had a lot of eyes on them coming into this tournament.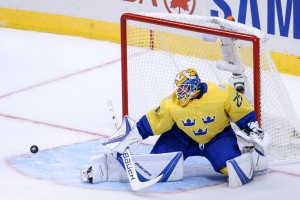 For starters, Ovi and the Russian team were looking to redeem themselves from their ugly performance on home ice at the Sochi Olympics in 2014. While they lost 2-1 against the Swedes and starter Jacob Markstrom, Ovechkin did show some determination at the tail end of the game.
Now, the Russians are known for spreading around their ice time and rolling four lines. That – at these types of tournaments – can make it hard on some star players who are used to seeing 20 to 25 minutes a game.
With that in mind, Ovechkin saw just over 16 minutes of ice-time for the Russians scoring the only goal in the final minute of the game. Now he did see two minutes of power play time but he also put his team down with four minutes in penalties – including an embellishment call.
On the other side of the spectrum, Matthews was making his highly anticipated first appearance at the Air Canada Centre in Toronto for the North Americans.
Matthews started on the first line for the young guns alongside Connor McDavid and Mark Scheifele and it paid off with the 2016 first overall pick notching an assist on the first goal of the game. He finished the game with one assist and five shots in just over 14 minutes of play.
He saw time on both the power play and penalty kill and seems to have grabbed the attention of the Toronto faithful already. It should be fun to watch both of these players as the tournament unfolds.
---
The Hockey Writers coverage of the World Cup of Hockey 2016 is being brought to you by PrimeSport, the official Fan Travel & Hospitality Package Partner of the World Cup of Hockey 2016.