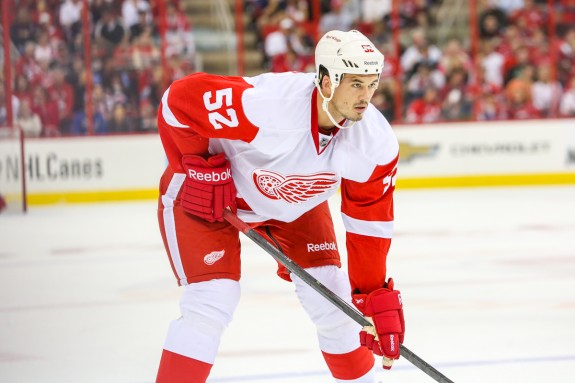 The Detroit Red Wings had another long break between games, but unlike in the Feb. 5 game against Colorado where they were able to hold the Avalanche scoreless, they could not contain the Pittsburgh Penguins.
The Penguins took it to the Red Wings from the opening faceoff, scoring just 1:51 into the game for a lead they would never relinquish.
The Red Wings looked out of sync, confused and exactly like how a team should look after having the past four days off. However, they finally showed some life in the third period when Jimmy Howard came in relief of Petr Mrazek.
The one goal the Red Wings scored was on the power play, as they took advantage of their one and only opportunity. Here are three observations from the Red Wings' 4-1 loss to the Penguins on Wednesday.
Defense Fails Mrazek
Mrazek most likely played his last game in Detroit for a while, now that both Howard and Jonas Gustavsson are healthy. Mrazek probably will get the start for Grand Rapids against San Antonio on Friday.
It's a shame that was Mrazek's last game, because he didn't have a bad game at all. The defense in front of him did him no favors, as turnovers, being manhandled and bad luck contributed to all four Penguins goals.
Pittsburgh's second goal was an absolute defensive breakdown. Luke Glendening went behind the net and tried to do a no-look pass back to Niklas Kronwall. However, Patric Hornqvist intercepted the pass and found a wide-open Blake Comeau in the slot.
As you can see in the video, Jonathan Ericsson drifted below the goal line, which left Comeau in the slot by himself. Mrazek had absolutely no chance to make the save.
Pittsburgh's third goal was much of the same. Maxim Lapierre outmuscled Brendan Smith for the puck, made a strong move to the net, which Mrazek saved, but Davie Perron was there to put home the rebound to give the Penguins a 3-0 lead.
Mrazek made the initial save, like he was supposed to, but nobody put a body on Perron, and he walked in the slot and cleaned up the garbage.
Mrazek was yanked after allowing four goals on 15 shots. He went 8-2 in 11 straight starts since Howard went down with a groin injury Jan. 10. He was fantastic to begin his starting stint, had a bad stretch in the middle and finished strong except for Wednesday's game against Pittsburgh.
Coach Mike Babcock summed up his team's play very simply:
Mike Babcock on Wings 4-1 loss to Penguins: "They were good and we were bad." #succinct

— Helene St. James (@HeleneStJames) February 12, 2015
Mrazek will be with the Red Wings as a full-time backup next season, but unless there is another injury to Howard or Gustavsson, I don't think he'll play any more games in Detroit this season. 
Howard Not Tested Much
Babcock opted to put Howard in the third period not only to give Mrazek a break, but to send a message to the rest of his team. The team got the message, allowing just four shots on Howard in the third period. The Red Wings also had a number of offensive opportunities but had shots blocked or missed the net completely.
Wings keep firing wide, firing wide, firing wide. They're getting some superb chances but they're all wide. — George Malik (@georgemalik) February 12, 2015
Howard did make a nice glove save on Lapierre, but that one shot was the most he had to work all period.
It was good for Howard to get some game time against Pittsburgh, so now he will go into Saturday's game against Winnipeg with some playing time under his belt since his injury.
Power Play Continues to Produce
The one good thing the Red Wings had going for themselves was their power play continues to be hot. Unfortunately for them, they only had one power-play opportunity, so it didn't allow them to get back into the game.
On Stephen Weiss' tally, they moved the puck around the zone very well. One player didn't have the puck on his stick for more than a second, and it eventually found its way behind Marc-Andre Fleury.
It's good to see the power play didn't fall apart during the four-day break. They'll need to use that as a jumping point when they face the Jets on Saturday.
Subscribe to our Red Wings stories to get email updates every time a new story is published.
Tom Mitsos is a Detroit Red Wings and Grand Rapids Griffins staff writer for The Hockey Writers. You can follow him on Twitter @tom_mitsos.