It's official: Evgeni Nabokov has retired as a member of the San Jose Sharks. This was an event that most of the hockey world saw coming, especially after San Jose acquired him from the Tampa Bay Lightning earlier this week. It was a very emotional night, but it was amazing to see the Russian netminder on the ice one last time in SAP Center during the ceremonial puck drop.
Simply put, Nabokov is the greatest goaltender to ever wear teal. During his 10 years in San Jose he posted a .912 save percentage, a 2.39 goals against average, and 50 shutouts, despite being drafted in the ninth round.  He would rob shooters night after night whether it was in the NHL, in the All Star Game, or in the Olympics. Nabby performed on all levels.
I could go in-depth about all the things he accomplished in the NHL– the records he set for the team, his Vezina bids, his Olympic play– but that's not what this article is for. He was a spectacular goaltender, but more importantly, he was my idol.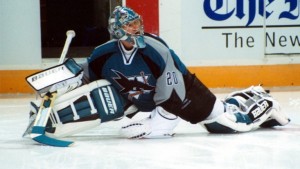 When I began watching Sharks' hockey consistently, Nabokov was already the go-to guy in net. For nine years of my life I saw him backstop the Sharks to the playoffs, making a ton of memories for me along the way. I will never forget where I was when he scored the empty netter against Vancouver or when he robbed Brad Richards in overtime in the playoffs. What he could do in the crease stunned the younger version of me.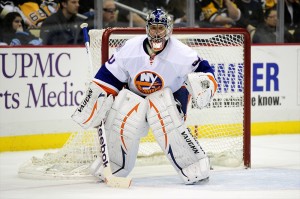 I remember when I used to play driveway hockey with my friend while we took turns pretending to be Nabokov as kids. Complete with nothing but a net, a stick, a baseball glove, and a whiffle ball, we would constantly attempt to recreate what he did. We mimicked everything from the way he played to the way he stretched so he was easily our biggest influence in our goaltending.
He was also the man who taught me that you are never out of contention until it's over; the play doesn't stop until the whistle has blown. That's how he made some of his greatest saves, because he never gave up on the puck. While this applies to hockey, it also is a philosophy I have brought to my regular life. No matter how improbable a task is, there is a chance for you to succeed if you don't give up on it. It sounds stupid, but it's something that has stuck with me.
Nabby was an amazing person to have in net and he was a great idol for aspiring goaltenders. New Jersey had Broduer, Colorado had Roy, and San Jose had Nabokov. So, thank you Nabokov for everything you have done. Thank you for helping this Sharks' franchise become a competitive team. Thank you for inspiring a generation of young netminders. And thank you for spending one more night at The Tank so we could celebrate your career.