On Wednesday afternoon, the first major domino of the 2015 NHL trading season dropped when the Buffalo Sabres acquired forward Evander Kane and defenseman Zach Bogosian from the Winnipeg Jets in exchange for blueliner Tyler Myers, winger Drew Stafford, prospects Joel Armia and Brandon Lemieux and a 2015 first round pick.
Most of the NHL world, media and fans alike, were in awe of the magnitude of this deal: seven players were moved between two teams. That being said, the reactions from people were all over the place with some happy for both sides while others, mainly callers into WGR550-Buffalo, believing the Sabres got hosed.
Personally, I have a different feeling towards the whole situation. As you know by now, I was hired by The Hockey Writers to cover the Winnipeg Jets because, despite not being from the area, they have been a team I've kept a close eye on and enjoyed watching since their return to league in 2011. What some of you may not know is the fact the I've grown up, and remain today, a lifelong Sabres fan.
When this trade was announced, I was sitting at my desk at work — of course this would happen during my first day on a new job. My phone was blowing up thanks to texts, tweets and e-mails about the whole situation. The people contacting me knew me, knew my thoughts on both teams and the players involved and wanted to know my feelings on the trade as a whole. What I decided to do was simple tease them all with a "you'll know soon enough" type of message.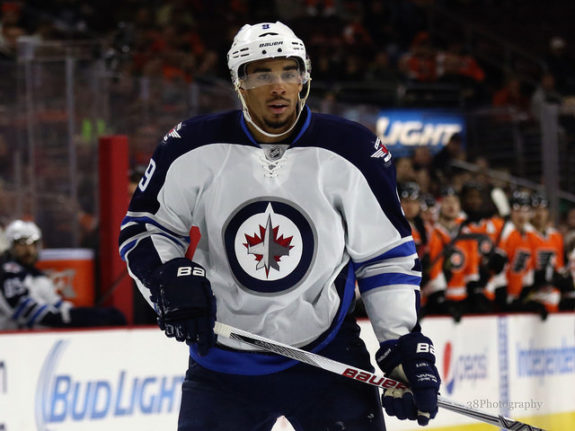 I'll be honest, this trade has me a bit conflicted. Before I go any further, however, let me preface by saying that I'm not against the trade at all. I get why it was done, and I like the trade as a whole.
I get exactly what Sabres general manager Tim Murray is doing, and why he's doing it. He's taking the organization through a full rebuild, and, whether he wants to admit it or not, is gunning for that number one pick in the 2015 NHL Draft. You trade away two players currently on your active playing roster, in addition to the other parts, to bring in two brand new players. And though Bogosian will be in the Sabres lineup this season, it's the bigger piece of the puzzle, Kane, that won't see the ice as a Sabres until September. Murray acquired a player that will no doubt improve the team, but not before the team fully bottoms out by the end of the season. It's truly an ingenious move to make on his part.
From the Jets stand point, this was a deal that was, in my view, a no-brainer to accept. You get two players that can come in now and help push the team further towards playoff contention, two prospects who look to be on the rise and a first round pick. I mean, why wouldn't you take that? It makes sense for GM Kevin Cheveldayoff, and I applaud him for making the deal. It was, without question, the biggest move he's made since taking over Jets GM duties three and a half years ago. My biggest conflict, or mixed emotions if you will, comes with the players who were traded away from Buffalo.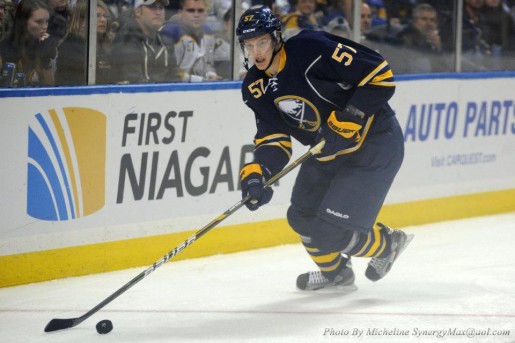 From a Sabres fan perspective, I have no problem admitting how much I enjoyed Myers. Without question, he was my favorite player on a team full of not-so-good players. In the case of Stafford, he was the epitome of a player that I didn't know really how to feel about. Some days I loved him, others I wanted him to go away. I think with both players, I constantly held out hope that they both would be so much better than they actually showed most of the time. It was obvious that the fanboy in me was saying, "Oh, don't worry. Things will get better with them. It's only a matter of time." But it just wasn't getting better. The quality of play was never consistent enough to feel good about what was happening, and it just seemed like the end was drawing near for the players. Something that was extremely bittersweet to witness.
It's great to see the two NHL guys go to a team where they can get back to the postseason and enjoy success. It's just a personal bummer knowing that it won't be with the team I grew up supporting and still support to this day.
As someone tasked with covering the Jets on a daily basis, it'll be great to continue to watch Myers and Stafford, and see just how they fit in with their new teammates. Stafford provides that top six forward depth that the Jets were looking to add while Myers gives a young, stud defenseman that can play a 200-foot game. It really improves the Jets in two areas that needed improvement heading into the playoff stretch.
It may be a bit selfish of me, but it likely will sting for a bit thinking about what could have been — as well as missed opportunities — with the two new members of the Jets while they were in Buffalo. That being said, I'm excited to see this new chapter of hockey unfold for both organizations, and you can bet I'll be watching Myers and Stafford closer than ever with their new team.