Evander Kane for Tyler Myers, the idea had been tossed around for years.
On Wednesday morning, the Winnipeg Jets and Buffalo Sabres pulled off one of the biggest blockbusters in recent memory — a seven-player, eight-asset trade centered around these budding young stars.
At first glance, it appears to be a fair deal, with Buffalo getting Kane, Zach Bogosian and prospect Jason Kasdorf, while Winnipeg lands Myers, Drew Stafford, prospects Joel Armia and Brendan Lemieux plus a conditional 2015 first-round pick.
Word is Evander Kane is ok with trade to Buffalo. Chance for a fresh start. Looking forward to playing major role on rebuilding Sabres.

— Pierre LeBrun (@PierreVLeBrun) February 11, 2015
Win-Win For Both Teams
Taking a closer look, Kane is a power-forward type with a pretty unique skill-set who will only be 24 years old at the start of next season. He'll be sidelined until then, after undergoing shoulder surgery, and the former fourth overall pick from 2009 certainly has some off-ice maturing to do in the meantime.
Bogosian is a steady, two-way defenceman who was selected third overall behind only Steven Stamkos and Drew Doughty back in 2008 — the same year the Sabres selected Myers at No. 12. He's been a bit injury-prone and his offence has stagnated in recent years, but defencemen often take longer to develop and he has potential to put up better numbers in the future. He could enjoy an Erik Johnson-esque breakout as early as next season.
Kasdorf is a C-level goaltending prospect with mediocre numbers in his third NCAA season, making him the player most likely to be forgotten in the fallout of this deal.
Myers is a rare talent in his own right, a monster of a man at 6-foot-8 but a smooth skater who can get up and down the ice and be effective at both ends. He burst onto the scene by winning the Calder Trophy in 2010 before suffering a sophomore slump and seeming to regress in recent years — which prompted trade rumours — but he's been back on track and arguably Buffalo's best player this season. The sky is the limit for Myers, having just turned 25 earlier this month.
Stafford is a pending unrestricted free agent at season's end, but he'll fill a valuable role for the Jets in their playoff push. He doesn't offer the same speed or shot calibre of Kane, but he's a top-nine winger who can chip in offensively. How the 29-year-old fares over the next couple months will determine whether Stafford has a long-time future in Winnipeg.
Armia, turning 22 in May, and Lemieux, turning 19 in March, are both quality forward prospects with good upside. Buffalo had an abundance of these, while Winnipeg was in need of a couple more. Armia is a flashier scorer, reminding some of former Sabre Thomas Vanek, and Lemieux is a chip off the old block from his father, Claude, in that he's as much an antagonist as he is a goal-scorer — one of those players you love to have on your team but hate to play against. Think Brad Marchand for a current comparable.
Winnipeg will also acquire the lowest of Buffalo's three first-round picks once the 2015 draft order is finalized, but this year boasts a deep talent pool and ensures the Jets will get another coveted prospect anywhere in the top 30.
Numbers Add Up
Trades of this magnitude rarely come to fruition in the salary-cap era, but the math worked out for both teams. Kane and Myers have similar long-term deals and Buffalo could afford to take on Bogosian's cap hit past this season. It was a perfect fit for both sides, addressing their needs within financial constraints.
Six of the eventual eight players involved are first-round picks — Stafford was 13th in 2004 and Armia was 16th in 2011 — not to mention Lemieux was the first selection of the second round, 31st overall in 2014. Kasdorf, a relatively unknown sixth-rounder from 2011, is the black sheep here.
Going Forward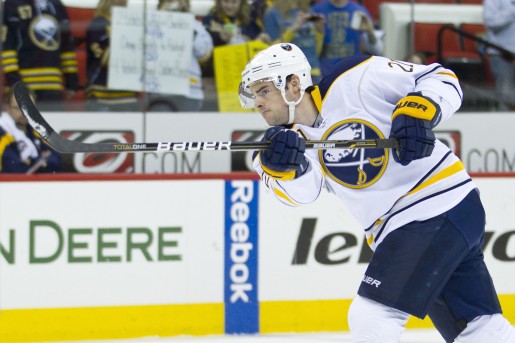 Winnipeg made a bold move here, not by trading away Kane, but by rocking the boat in the midst of a playoff race. To that end, it was a 2-for-1 deal, with the Jets bringing in Myers and Stafford for Bogosian, which is a clear win on paper for the rest of this season, but the results will speak for themselves in terms of the standings.
This will also go down as the first trade made by Jets general manager Kevin Cheveldayoff involving legitimate NHL players. He previously dealt Eric Tangradi to the Montreal Canadiens for Peter Budaj and Patrick Holland in a pre-season swap of minor-leaguers, but Cheveldayoff has otherwise stayed the course in a role he's held since June 2011. That is almost four years on the job without making one significant trade, but he more than made up for lost time with this jaw-dropper.
Tim Murray is still relatively new to the GM world, a rookie hire by the Sabres last January, but he's now put his stamp on that franchise as well. Kane should be a good fit for Buffalo, replacing Stafford and Chris Stewart, another UFA sure to be moved ahead of the March 3 trade deadline. The Sabres are likely going to draft Connor McDavid or Jack Eichel in June, and either of them would instantly become Kane's best linemate of his career. Sam Reinhart the second overall pick in 2014, is another playmaker in Buffalo's system that could work well with Kane, or perhaps Cody Hodgson can rebound into a formidable pairing.
There are plenty of options for the future, as both these organizations are better off thanks to this impressive blockbuster.
Larry Fisher is a sports reporter for The Daily Courier in Kelowna, British Columbia, Canada. Follow him on Twitter: @LarryFisher_KDC.