As the start to the 2016-17 NHL season draws closer and closer, rosters around the league are starting to take shape. This time of year is when many fans will look up and down their team's roster to see how it is coming together. While they do that, they will also wonder who will be their team's top performers, biggest surprises, and which players could cause concern.
Today, we will look at three Nashville Predators players that fans should be keeping an eye on this season. These players will have a big impact on the success of the Predators, but leave some question marks in our minds.
Craig Smith
Craig Smith might not be a household name among hockey fans, but within Nashville, he is a rather popular player. The buzz he generates with the fans comes with good reason as Smith is a talented goal scorer and has put together three 20-goal seasons in a row. He possesses good speed and can generate plays and momentum for the Predators offense most nights.
But wait, this is an article about players that we should be questioning heading into this season and that all sounds really good. So, why should we be questioning what Smith is capable of?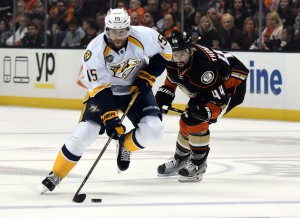 Let us take a look back to Smith's 2013-14 season. According to the Predators website, Smith played in 79 games and registered 24 goals and 52 points. That was good enough to be third on the team in points and first on the team in goals. In terms of NHL ranks, Smith was 77th in points and 52nd in goals. The 2013-14 season was the first year he was able to register 20 goals and he put together a very solid year. In 2014-15, Smith slipped a little from his previous year's totals. He posted 44 points and 23 goals in 82 games in 2014-15. While his point totals fell by eight points, he hit the all important 20 goal mark once again. Not much of an issue there.
Now, taking a look at last season is where I start to see a problem develop. In 2015-16, Smith played in 82 games and tallied 21 goals and 37 points. Once again, his point total and goals scored dropped. Take a look at his team and NHL rankings above from 2013-14 again, because last year he dropped to 73rd in the NHL in goals scored and 182nd in points and dropped to sixth on the Predators team in points and third in goals. Smith did not have a bad season, as he was able to hit 20 goals for the third straight year, but there is definitely cause for concern here.
Conclusion on Smith
Is Smith a bad player? He most certainly is not. Has Smith been important to the Predators lineup? He has been extremely important. But he is still capable of producing more than he has the past two seasons and that is why he has ended up on this list.
If Smith's regression pattern continues again this season, he probably will not hit the 20 goal mark and will just barely hit 30 points. That is not what the Predators need out of their top six forward. What the Predators need is Smith to get his goal and point totals back up because he is capable of scoring 25 to 30 goals and 50 plus points.
He should get the chance to play with Forsberg and Johansen this season along with some power play time. If the combination of those linemates and power play chances do not result in an uptick from last year's numbers, then that is a real problem. Predators fans should keep an eye on Smith to see if he bounces back because he will be a big factor in determining whether or not the Predators game can reach the next level.
Colin Wilson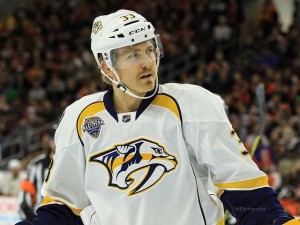 Here we are — another offseason wondering what version of Colin Wilson will come out this season. Injuries played a factor in Wilson struggling last season, but overall he was still not too good. However, one thing Wilson is really good at is showing up in the playoffs.
After scoring just 24 points in the regular season, he was able to score 13 points in 14 playoff games. While performing well in the playoffs is always appreciated, the Predators still need Wilson to pick up his game in the regular season. The skill set is there for Wilson to be a real leader on the Predators and he seems determined to pick up his game this year. At the top of his game, he will probably be able to net 20 goals and total 45 to 55 points. Just like Smith, Wilson's play can determine whether or not the Predators step to the next level or not.
I have a funny feeling that if Wilson does not pick up his game, he will be tossed around the trade market because a forward like Kevin Fiala is itching for a top 6 roster spot to open up.
Last Up: Pekka Rinne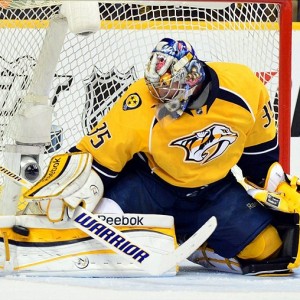 Last season Rinne had some really good games in net and he also had some rather shaky games between the pipes. These days it is tough to be a goalie in the Central Division, but it is no secret that Rinne's play dropped off. With the start of this season approaching, we have to ask ourselves if Rinne can rebound. We know he is talented, but we also know that he is almost 34-years old. While at 34, he could still have plenty of gas left, it is still an age where regression could set in.
To show why there is some concern with Rinne, we will compare the last two seasons. According to Eliteprospects.com, in 2014-15 Rinne had a save percentage of .923 to go along with a goals-against-average of 2.18. With these numbers came 41 wins and four shutouts. Those are elite goaltending numbers across the board. We saw those numbers drop to a .908 save percentage with a 2.48 goals-against-average in 2015-16. Perhaps the most concerning drop was in wins from 41 to 34. Not exactly the year he was looking for.
Rinne owns the starting job in Nashville, there is no debating that. Playing goalie is also full of ups and downs no matter how good you are — it is just the nature of the position. So the concern level for Rinne is not high, but it is still worth noting that he needs to put together a better year in net than last season because a goalie can make a break a team, especially in the playoffs.
Anthony Pagliarulo is a Boston Bruins contributor for The Hockey Writers. He is a Massachusetts native and a Worcester State University alumni. You can follow Anthony on Twitter @APags87.