Winnipeg has four seasons: hockey, hockey, playoff hockey, and warm winter. The city is famous for its cold winter, windy intersections, and it's hockey history. Players like Andy Bathgate, Bill Mosienko, and Mike Keane, as well as current NHL stars Jonathan Toews, Alexander Steen and Mark Stone, were all born in Winnipeg. The first ever Olympic gold medal in ice hockey was won by the Winnipeg Falcons.
So yes, Winnipeg loves hockey. And as a result, there are many great places to get the latest news and updates on your Winnipeg Jets. We've gathered the top ones and put them together in this social media guide.
Winnipeg Jets Official Social Media
The main source for everything Winnipeg Jets is the official NHL.com website. You can get the latest scores, transactions, and stories.
On Twitter, you can find them at @NHLJets, where you can follow games, see what the players are up too, and get your ticket information. You can also follow game-day tweets using the hashtag #GoJetsGo
Tickets to our home preseason games are on sale now!

BUY TICKETS >> https://t.co/pclYytVEYj pic.twitter.com/6uldT8deUc

— Winnipeg Jets (@NHLJets) August 26, 2016
And follow them on Instagram @nhljets for great stories all year-long.
Players
Twitter has become the number one news source for everything hockey. Everyone from teams and reporters to players has a Twitter account. A number of Jets players have one as well, and that includes:
I am honored to be the captain of the @NHLJets . Looking forward to getting this group together in October!

— Blake Wheeler (@BiggieFunke) August 31, 2016
https://twitter.com/mhutch34/status/762738436272906240
Local News
There are many places to get local coverage for the Jets. The two biggest are the Winnipeg Sun and TSN1290. The Sun has local writer Paul Friesen covering everything Jets related. On the TSN side of things, they have multiple reporters covering the Winnipeg Jets, and they all keep Twitter updated with the latest new. This includes Gary Lawless, Rick Ralph, and Andrew Paterson, as well as television broadcasters Dennis Beyak, Shane Hnidy, Paul Edmonds, and Brian Munz.
sounds like #nhljets centre Mark Scheifele will begin World Cup tourney at RW on McDavid's line

— gary lawless (@garylawless) September 5, 2016
Illegal Curve
Winnipeg Jets top draft pick Patrik Laine talks summer training. https://t.co/R5u6492Y79

— Illegal Curve Hockey (@IllegalCurve) August 16, 2016
The Illegal Curve are an independent sports media company dedicated to bringing you the best coverage of the Winnipeg Jets through the website, radio, and podcasts. You can hear the team on TSN1290 from noon – 3pm every Saturday during the season. The team consists of Dave Minuk, Drew Mindell, and Ezra Ginsburg, all active on social media.
Arctic Ice Hockey
A great place for game-day previews and reviews. Arctic Ice Hockey is a part of the SBNation and a good source for everything Winnipeg Jets. You can also find them on Twitter.
The Hockey Writers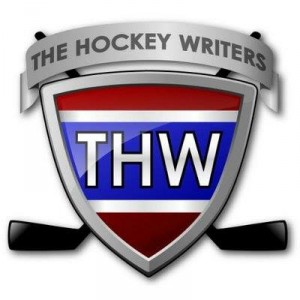 Of course, keep following The Hockey Writers for all the latest information on the Winnipeg Jets and the rest of the hockey world. THW is on Facebook and Twitter and we have a dedicated team of Jets writers including Sean Olinkin, Rob Mahon and your's truly, Judson Rempel.
Do you know any other amazing sources for Winnipeg Jets news? Let us know in the comments below.
Judson Rempel was born and raised in the Great White North, skating on ponds and watching hockey every Saturday night in small town Manitoba. When he's not watching hockey, he's playing hockey with his son and daughter, and trying to convince his wife to let him watch more hockey.