If you are reading this, that means you probably know that Alex Pietrangelo was named the 21st captain in St. Louis Blues history a few weeks ago. You probably already have your opinion formed on whether or not you think this will help the Blues. But, do you know all the facts? There are some things that you probably do not know about Alex Pietrangelo. I am here to help you get acquainted with Captain Petro.
Pietrangelo first laced up his skates (or had his skates laced up for him) at the age of four. He happens to be the second cousin of former Pittsburgh Penguins and Hartford Whalers goaltender, Frank Pietrangelo. Alex Pietrangelo was drafted by the Blues as the number four pick in the 2008 NHL Draft after which he split his playing time between several teams in the OHL, the Blues AHL affiliate, and the Blues for several years. He finally played his first full season with the Blues in 2010-11.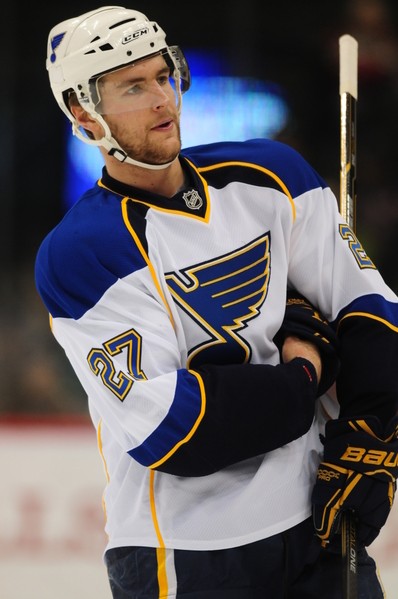 NHL Time
Throughout Pietrangelo's 505 total games in the NHL, he has had 277 points, is +59, and has averaged just over 24 minutes of ice time per game. In the 2015-16 playoffs, he averaged almost 30 minutes of ice time on the top line against the Blackhawks, Stars and Sharks top lines. I hope he can keep this up with the added responsibility of being captain.
The NHL recently ranked him the 16th best defenseman in the league, which is very respectable. He has played for his country, Canada, in two World Junior Championships, the World Championship, and the Olympics. He is a gold medal winner in the Olympics and a gold and silver medal winner in the World Juniors. In the 2010 World Juniors, he was the tournament's best defenseman with 12 points. He is currently set to represent the Canadian team in the 2016 World Cup of Hockey.
Pietrangelo has been an alternate captain of the St. Louis Blues for the past three years, working with former captain David Backes, who is also one of his closest friends. He learned the ropes of leadership from Backes, Alexander Steen (the other candidate for the captaincy) and Barret Jackman, and feels that he will get the job done.
"I'll represent the organization and the city of St. Louis to the best of my capabilities," he said. "It makes me excited to know I could be the first captain to raise the Stanley Cup in the city of St. Louis." It makes us excited too, Petro.
It also does not hurt that he has Alexander Steen, Paul Stastny, Vladimir Tarasenko, and Kevin Shattenkirk as alternate captains this season. It's also incredible that original Blue and former captain, Bob Plager, said, "He's the player that players look up to. So when a guy gets the 'C', you're not giving it to him. He's earned it." You have got to be a heck of a hockey player for THE Bob Plager to say that about you.
Off the Ice
Now that you know about his career, let's get personal. Alex Pietrangelo is a very dedicated and all around awesome guy. This past July he got married but did not go on his honeymoon right away. Instead, he stayed in St. Louis and met and talked to all of the Blues prospects at Prospect Camp in July. Any normal guy would take a vacation, especially after getting married, but he did not. He was not even named captain at that point and still took it upon himself to go to Prospect Camp. That is dedication at it's best.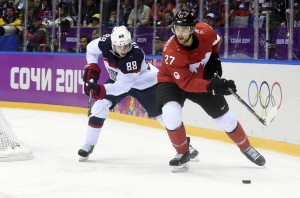 A couple of years ago his niece, Ellie, was diagnosed with a brain tumor and her hair fell out. He let her shave his head so she did not feel alone. What an uncle — he is still raising money for childhood brain tumor research in her honor. He cares a lot about the Hockey Fights Cancer organization and has helped out with their events. He, like many other NHL players, helps with the Make-a-Wish Foundation and makes dreams comes true for sick kids. He has invited them to practice, visited them in the hospital, given them presents, and spent time with them. He has helped out with the Athletes for Animals Foundation by lending his voice to help get animals adopted.
One of the most important questions for a hockey player is who their hero was growing up. Who do you think made Alex Pietrangelo want to be an NHL player? Nick Lidstrom, who is known for playing with the Detroit Red Wings. At least Petro is donning the Blue Note now. His favorite Blues alumni, however, is Bob Plager. That is more like it.
When he is not playing hockey, he likes to watch Cardinals Baseball, go fishing, vacation in the Bahamas, watch his favorite movies (Anchorman 2 and Remember the Titans) and dream of his ultimate golf foursome including Albert Einstein, Jessica Alba, and Andrea Bocelli. Whether you thought Steen should be captain or you are on team Petro, you cannot deny that Pietrangelo has the qualifications, drive and skill to be captain. He is also an amazing guy off the ice, like David Backes, which is a great bonus. Whether you are ready or not, here come Alex Pietrangelo and the St. Louis Blues.
Hi, my name is Melanie Rau. I am a Freshman at The University of Missouri-Columbia studying Journalism. I am from St. Louis, so naturally I am a HUGE Blues fan and Cards fan. I am the one on the left of my profile picture. GO BLUES!