Continuing our top prospects series we focus on the Metropolitan Division. The 2016-17 NHL season is a month away and teams are getting their training camp rosters ready with a handful of prospects ready to challenge for spots. The rookie class features some incredible talent led by two picks from the 2016 draft in Auston Matthews and Patrik Laine.
This is far from a two player race.
Related: Top 10 Calder Trophy Candidates
Dylan Strome, Sebastien Aho, William Nylander, Mitch Marner, Ivan Provorov, Kyle Connor and Jimmy Vesey are just a handful leading the charge.
Related: Team-By-Team Top Prospects – Central Division
Related: Team-By-Team Top Prospects – Pacific Division
Related: Team-By-Team Top Prospects – Atlantic Division
There are three prospects in the Metropolitan division that could get consideration for rookie of the year. Columbus shocked the hockey world when they took center Pierre-Luc Dubois as their third overall pick and Ivan Provorov could quite possibly be the most offensively skilled Russian defender of the past decade. Of all the teams in the Metro division it's Columbus and Philadelphia that might have the best prospect pools to draw from. Columbus' AHL affiliate in Lake Erie just won the Calder Cup as league champions last year and a huge influx of that roster is pressing on the veterans for main roster jobs. Oliver Bjorkstrand might be a dark horse if he can break his way into the Blue Jackets top nine.
Ditto can be said for the Flyers roster where they've done an amazing job building their defense from the ground up. Shayne Gostisbehere was just the tip of the iceberg in 2015-16 for the Flyers future blueline.
Prospects mature at different times and not all the prospects listed as the top prospect for each team are NHL ready. Looking at each team there are names under Others that are more NHL ready and might hop into the lineup ahead of the listed top prospect, but the top prospect listed is the player with the highest ceiling in each team's prospect pool.
Here is the Metropolitan Division top prospect pool for all 30 NHL franchises.
Carolina Hurricanes
RW Haydn Fleury | Age: 20
Acquired: 2014 – 7th Overall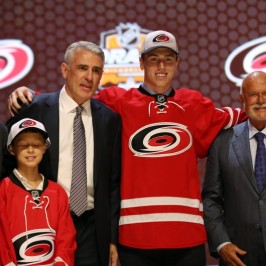 Analysis: Fleury was the Hurricanes top pick in the 2014 draft and has been slowly developing in the WHL. He played in the Memorial Cup with the Red Deer Rebels as their number one but struggled at times to live up to the hype of being a top 10 pick in the draft. He's been leapfrogged by several defense prospects like Noah Hanifin, Jaccob Slavin and Ryan Murphy but he'll get a chance in camp to earn a No. 5/6 spot. A lot of it will come down to how well he outplays those others listed, namely Ryan Murphy who has been inconsistent at the NHL level. It's too early to shoot Fleury in the foot and say he's a bust, he's not, far from it. His place in the NHL might best be as a number three in the Hurricanes system down the road behind Justin Faulk and Hanifin.
Beyond Fleury the Hurricanes have some tremendous prospects like Sebastian Aho who many believe will  play a top six role for the Hurricanes this season. Aho tore it up in Finland last year with 45 points in 45 games. A smaller sized offensive skilled forward, Aho could very well score 40 points in his rookie year for the Hurricanes, especially if he clicks with a potential linemate in another Finnish forward Teuvo Teravainen. Defenseman Jake Bean and forward Julien Gauthier will likely return back to junior, goalie Alex Nedeljkovic will play his rookie year in the AHL and projects as the Hurricanes future number one.
Others: D Jake Bean, RW Sebastian Aho, G Alex Nedeljkovic, RW Julien Gauthier, LW Phil Di Giuseppe
Columbus Blue Jackets
C Pierre-Luc Dubois | Age: 18
Acquired: 2016 – 3rd Overall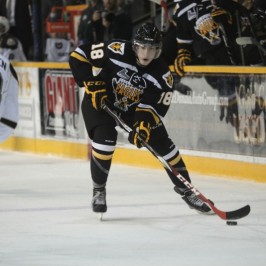 Analysis: Columbus finds itself in an enviable position having two prospects that could very well be the top prospects on any given NHL team. Both players project to be elite level talents and the Blue Jackets future is brighter for it. Dubois was the surprise of the 2016 NHL Draft when GM Jarmo Kekelainen took him over consensus third-overall Jesse Puljujarvi. Kekelainen compared Dubois to Jamie Benn and the player finds himself replacing the loss of Ryan Johansen as the team's number one center. In the short-term Dubois will get plenty of support with Brandon Dubinsky, Boone Jenner and Alexander Wennberg also playing as centers. This will give Dubois time to adjust to the NHL game. Dubois plays a power game with an offensive flare coming off a 99 point season with the QMJHL Cape Breton Screaming Eagles.
The Blue Jackets have 49/50 contracts and might let Dubois slide a year after a nine-game audition to start the year which could free up space to bring in some veteran help. Then there is Zach Werenski who could develop into the team's number one defenseman in a few years time. The former eighth overall pick in 2015 is an elite puck-moving defender who plays a complete game. He chose to sign his ELC and leave college early and adds to what could be an incredibly deep Columbus defense down the road. That defense would also include Seth Jones, Ryan Murray and David Savard.
Others: D Zach Werenski, LW Sonny Milano, RW Oliver Bjorkstrand, G Joonas Korpisalo
New Jersey Devils
C Pavel Zacha | Age: 19
Acquired: 2015 – 6th Overall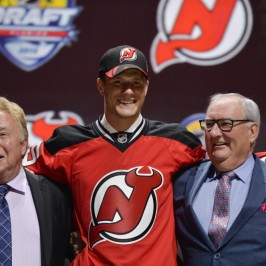 Analysis: The Devils are incredibly thin up front and far from contending for a playoff spot this season. This means opportunities for younger talent to crack the roster will be aplenty. Pavel Zacha is going to be the biggest from a physical and impact standpoint. The Devils hope is that he develops into a prototypical big-bodied number one center.
Zacha had a good year with the OHL Sarnia Sting with 64 points in 51 games. When the season concluded he ended the year with one game with the Devils where he had two points and joined the AHL Albany Devils for their short playoff run. He skates well for a big guy and utilizes his body to generate scoring opportunities. Decent finishing skills will likely start the year in the Devils top nine.
Others: C Michael McLeod, LW Joesph Blandisi, D Steve Santini, G Mackenzie Blackwood, LW Reid Boucher
New York Islanders
C Mathew Barzal | Age: 19
Acquired: 2015 – 16th Overall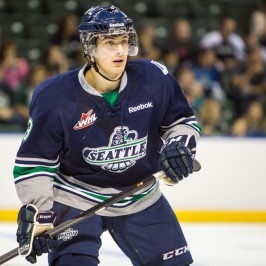 Analysis: When the Isles soured on Griffin Reinhart and traded him to Edmonton for a package of picks including the 16th overall pick they made the Oilers second guess themselves when they used the pick on a skilled forward like Mathew Barzal. The jury is still out on Reinhart who may never live up to the Shea Weber comparisons of his draft year, but Barzal has done everything right since that draft day. He had a solid camp last year, led the WHL Seattle Thunderbirds with 88 points in 58 games and has quickly developed into one of the faster prospects in the Isles system.
A solid skater, Barzal projects to be a top-six playmaker with great vision and hockey sense. He showed a lot of growth last year by shedding the idea he was a pure offensive player by getting in lanes, blocking shots and reading the play better on the defensive side. His two-way game is developing and if it stays the course the Isles could have a very well rounded player in a few years time. The NHL is getting faster and guys like Barzal will fit like a glove, especially in a system that allows him to maintain his offensive creativity.
Others: D Ryan Pulock, LW Michael Dal Colle, LW Kieffer Bellows, G Ilya Sorokin, G Linus Soderstrom
New York Rangers
LW Jimmy Vesey | Age: 23
Acquired: FA Signing – August 2016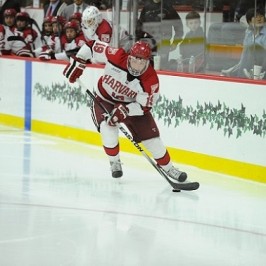 Analysis: It's was a toss up between Pavel Buchnevich and Brady Skjei for who the Blueshirts top prospect but the signing of free agent college forward Jimmy Vesey changes things. The prized college free agent signed with the Rangers after electing not to sign with Nashville who drafted him 66th overall in 2012. His stock has risen since the draft and after four seasons at Harvard in the NCAA and a spot on Team USA at the 2015 World Championships, Vesey is ready to break through the pro ranks.
A Hobey Baker finalist and ECAC champion, Vesey led Harvard in scoring in back-to-back years capping it off with 46 points in 33 games last season. A skilled playmaker with a dynamic hockey sense that can score as well, he has all the makings to be a solid top-six contributor to the Rangers offense for years to come. His defensive game is his weak point and if he ends up in head coach Alain Vigneault's doghouse that'll likely be the reason why. Still, it shouldn't be hard to expect a 40 point season out of a 23-year-old rookie.
Others: LW Pavel Buchnevski, D Brady Skjei, G Brandon Halverson, L Ryan Gropp, D Sean Day
Philadelphia Flyers
D Ivan Provorov | Age: 19
Acquired: 2015 – 7th Overall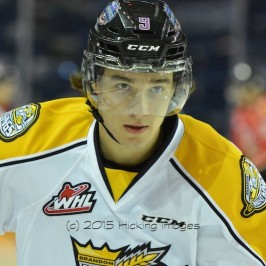 Analysis: The Flyers have added a plethora of defensive prospects in recent years but none have higher expectations than Ivan Provorov who's expected to challenge for a roster spot at training camp. The Russian defender is an offensive dynamo and will help the Flyers powerplay for years to come.
Provorov was named CHL Defenseman of the Year and helped lead the WHL Brandon Wheat Kings to a Memorial Cup berth with a 21 goal 73 point regular season. He was a force for Russia at the WJC and looks ready to make the next step directly to the NHL. An all-around defenseman Provorov has the abilities to play on both special teams and is as agile as he is quick. With Shayne Gostisbehere, Samuel Morin, Travis Sanheim and Provorov the Flyers have the makings of a tremendous blueline in a few years.
Others: D Travis Sanheim, D Samuel Morin, C German Rubtsov, C Travis Konecny, G Carter Hart
Pittsburgh Penguins
D Derrick Pouliot | Age: 22
Acquired: 2012 – 8th Overall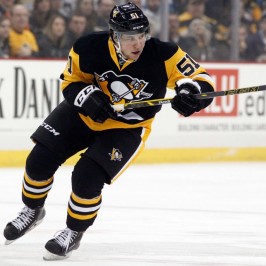 Analysis: We've excluded Matt Murray from this list even though he's still Calder trophy eligible technically. It's a stretch to consider Derrick Pouliot a prospect at this point with him having 56 NHL games under his belt. The fact is Pouliot has struggled to stick with the NHL Penguins, instead finding himself developing with their AHL affiliate in Wilkes-Barre. Pouliot got into two playoff games en route to the Penguins cup win but this season once again finds himself in a similar position on the depth chart battling for the number six spot.
A strong skater that plays more of a run and gun style he averaged 15:27 TOI with the Penguins during his 22 NHL games last year but his defensive-zone coverage and lack of size have hindered his growth. This is the key piece along with Brian Dumoulin that the Penguins got from the Hurricanes in the Jordan Staal trade. So far Dumoulin has been the better of the two. Pouliot will get another shot but could find himself again playing double duty between the NHL and AHL. He'll start the year in Pittsburgh though.
Others: RW Daniel Sprong, G Filip Gustavsson, G Tristan Jarry, RW Dominik Simon, C Jake Guentzel
Washington Capitals
G Ilya Samsonov | Age: 19
Acquired: 2015 – 22nd Overall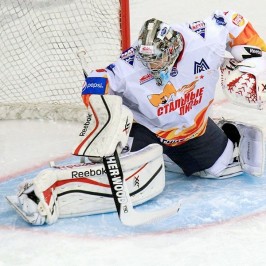 Analysis: The Capitals have one of the best starters in the NHL right now in Braden Holtby and they also hold one of the best goaltending prospects in Ilya Samsonov. The 22nd overall pick in 2015 had a solid year backing up with KHL Metallurg Magnitogorsk but will get a shot to hold the crease to himself in 2016-17. It's hard to find that combination of size and athleticism in a goaltender but Samsonov has both. He projects to be a No. 1 starter once he develops.
At 6'3 200lbs he could be the next Andrei Vasilevsky goaltending-type prospect to come out of Russia. He helped Russia to a silver medal at the WJC and held a 2.04 GAA and 0.925 SV% in 19 KHL games last year. Samsonov is the real deal and it's a possibility he comes to North America as early as next season. The beauty of having a solid goaltender like Holtby in his prime is they won't have to rush Samsonov who will be around for the later years of the Ovechkin-era in Washington.
Others: LW Jakub Vrana, D Lucas Johansen, D Madison Bowey, RW Riley Barber, D Jonas Siegenthaler
Edmonton Oilers regular contributor providing insight on all things Oilers including club history, prospect profiles, trade breakdowns, and everything else in between. Check back regularly for new and exciting content. Follow on Twitter @SanderTHW.