Continuing our top prospects series we focus on the Pacific Division. The 2016-17 NHL season is a month away and teams are getting their training camp rosters ready with a handful of prospects ready to challenge for spots. The rookie class features some incredible talent led by two picks from the 2016 draft in Auston Matthews and Patrik Laine.
This is far from a two player race.
Dylan Strome, Sebastien Aho, William Nylander, Mitch Marner, Ivan Provorov, Kyle Connor and Jimmy Vesey are just a handful leading the charge.
Related: Top 10 Calder Trophy Candidates
Related: Team-By-Team Top Prospects – Atlantic Division
Related: Team-By-Team Top Prospects – Central Division
Related: Team-By-Team Top Prospects – Metropolitan Division
The Pacific Division has at least six Top 10 picks that could find their way onto their respective team's rosters. That group holds the fourth and sixth overall picks from the 2016 draft in Jesse Puljujarvi and Matthew Tkachuk. Both could play some major minutes in the Battle of Alberta. Strome, as stated above, leads the way for the Arizona Coyotes and is a part of the early favorites group to win the Calder Trophy. Still, beyond the top prospects grouping, the Pacific Division has seen a number of teams in transition.
Coyotes Leading The Way In Development
Strome leads the way for Arizona and is an early favorite to contend for the Calder Trophy. The Pacific Division has seen a number of teams in transition, notably the ones north of the border. In the Pacific Division landscape, the California teams are on top, but their Canadian counterparts are building some solid prospect pools.
Arizona, led by general manager John Chayka, has done some tremendous things this offseason and will build upon former GM Don Maloney's solid prospect depth. The Coyotes have arguably the best prospect pool league-wide and was further solidified with the additions of forward Clayton Keller and defenceman Jakob Chychrun in this year's first round. Adding to that, they took on the David Bolland contract from Florida and acquired the Panthers' first-round pick last year, Lawson Crouse.
Prospects mature at different times and not all players listed as the top prospect for each team are NHL-ready. Looking at each team, there are names under Others that are more NHL-ready and might hop into the lineup ahead of the listed top prospect. The top prospect listed here is the player with the highest ceiling in each team's prospect pool.
Here are the top prospects for the Pacific Division for all 30 NHL franchises:
Anaheim Ducks
LW Nick Ritchie | Age: 20
Acquired: 2014  – 10th Overall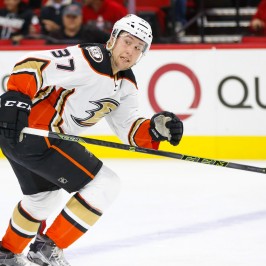 Analysis: Ritchie projects as a big bodied power forward and will undoubtedly get every opportunity to secure a top six role with the Ducks this season. He played in 33 games last season scoring just four points and averaging 11:45 TOI. Anaheim wanted their 2014 first rounder to take a better off-season approach this summer in hopes to get him ready for the long 82-game regular season.
He'll have pressure in the form of 2016 first rounder Max Jones who just signed his ELC. Both will get looks in training camp with Ritchie having the inside edge. Both play a similar game and it's debatable which of the two has better long term upside. In the short term, Ritchie may get a chance to start the year on a line with Ryan Getzlaf and Corey Perry. However, he'll have to take a major step forward offensively if that is to work out for the Ducks this year.
Others: D Shea Theodore, D Jacob Larsson, LW Max Jones, D Brandon Montour, C Sam Steel
Arizona Coyotes
C Dylan Strome | Age: 19
Acquired: 2015 – 3rd Overall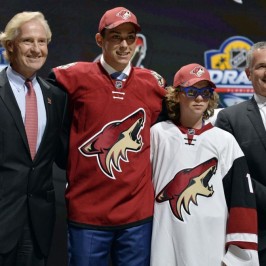 Analysis: After a dominating 111-point season with the OHL Erie Otters last year Strome will undoubtedly make the Coyotes opening night roster as a number two center. The sky is the limit with Strome who projects as a future number one NHL center. His biggest hurdle thus far has been his physical maturity using his 6'3", 185-pound frame. Strome put on extra pounds this summer but with other small weighted centers like Ryan Nugent-Hopkins being injury-plagued in the early parts of their career, Coyotes management has been cautious not to rush him.
The offense and playmaking abilities are there and with Max Domi and Anthony Duclair as potential linemates, this could be one of the fastest lines in the NHL.
Strome isn't the only rookie that might crack their opening night roster. Christian Dvorak will get a shot at a top nine role. Dvorak was a steal in the 2014 2nd round and brings solid two-way acumen to the Coyotes' offense. Defenseman Jakob Chychrun will get an extended look in camp as will forwards Lawson Crouse (newly acquired), Christian Fischer and Brendan Perlini. There are too many others to name, like defenseman Anthony Deangelo and right winger Nick Merkley. The future is bright in Arizona.
Others: C Clayton Keller, D Jakob Chychrun, C Christian Dvorak, D Anthony DeAngelo, LW Lawson Crouse
Calgary Flames
LW Matthew Tkachuk | Age: 18
Acquired: 2016 – 6th Overall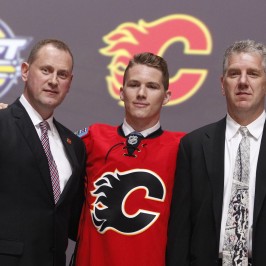 Analysis: When Tkachuk made his way down to sixth overall, the Flames ran to the podium. In Tkachuk, the Flames have a future first-line sniper with the type of compete level that president of hockey operations Brian Burke dreams about. He'll have an opportunity to start the year, potentially, on a line with Sean Monahan and Johnny Gaudreau. If it clicks, this could be the Flames' top line for the next decade. Tkachuk will be sure to get a nine-game audition before the Flames have to send him back to junior but it's more likely he stays unless he fumbles the opportunity out of the gate.
Beyond Tkachuk there are some solid prospects who will get a shot in 2016-17 like Mark Jankowski, a big-bodied playmaking center who projects as a solid number three down the road. Forward Emile Poirier will likely get called up for a handful of games, as will defenseman Oliver Kylington who might be a future powerplay quarterback. There's also the Flames' top goaltending prospect Jon Gillies who projects as a future starter drawing comparisons to Ben Bishop because of his size. Calgary also signed Czech league scoring sensation Daniel Pribyl who will get a top-nine role with the main club.
Others: G Jon Gillies, C Mark Jankowski, D Rasmus Andersson, D Oliver Kylington, RW Emile Poirier
Edmonton Oilers
RW Jesse Puljujarvi | Age: 18
Acquired: 2016 – 4th Overall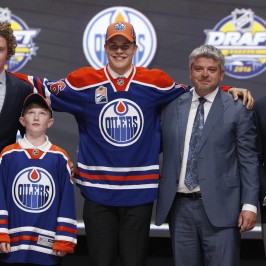 Analysis: Edmonton's management also ran to the podium when Puljujarvi was suddenly available at fourth overall. He projects as a big-time scoring forward with two-way abilities and speed. At 6'4", 200-pounds he protects the puck well and has a tremendous compete level. Though he missed a lot of the summer recovering from injury, Puljujarvi will challenge for a top nine role.
Puljujarvi gives the Oilers three capable scoring lines and cushions the blow of the Taylor Hall trade. Don't expect him to be a world-beater in his first year; he might settle in the low 40-point range. Not a bad thing when you think of the challenges fellow Finnish forward Aleksander Barkov went through in his rookie year, where he scored just 24 points before exploding with 59 points in the last year of his ELC. GM Peter Chiarelli has flexibility with where he will play Puljujarvi, who is eligible to play in the AHL or return to Europe.
A future top-line right winger isn't the only prospect Edmonton stole in the 2016 NHL Draft. If Tyler Benson hadn't struggled with injuries he would've been a sure-fire first round pick, instead the physical two-way forward fell to Edmonton 32nd overall. Drake Caggiula and Jujhar Khaira will challenge for bottom-six minutes and Griffin Reinhart will look to build on last season. Reinhart, the fourth overall pick in 2012, finished the year with the Oilers but will find himself in a battle for a roster spot in training camp.
Others: D Griffin Reinhart, C Drake Caggiula, G Laurent Brossoit, LW Tyler Benson, C Jujhar Khaira, Matthew Benning
Los Angeles Kings
LW Adrian  Kempe | Age: 20
Acquired: 2014 – 29th Overall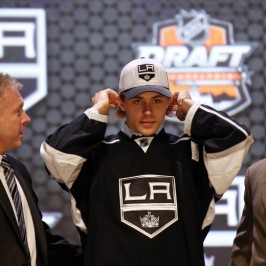 Analysis: At 6'2", 190-pounds, the Kings have a future power forward in Kempe who does some of his best work down low around the net. He's got a great shot and strong skating ability. Coming over from Sweden, he's had good numbers in consecutive years at the WJC but might need another full year in the AHL.
The Kings could fit Kempe into the bottom six to start the year and it'll be interesting to see how he adjusts to the North American pro game, this being his second season over here. The Kings have some flexibility and can send him back down to the AHL or Europe as he falls under the European-born rules.
Michael Mersch will likely get called up throughout the year but needs to improve his skating. Kale Clague was a solid second round pick for the defense down the line. Derek Forbort, a 2010 first-rounder is running out of opportunities and this could be it for him in LA if he fails to stick.
Others: LW Michael Mersch, D Kale Clague, D Derek Forbort, RW Justin Auger, C Nic Dowd
San Jose Sharks
RW Timo Meier | Age: 19
Acquired: 2015 – 9th Overall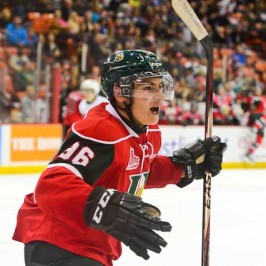 Analysis
: Meier fits like a glove into the new Sharks identity: big, fast and dangerous offensively. The 19-year-old Swiss forward was thought of very highly when the Sharks picked him ahead of forwards Mikko Rantanen (Colorado), Denis Guryanov (Dallas), Mathew Barzal (NY Islanders) and Kyle Conner (Winnipeg) at the 2015 NHL Draft. A power forward with great acceleration, he dominated the QMJHL en route to a Memorial Cup berth with Rouyn-Noranda. An impressive 34 goals 87 points in 52 games and captaining the Swiss team, averaging a point-per-game at the WJC capped an incredible year.
Meier could work his way into a top-nine role with the Sharks, but they'd be better off trusting him with the task of learning the pro game leading the AHL San Jose Barracuda where he'd be playing top-line minutes.
Others: D Mirco Mueller, RW Nikolay Goldobin, D Jeremy Roy, C Maxim Letunov, LW Adam Helewka
Vancouver Canucks
D Olli Juolevi | Age: 18
Acquired: 2016 – 5th Overall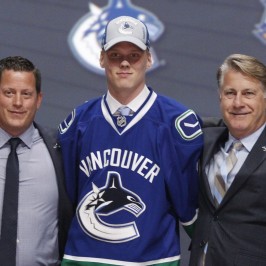 Analysis: Over the past few years the Canucks have been re-tooling in the hopes of getting younger and building from there. At one point the Canucks were one of the oldest teams in the league but they've got some good pieces in place to turn this around. Thatcher Demko is the goalie of the future for the Canucks, and a lot is being put into Bo Horvat, Brock Boeser and Jake Virtanen who could turn into valuable secondary pieces; ditto for Jordan Subban on defense. They've now got a future top-pairing defender in Olli Juolevi who was the top defenseman drafted at the 2016 NHL Draft.
Juolevi was a stud for the Memorial Cup winning London Knights with 42 points in 57 games. A steady presence on the Knights' blueline, he reads the play well and makes great decisions with the puck. Vancouver forwards will enjoy his breakout abilities and solid first pass coupled with strong overall mobility. A solid puck-mover out of Finland, he'll crack the Canucks' opening night blueline and possibly get a crack at meaningful minutes as the year goes on.
Others: RW Brock Boeser, G Thatcher Demko, LW Brendan Gaunce, D Jordan Subban, RW Cole Cassels