This year's rookie class may be one of the most talented in recent memory. Top prospects from the last three drafts have all seem to come together to make their NHL debuts in 2016-17.
Not only will the NHL witness at least two highly touted players burst into the league straight from the 2016 NHL Draft, in Auston Matthews and Patrik Laine, but another six tremendous talents from the 2015 Draft are also set to make an impact in their rookie season.
A couple outliers at the end of this list are some slightly older players. William Nylander was drafted 8th overall in 2014 and played in 22 games for the Leafs during 2015-16, meaning he is still considered a rookie for next season. The other is 23-year-old, Jimmy Vesey. Drafted in 2012 by Nashville, he pursued four years at Harvard before now electing to test free agency. He wowed the NCAA over the past two years and is considered to be ready to play a top-six role by some of the pursing teams.
Overall, there is a plethora of outstanding talent ready to take the NHL by storm in 2016-17. Not to mention those who are hiding behind the big guns, similar to the way Shayne Gostisbehere found his way to becoming the runner-up for the Calder last year.
Without further ado, here are the top 10 Calder Trophy candidates for 2016-17, in order of draft year.
Auston Matthews – 1st Overall, 2016 – Toronto Maple Leafs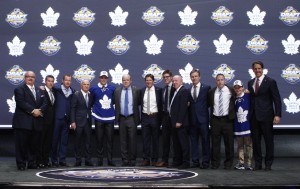 Matthews will enter next season as many people's favourite for the Calder largely due to the fact that he was 2016's 1st overall pick. He is certainly NHL ready, but will be beginning the year as a third-line center for a Toronto team that won't give him much help in creating impressive offensive numbers.
Matthews is an extremely smart player who will no doubt make the Leafs better immediately, but he will be in tough to score the 60 points or so that it takes to win the Calder. He is a quick player who sees the ice very well and uses that to be a responsible two-way center. He has a great shot which should be able to earn him 20 goals this year regardless of the talent around him.
Patrik Laine – 2nd Overall, 2016 – Winnipeg Jets
Laine will have a much better opportunity to become an instant offensive force in the league than Matthews, as he may be slotted into a top-six role surrounded by players who have had years of success already. Entering the 2016 Draft, Laine was close to dethroning Matthews for the 1st overall pick, and he may be more prepared to take on the league with a shot that could already be one of the best.
Laine has an elite shot that he uses similarly to Alex Ovechkin. If he gets some power play time, which he certainly will, the goals will start to add up quickly. On a Jets team which isn't far from having success, Laine may be the piece that propels them back to playoff territory. He should be a favourite to lead the rookie scoring race.
Dylan Strome – 3rd Overall, 2015 – Arizona Coyotes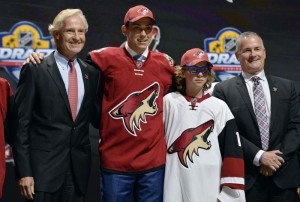 A year removed from nearly cracking the Coyotes team, Strome has become quicker and stronger. He used the 2015-16 season to prove that he is an elite prospect even without the presence of Connor McDavid on the Erie Otters. He further improved his point-per-game rate to just under two, with 111 points in 58 games. With the revolution of youngsters coming in Arizona, Strome will be given great opportunities to become a leader this year.
Strome will use his size, strength, and competitiveness to transition seamlessly to the NHL game. He possesses a powerful, accurate shot with a quick release which will certainly earn him a solid goal total. Strome has an exceptional all-around game with virtually no holes, making him a player to watch for the Calder Trophy.
Mitch Marner – 4th Overall, 2015 – Toronto Maple Leafs
Marner returned to junior in 2015-16 after admittedly not being strong enough for the NHL. He used the year to add some muscle on route to winning nearly every major award in the CHL. Marner totalled 55 goals and 160 points over 75 regular season and playoff games. Like Matthews, he will be in tough to replicate that season on a lacklustre Leafs team, but definitely has all the tools to rack up some serious points.
Marner's game revolves around his elite hockey sense and vision of the ice, and he has a work ethic second-to-none which makes him a coach's dream. Although he is still a smaller forward, his skating makes up for it and he visibly makes the players around him better. Marner is the definition of a point-producing machine.
Ivan Provorov – 7th Overall, 2015 – Philadelphia Flyers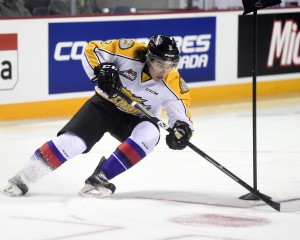 If there is a defenceman who can win the Calder Trophy this year, Provorov would be the favourite. He is an offensive defenceman who enjoyed another successful season in the WHL last year. He would finish the year with 21 goals and 73 points over 62 games on route to earning the CHL Defenceman of the Year Award.
Provorov could be given ample time to shine, especially on a not so flashy Philadelphia blue-line. Should he find power play time as well, where his game really thrives, he could become a serious contender for the Calder Trophy. Provorov excels at creating offence from the blue line with a hard, accurate shot, as well as the vision to create back door goals too. A potential pairing of Provorov and Gostisbehere should have Flyers fans drooling.
Zach Werenski – 8th Overall, 2015 – Columbus Blue Jackets
After an incredible season with the University of Michigan which saw Werenksi score at a point-per-game rate, he turned pro to join the Lake Erie Monsters for a Calder wining playoff run in the AHL. Along the way, he scored 14 points during the team's 17 postseason games, becoming one of the team's most reliable defencemen.
Werenski is ready for the NHL without a doubt and will join Ryan Murray and Seth Jones to make an exciting blue line in Columbus. He brings an all-around game which is focused on smooth-skating and puck movement. He excels in all situations and is a very strong defender at just 18 years of age. While it's always tough for a defenceman to win the Calder, Werenski has all the tools to surprise and do so.
Kyle Connor – 17th Overall, 2015 – Winnipeg Jets
Connor enjoyed an exceptional freshman season with the University of Michigan in 2015-16, where he scored 35 goals and 71 points in just 38 games, but was robbed of the Hobey Baker Award. Since being drafted 17th overall, Connor has quickly climbed the ranks of prospects and is reminiscent of Dylan Larkin's success to many. A year in which you add both Laine and Connor to the Jets' roster should make them a team to watch.
Connor's success starts with his elite skating abilities and insane top speeds. He has the confidence and skill to be a very shifty and creative stickhandler, which when combined with his speed can create plenty of scoring chances. He understands his role as a center and plays a very responsible 200-foot game as a result. While Laine will get most of the attention, Connor is a dark horse that could potentially outshine him.
Sebastian Aho – 35th Overall, 2015 – Carolina Hurricanes
Aho used the 2015-16 season to prove the importance of intelligence and understanding of the game in young prospects. After being selected 35th overall, many feel Aho will be a dangerous NHL player in the coming year mainly due to his smarts. He is a calm and confident player who has the ability to dictate the pace of the game with his smooth skating and vision of the ice.
Aho quickly became one of the most dominant players in Liiga this year, Finland's top league, on route to scoring 20 goals and 45 points in 45 games while playing against full-grown men. Aho is yet another of many exciting prospects in Carolina and could become one of their offensive leaders as a rookie. However, he will be in tough for the Calder as the Hurricanes are annually a low-scoring team.
William Nylander – 8th Overall, 2014 – Toronto Maple Leafs
Nylander makes it a trio of Leafs who could challenge for the Calder Trophy this season. With nearly two years of AHL experience under his belt, Nylander is ready to make the jump to the NHL. He proved his abilities during a 22-game stint with the Leafs in 2015-16, where he scored six goals and 13 points. Mike Babcock hinted that he may begin the year on Matthews' wing, making what could be a rookie pair better than Domi and Duclair of last year.
While pacing the AHL in scoring last year, Nylander proved that his hockey IQ far outranks his lack of size on the ice. He uses his skating and vision to create scoring opportunities when it may seem nothing is available. He has the instincts to understand where space will open up and utilizes that ability to find himself a plethora of wide open shooting lanes.
Jimmy Vesey – 66th Overall, 2012 – Nashville Predators (UFA)
Vesey has made himself to talk of the NHL after finishing his four years at Harvard University with a Hobey Bakey Award as the MVP of the NCAA, and then opting for free agency instead of signing in Nashville. Now, come August 15th, he can sign with any team in the league. Vesey enjoyed tons of success over the last two years, totalling 56 goals and 104 points over just 70 games.
Since being drafted, Vesey has proven that he has the ability to be an elite goal-scorer with an electric release. He has grown and added strength, making him a player who can battle for and come away with the puck. He has an underrated sense of the ice, often making passes through traffic to create opportunities. He visibly makes his teammates better and at 23, could immediately join a team's top-six.
Contributor for the Toronto Maple Leafs and Prospects. Scout with the Oakville Blades of the OJHL. For questions, concerns, or comments, contact me at devinslawson123@hotmail.com or on twitter @SlawsonTHW.