The 2022-23 season is already a write-off for the Columbus Blue Jackets. With the trade deadline just around the corner, their general manager Jarmo Kekalainen should consider getting as many assets as he can – without selling any long-term assets.
---
---
There are three big pieces that are rumoured to be on the Blue Jackets' trade block – Vladislav Gavrikov, Gustav Nyquist, and Joonas Korpisalo. However, there are a few depth pieces that could be of use to a team with championship aspirations. Let's have a look at three of those options.
Eric Robinson
Eric Robinson has been a big part of the Jackets' checking line this season. He along with Sean Kuraly and Mathieu Olivier have been relied upon by head coach Brad Larsen throughout a large stretch of the last few months. They are a pretty good unit that provides a boost of energy whenever the team needs one.
Now the question is, why should Robinson be traded? The Jackets have no playoff aspirations this year, and next year even seems like a bit of a stretch. Robinson is a player that is tailor-made to be a depth piece on a playoff team. He's got speed, a bigger body that is not afraid to be physical and is a hard worker. He's not the most skilled, but he makes up for it in defensive prowess as an excellent penalty killer. There is definitely value there.
He has a contract that expires after next season at $1.6 million, which is reasonable to move for the right return. It would not be a massive return, maybe a mid-to-late round pick or a fringe prospect. However, if Robinson isn't going to be a long-term piece in the Jackets' plans they might as well get something for him.
Emil Bemstrom
We've been saying for years, "Will the real Emil Bemstrom please stand up?" All the while waiting for a dynamic offensive producer to somehow emerge from the cocoon of what we've seen from him thus far. However, this season has proven that he can be a legitimate NHL player.
While he's been a far cry from the top-six contributor that we were expecting, he has been decent as a bottom-six secondary scorer. He was flashy with a remarkable start in the American Hockey League (AHL) this season, scoring 31 points in 21 games. That offense could be tempting, and all it takes is one NHL team to think he just needs a fresh start to reach a higher level in the NHL.
Related: Blue Jackets' Bemstrom Says He's Ready For Another NHL Shot
---
Latest News & Highlights
---
He's also still young-ish at 23 with a couple of years of growth left. Bemstrom would be a great candidate to swap for another fringe NHLer who was once highly touted in need of a change of scenery or a late-round pick. With a year left on his contract after this one, why not sell him off to a team that could use some depth scoring? He's certainly not going to be a huge part of the Blue Jackets' future.
Marcus Bjork
Marcus Bjork was a wild card heading into this season. An undrafted, free-agent import from the Swedish Hockey League (SHL), it didn't look like he was going to get an opportunity to play in the state capital, being immediately assigned to Cleveland in the AHL. Then came the swath of injuries to the Jackets' back end and Bjork was one of the first called up.
The 25-year-old Bjork's game has matured more than some of the other prospects who are waiting in the wings. He strikes me as someone similar to Jan Rutta. Rutta had a decent turnout with the post-dynasty Chicago Blackhawks but didn't make much of a dent until he was traded to the Tampa Bay Lightning. There, he was a key part in both of Tampa's Stanley Cup wins.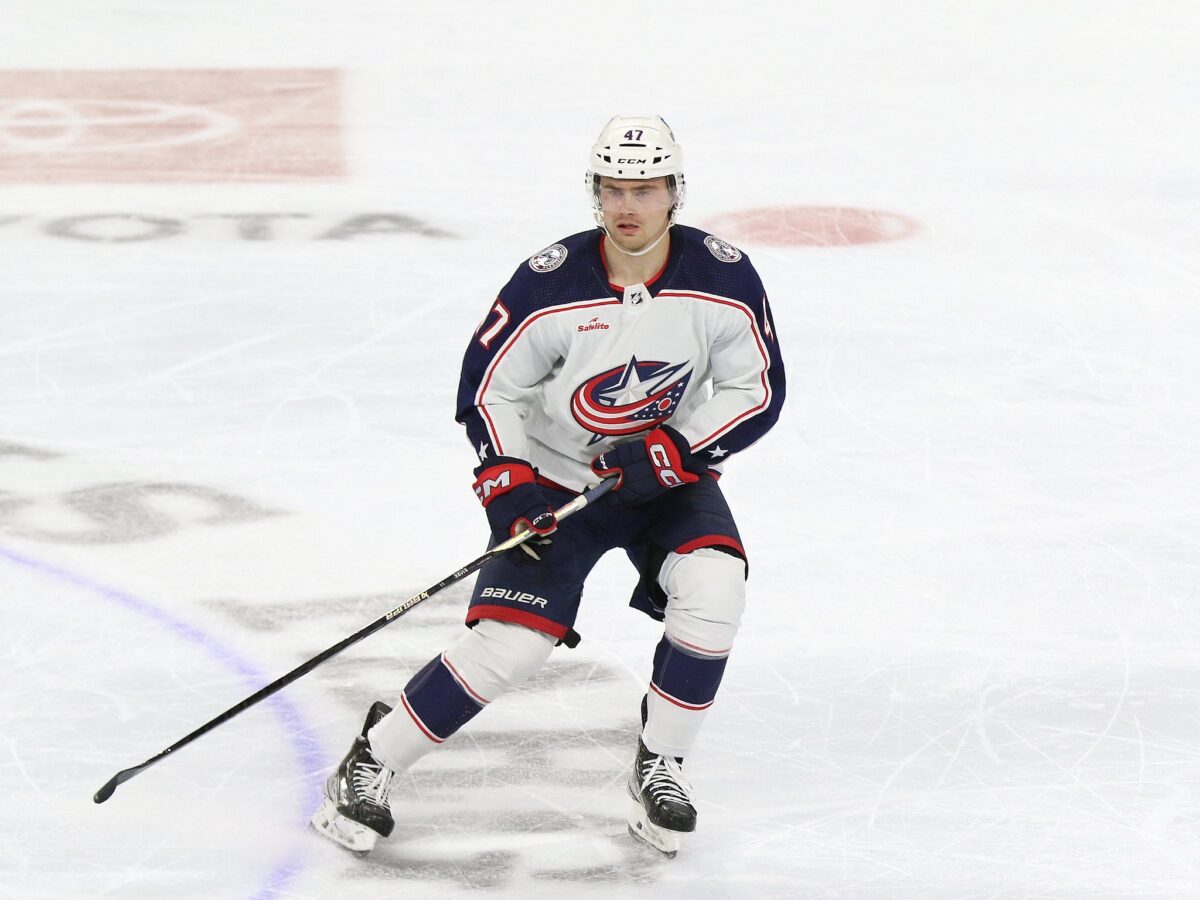 I'm not comparing the style of play – although there is some crossover – but what I am comparing is the story and opportunity. Bjork is a right-shot defenseman in an organization overflowing with talent at that position. As a 25-year-old with an NHL-ready game, his 26 games and positive results should show an NHL team looking for cheap help on defense that he is a legitimate candidate to fill a bottom-pair or seventh-defenseman slot. Rutta – with a smidge more experience – gained the Blackhawks an older prospect and a fifth-round pick. If Bjork can garner even one of those in return, the Jackets should at least consider it.
With the NHL Trade Deadline just around the corner, there are a few players who are assumed to be on the Blue Jackets' trade block. Robinson, Bemstrom, and Bjork are three players who do have some value and should be considered trade bait as Columbus continues the asset-gathering phase of their rebuilding process.