If you're a fan of the Vegas Golden Knights and you're not watching the Stanley Cup Playoffs, it's time to reprioritize. The future of hockey in Southern Nevada is playing out all across the country, every night.
Nashville, in particular, is a talent-laden squad that's going to lose a quality player come June. They dusted the Chicago Blackhawks in four games, so we're treated to at least four more nights of Predators hockey.
And Vegas fans should pay close attention. Someone who's making a significant impact on what could end up being a deep playoff run for Nashville may end up a Golden Knight this offseason. When you tune in, here's four names you should know.
Ryan Ellis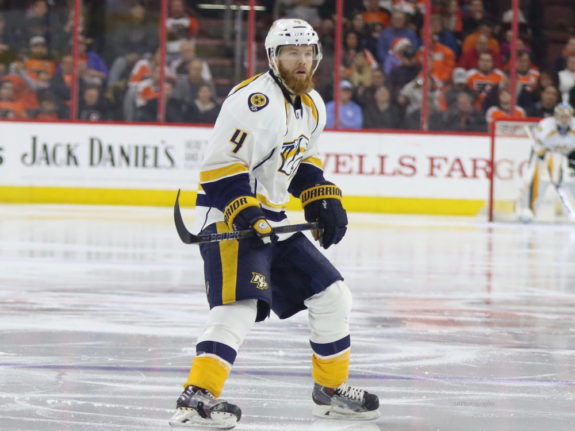 The smart money is that Ryan Ellis is protected by the time we get around to June's expansion draft. If he's not, it's an easy decision to make him an inaugural member of the Golden Knights roster.
Ellis succeeds on the Nashville blue line despite his lack of size. He's increased his goal scoring in each of the last three seasons. This year he found the back of the net 16 times. His postseason has been spectacular. In Game 2 against Chicago, he scored his first career playoff goal. In Game 3 he picked up an assist, and in Game 4 he logged two more.
All of which is to say, he's likely to remain with the Predators. The decision to leave him unprotected would be simply a financial one. He's owed over $5 million across the next two seasons. That puts him on the short list of highest-paid Nashville defensemen. It's worth Vegas fans keeping an eye on him.
[irp]
Craig Smith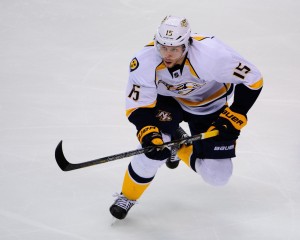 I think there's a considerably higher chance that Craig Smith finds himself in a Golden Knights sweater when the 2017-18 season gets underway.
Inconsistency has plagued Smith at different points throughout his career. His ceiling is high. Four years ago he tallied a career-high 24 goals and 28 assists. He's seen some regression since then, though. His point total has dropped in each of the last three seasons. This year saw a 12-goal, 17-assist effort.
But his skating ability and versatility have to be attractive to general manager George McPhee. Also, I frequently mention in these articles that the Knights are going to have to spend big dollars somewhere if they are to meet the NHL's expansion salary cap requirements. Smith will have over $12 million left on a $21-million contract after this season. He's a good place to start.
Colin Wilson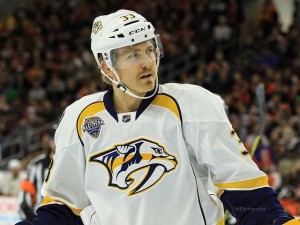 Colin Wilson has a similarly large contract that the Knights could be interested in. He's still due just under $4 million for each of the next two seasons.
Also like Smith, inconsistent play can be a concern for Wilson. Last season was a disaster, but the 27-year-old has enjoyed a bounce-back season of sorts, totaling a dozen goals and a career-high 23 assists.
We've not had the chance to see Wilson in the playoffs so far in 2017. He's now missed six straight games courtesy of a lower-body injury. He could get back on the ice by the time Nashville meets its second-round opponent. Presently the Blues lead the Wild three games to one. An extended series between those two would certainly help the Predators get healthy. If we see Wilson again, take note. If it comes down Smith and Wilson, it could be the shorter, cheaper contract of the latter that lands him in a Vegas uniform.
[irp]
Calle Jarnkrok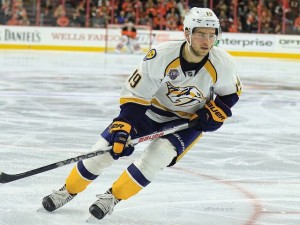 Calle Jarnkrok could be the real bargain exposed by Nashville in the expansion draft. He'll get $2 million per season for the next five. That could end of being great value on the dollar if he turns into the player many people think he can.
So far, so good for Jarnkrok. He's on the smaller side, but still a fantastic playmaker. He's a very savvy decision-maker and played some important minutes in the sweep of the Blackhawks. The 20:54 he spent on the ice in Game 3 was his third-highest total of the season.
That will be the decision for Nashville GM David Poile and McPhee alike. What's the ceiling on Jarnkrok? The Knights will likely have to choose between the 25-year-old Swede and multiple other names on this list. There are surer bets to be had, but years from now we could be pointing to Jarnkrok as the steal of the 2017 expansion draft.