The NHL draft is less than a month away and the Buffalo Sabres don't have a general manager. Here are some bold moves that at I think the incoming GM should make.
Trade Evander Kane
Simply put, Kane should be moved. His off-ice issues have hurt his promising career and his time with the Sabres has been no different. This year, Kane finally broke out with Buffalo, scoring 28 goals in 70 games, showing he does have potential to be a 30-goal-scorer still at only 25 years old.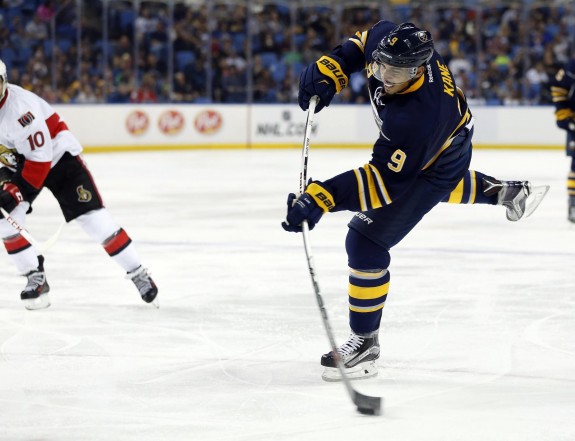 All of the good and the bad aside, Kane is in the last year of his deal on a team that has struggled with him. The safe move is to cash in now and not risk losing him for nothing next summer. His stock is high after a decent season, and he will have some suitors around the league.
Even if you are a fan of Kane, the hard truth is he won't re-sign in Buffalo. He will likely demand a large contract in the same summer that Sam Reinhart and Jack Eichel will be up for renewal. Add their incoming salaries to Kyle Okposo and Ryan O'Reilly's $13.5 million combined and it's just not a feasible option to keep Kane.
All Sabres contract information can be found on our Sabres page.
Get Rid Of Josh Gorges
Gorges should be moved at all costs with his salary of $3.9 million and one year on his deal. It's time to move that contract either through a trade or buyout. He isn't good enough to play in the NHL anymore, and apart from burying him in the minors, there aren't many other options.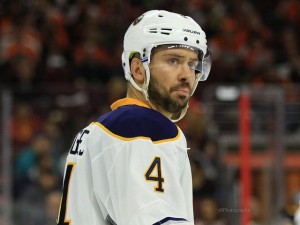 His contract wouldn't be so bad if he played anywhere near NHL level. He has dreadful stats and has shown almost none of the play that made Murray give up a second-round pick for him in 2014.
He had a negative Game Score last season that was only slightly better than Dmitry Kulikov's -0.07. Supposedly a 'shutdown' defenceman, Gorges couldn't even do that. When the Sabres were leading last year Gorges had a Corsi-for of 39.2 percent. Even the traditional stats are terrible, as he had just six points in 66 games.
If Vegas would take Gorges for free, that'd be ideal, but giving them a low-round pick to sweeten the deal would suffice. The other option is to buy out his contract, which according to CapFriendly.com would cost $2.6 million over the remaining two years. The Sabres would save $2.6 million for the 2017-18 season and would have $1.3 million against the cap for two more years. Seeing as he isn't good enough to play anymore spreading out his contract would be the smarter move.
Give Matt Moulson to Vegas
An even worse contract, Moulson is an absolute must to expose to Vegas. I'd contemplate even giving one of the Sabres' prospects and a pick to convince Vegas to take on Moulson's $5 million for two years.
Unlike Gorges, Moulson would cost a lot more in a buyout because his contract is longer and more expensive. With a buyout, it saves the Sabres $2.1 million next year as well as $1.1 million in 2018. That's a drop in the ocean compared to the $2.8 and $3.8 million in cap money they'd be paying him not to play for them.
The $3.8 million is particularly distressing as it once again would be the season that Eichel and Reinhart would be up for renewal. The Sabres will need every cent to make sure those two are locked up long-term.
So Where Does That Leave Us?
If all of these scenarios were to play out (Vegas taking Moulson, Kane being traded and Gorges being bought out), the moves would create $12.8 million in cap space. Add that to the potential departures of Kulikov, Cody Franson, and Cody McCormick, and the new GM would have $23.2 million available—more than enough to lock down Robin Lehner this summer and keep some stored away for Eichel and Reinhart next summer.
Now, with that cap space to play with and dead wood removed, it would mean the Sabres could get creative with their assets. First things first…
Get Defensive Help
Rasmis Ristolainen aside, the defence of the Buffalo Sabres was abysmal last year. As mentioned, Kulikov, Franson and Gorges will be gone, and that's at least two bodies needed on the roster.
For those counting at home, the depth chart would look like this: Ristolainen, Jake McCabe, Zach Bogosian and Justin Falk.
My suggestion would be taking some of that newly acquired cap space and putting it into the open market. Kevin Shattenkirk is the obvious candidate, and depending on whether he would join a rebuilder, he would be a great option. If that doesn't work, I would go for Michael Del Zotto.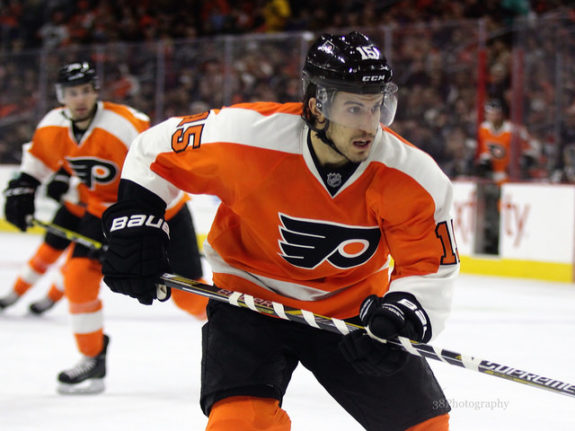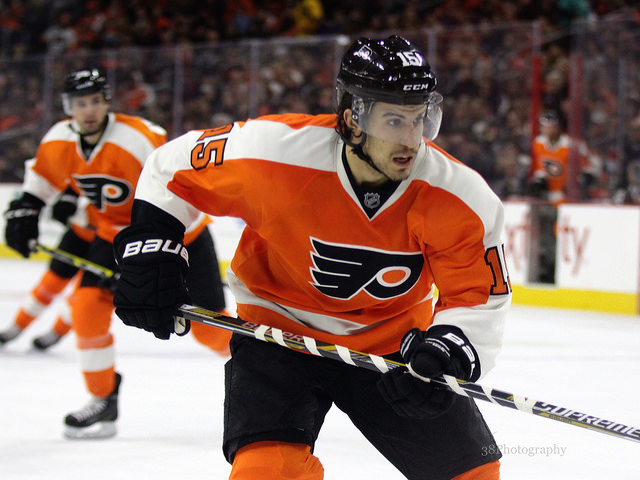 The left-hander would be a strong addition, as he posts decent numbers as a second-pairing defenceman. A Game Score of 0.54 puts him firmly in the bracket of other second-pairing guys. Playing an average of 19 minutes a night for the Flyers last year, Del Zotto scored six goals and 12 assists for 18 total points.
Most importantly, he would bring puck movement from defence, something the Sabres struggled with last year. Del Zotto is a fine skater and passer and should make a big difference in that regard. His defensive play is considered his weak point, but he still posts a positive Corsi at even strength (51 percent).
Del Zotto, 26, is on a $4 million right now, and depending on the market for defencemen, he could get a small pay raise. Anywhere around that number would still be a good deal to lock up a solid second-pairing d-man long-term.
There are more options for the same price in Karl Alzner, Brendan Smith, and Trevor Daley, though none of those possess the puck-moving ability of Del Zotto.
Trade the Eighth Overall Pick for an RFA Defenceman
Throughout the rebuild, Murray shied away from drafting a stud defenceman to build the team around. With no prospects coming through and only Ristolainen possessing real top-paring ability, the Sabres should target an RFA defenceman.
Getting a player who has yet to hit the prime of his career would command a high price, one which the Sabres can afford to pay. After taking Reinhart, Eichel and Alexander Nylander in the last three drafts, there is plenty of forward talent in Buffalo and no need for another prospect.
The problem with Buffalo taking a top defenceman with their eighth overall pick is that it would probably take a couple of years for him to come to fruition and be NHL-ready. That is time that the Sabres frankly can't afford to wait for. Another thing to consider is simply using the freed0up cash to submit an offer sheet that the other team cannot match. That can be a dangerous game with picks having to be exchanged, and a better deal may be worked out if the GMs see eye-to-eye.
The Candidates
The Sabres should target RFAs from teams in cap trouble. Colton Parayko in St. Louis is a prime candidate. Parakyo is consistently one of the Blues' best defencemen but they only have $1.1 million available. St. Louis will likely only be able to free up $2.5 million by not signing Nail Yakupov.
A total of $3.6 million for Parayko would put them right at the cap before the season even starts. That amount of money would likely only pin him down for the short-term, and the Blues would risk losing him as a UFA later on.
This trade would probably hit a snag at price for Parayko, who the Blues rank very highly. St. Louis would probably want more than the Sabres' first-round pick and wouldn't be able to take on any player of quality in return because of cap issues. The likelihood is St. Louis will opt to give Parayko a bridge deal.
Another candidate would be Dimitry Orlov in Washington, as the Capitals have only $0.3 million in space and have to re-sign RFAs Evgeny Kuznetsov, Andre Burakovsky, Brett Connolly, Nate Schmidt and Philipp Grubauer this offseason.
Add UFA veterans Karl Alzner (who may leave), Justin Williams, and T.J. Oshie to that list. Daniel Winnik and Kevin Shattenkirk's possible departures will create $5 million in cap space but will probably not be enough to spread between all the RFAs.
A high pick may entice the Capitals, who could use a fresh boost of young, cheap talent in the coming years as they chase a Stanley Cup. Orlov is seen as the future, and again the Caps may opt for a bridge deal and let Alzner walk. If that were to happen, I would target Nate Schmidt as a cheaper alternative. Schmidt has shown lots of promise but probably won't become the bonafide stud to partner Ristolainen.
The Big Fish
Shayne Gostisbehere is up for renewal as an RFA with just $0.5 million in cap space for the Flyers. The Flyers have three forwards up for RFA renewal, and they will likely have to lose both defencemen UFAs (Del Zotto and Nick Schultz) for a combined $6.1 million.
That $6.1 million would probably be sent Gostisbehere's way. However, after being benched early in the year, maybe a long-term partnership isn't wanted for either party here. All the while, it seems Ivan Provorov is the number-one guy going forward for the Flyers and will be a pricey RFA himself in two years.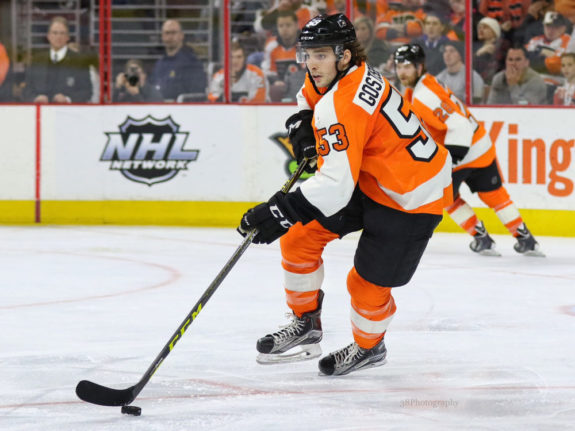 Gostisbehere would be the perfect partner for Ristolainen as a left-hander who can log big minutes and has excellent puck skills. He could lean on Ristolainen to be his defensive shield, as he is not blessed with a large physique.
I think a trade involving the eighth pick in the draft, as well as Kane, may entice Philly. The Flyers would get a scorer to play hard-nosed hockey alongside Claude Giroux and Wayne Simmonds, as well as two top-10 picks in this year's draft that can make an impact for them in the coming years. Meanwhile, they would get a fair price for Gostisbehere, who has had an up-and-down start to his career as a Flyer.