Sometimes, there is a silver lining to a dreary regular season performance. For the New Jersey Devils, this comes in the form of the first overall pick, which they won in the 2017 NHL Draft Lottery. Luck was on the Devils' side on Saturday, as they only had an 8.5 percent chance of winning the top selection.
For the Devils, this means a shot at a true first-line talent in Nico Hischier or Nolan Patrick. The top of this draft is not as strong as that of the last two years, which featured Connor McDavid and Jack Eichel in 2015 and Auston Matthews and Patrick Laine in 2016. Nonetheless, every draft produces All-Stars, first-line talents, and top-pairing defensemen. It will be up to Ray Shero and the team's scouting department to unearth one.
Nico Hischier, C/RW, Halifax Mooseheads (QMJHL)
Looking at the two most talented players entering the draft, Hischier and Patrick play different styles with various strengths. Hischier, a left-shooting center/right wing, is a great skater with elite hockey sense and an impressive shot. At 6 feet tall and 172 pounds, he will need to bulk up significantly to become an effective top-line center at the NHL level.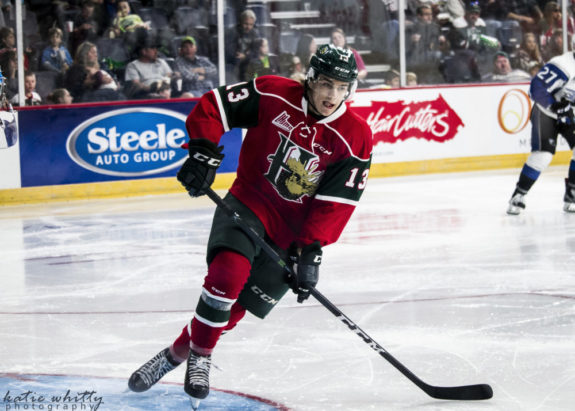 He first dazzled in his native Switzerland, playing for Bern's U20 team in 2015-16. He would make the move to Canadian junior hockey for the 2017 season, where he has been a top contributor for the Halifax Mooseheads of the Quebec Major Junior Hockey League.
The Mooseheads are no stranger to producing top talent, as Nikolaj Ehlers, Nathan MacKinnon, and Jonathan Drouin have all been drafted in the top 10 in recent years from Halifax. His 86 points in 57 games puts him in the same conversation as the above talents and his puck skills are reminiscent of Ehlers' and Drouin's.
After a great start to the season and an impressive performance at the World Juniors Championship, Hischier has come back down to earth, causing some to wonder if he will warrant the top draft selection. In addition, he needs to add more to his smallish frame in order to fit the NHL's center mold.
Nolan Patrick, C, Brandon Wheat Kings (WHL)
The other likely candidate to go first overall is Nolan Patrick. Unanimously ranked the number one option by ISS Hockey, Future Considerations, Prospectshockey.com, and others, Patrick has Hischier beat in the size department at 6 feet 3 inches and 198 pounds. Patrick in many ways resembles his former Brandon Wheat Kings teammate, John Quenneville. The two were both shutdown centers for the WHL squad and had the hockey smarts to complement their occasional highlight-reel plays.
Patrick is a right shot on a Devils team that is currently lacking there. Moreover, his 102 points in 72 games in 2015-16 as a 17-year old definitely gives off hope that the Devils could soon be rostering a 70- to 80-point center. However, Patrick came tumbling back to earth in 2017. In what has been a season rife with injuries, pundits began to doubt whether Patrick would be able to handle the size and physicality of the NHL.
Ryan Kennedy of The Hockey News has his doubts about Patrick's first overall merits:
"So what do you do if you have the first pick overall this summer? Patrick's two-way game and 6-foot-3 frame seemed to make him a safe top pick before the injuries, but Hischier's hockey IQ and elite offensive skills make him look like another Jonathan Drouin. For me, it's Hischier right now – and he certainly had to earn the distinction."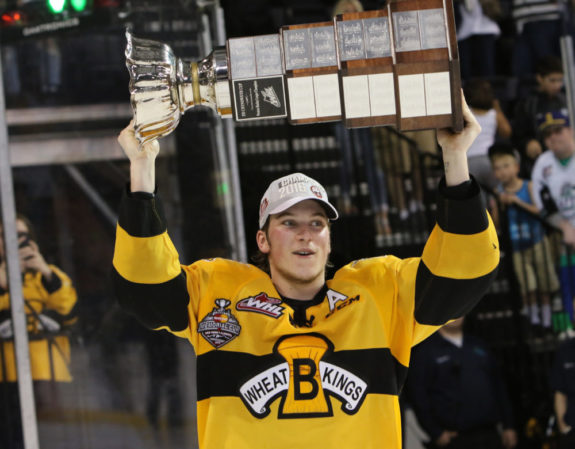 One of Patrick's ailments in this injury-plagued season was sports hernia surgery, which does not tend to flare up. However, an undisclosed upper-body injury caused him to miss 35 games at the end of the season. His season output, all in all, was 46 points in 33 games. Overall, that points per game (1.39) is not far off from his superb 2015-16 campaign (1.42), but it does raise questions about his potential to improve as a scorer. Not to mention, Patrick is a late birthday, meaning that he was a few days away from being eligible for the 2016 NHL Draft.
Patrick is playing well, but that is expected given that he is almost a full year older than other potential draftees. The injury question is not one to be overlooked, and his reduced production could be a result of losing important teammates in Quenneville and Ivan Provorov, among others. Either way, Patrick is a riskier prospect than the slam-dunk number ones of previous years.
Shero will need to do his due diligence in the coming months to identify this year's top player. Will he go for the more proven prospect with NHL bloodlines? Or will he instead opt for the flashy talent currently lighting up the QMJHL? No matter which way he goes, the Devils' lottery win puts the team's rebuild and future trajectory in a better place.