The Leafs have changed a lot since I wrote: Why the Leafs Won't Make the Playoffs back on December 8th.  At the time, the Leafs were in a Playoff spot and in the middle of a streak where they picked up points in ten of eleven games.  Still, there were so many signs that they would implode it didn't take any physic powers to predict their downfall.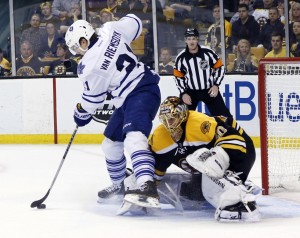 What the optimists then – and the Randy Carlyle apologists now – just don't get, is that the Leafs were incredibly lucky in their early-season success: They were injury free, they had unsustainably high special teams, Bozak was scoring at a bizarre and unsustainable rate (he was at or close the top ten in scoring), the team was winning despite sitting just outside of 28th in shots-allowed,  hadn't blown a lead after two periods, and they had a winning % of over .500 when being out-shot.
Not to mention no number-one centre or defensemen on the team. And even so, they were in 8th place.
It was a simple matter of logic that with that many impossible-to-keep-up things happening, and them still being only in 8th, that it was just a matter of time before the team collapsed.
Unfortunately, that collapse happened mostly after the coaching change, so people continue to act like Randy Carlyle was somehow done wrong – despite mountains of evidence – but as you can see, it was clearly foreseeable.
Since Carlyle was the first to go, the Leafs have done away with his entire coaching staff, much of their scouting staff, Dave Nonis, all of the guys associated with Dave Nonis, hired a new coach and some additional front-office help.
With all these changes in personnel and philosophy, it is somewhat ironic that, with the exception of Franson, Santorelli, Winnik and Holzer, the team's roster remains pretty much the same as it was when Carlyle was let go. Clearly changes are coming, but are they?
Who's Got to Go
Forget Kessel and Phaneuf for a second, because so much ink has been spilled about their potential new homes that four-fifths of the world's octopus population is now in danger.  But what about the rest of the team?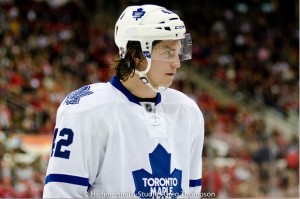 Tyler Bozak
Bozak is a polarizing player. He has lots of fans among people who don't take the game too seriously and who just enjoy watching and cheering, because he puts up a decent amount of points and people like him.
But, the other side of that is that for his entire tenure as a Leaf, he has been skated ahead of superior players like Grabovski and Kadri, and it isn't just a matter of opinion: it's factually accurate.  Bozak was outscored by Kadri at even-strength (where 80% of the game occurs) and is inferior at possession and defense.
Because a succession of coaches skated him ahead of better players, he is not well liked by many Leafs fans. It's nothing personal, but he has to go. There is just no way I can see him being on the Leafs in October, as his appearance would signal that, despite everything, no change has occurred.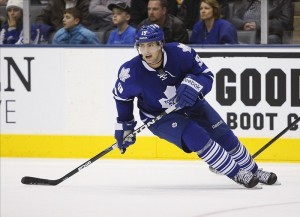 Joffrey Lupul
When he's healthy, Lupul is a great player. Unfortunately, he is one of the most unlucky players of all-time and he's never healthy. While the Leafs won't be able to get much for him due to these health concerns, he's a very big part of the "core" that Burke/Nonis built around and even though he could probably contribute just fine if in the lineup, the Leafs aren't going to be trying to win anything anytime soon and so they should move him, even just for symbolic reasons.
I mean, he's a good guy by all accounts, and he's a heart and soul type of guy who's easy to cheer for – so let him go to a team where he can contribute to something. The Leafs don't need to be better, they don't need points in the standings, they could use the cap-relief and he's a reminder of all the times the most recent team collapsed.
Everyone wins by moving him.
James Van Riemsdyk 
If you read – as I do – every Leafs related article you can get your hands on, then you may have noticed the way that people in the media keep sort of casually mentioning how untouchable he is, or how he's definitely a player they'll keep or how he's part of the answer.
A good player with even better potential, JVR should be the main player the Leafs use to kickstart this rebuild. Many people don't know this, but Kadri has superior numbers across the board (everything but power-play) to JVR, and is a year younger.
JVR is big, has a history of putting up high point totals and makes a reasonable cap-hit. There's every reason to believe that the Leafs could get back a pretty good piece for their rebuild in exchange for him.
With the Leafs entering a rebuild, with JVR's somewhat spotty injury history, lack of defensive acumen and his potentially high trade value, it makes sense to move him.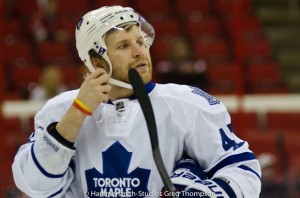 Leo Komarov
I know he's a fan favorite, but he's also 28, overpaid and, at best, a third-line player. That being said, in the right circumstances, he is a very effective player and one that could help a team go over the top.
I know people love him, but what are the odds that he's a part of a contending Leafs team three or four years from now? Roughly zero, right? So why not see what you can get for him.
Roman Polak
People love him because he takes pucks to the face and comes back into the game like a maniac, but as far as his hockey skills go, they aren't so hot. He has no offense to his game and has been a positive possession player just once in his career, back in 2011-12.
If the Leafs can recoup even a late pick for this bottom-pairing defensemen, it would be a good trade.
Conclusion
If the Leafs can do so, moving these five would add some minor pieces to go towards the rebuild, but more than anything, they would change the culture and makeup of the team going forward. Yes, Kessel and Phaneuf are the lynchpins that this team has been built around, and one or both will likely be gone, but they aren't the whole team. You can move Kessel, but if you still have Lupul, Komarov and Bozak, you still have a version of the Burke/Nonis Leafs, and no one wants that.
The scouts, coaches and managers are different, it is now time to change the roster.
Thanks for reading.
Covering the Leafs for the Hockey Writers.