It's no secret that the Leafs are going in a new direction this summer.
They have a new (ish) President, they fired the old coach and GM and their previous "core" is being all but run out of town.
Phil Kessel, Dion Phanuef, even Bernier have all been the subject of trade rumours so far this summer, despite their massive contracts and declining play, we fans have had endless fun trying to pretend we aren't jealous of the teams still in the Playoffs and speculating on future deals.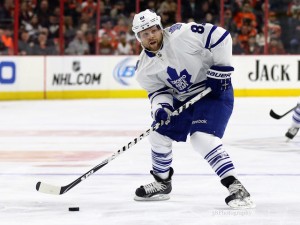 However, I find it very interesting that the Leafs best trade chip is considered all but untouchable by the vast majority of fans I talk to.  Mention moving him, and the abuse starts instantly. Apparently, whatever pisses people off so much about Phil Kessel doesn't apply to JVR, even though he's as bad defensively and not even close to as talented.  
Yes, everyone's favorite third best forward on the team (After Kadri and Kessel) is so beloved that trading him is tantamount to sacrilege. But consider this: JVR is a former 30 goal scorer with size who is just 26. He also has a very palatable cap hit and people still believe that he has untapped potential.
It seems to me that selling him now is in the Leafs' best interests, since his youth, potential, cap hit, and length of deal combine for the perfect storm of tradability.  If I am the Leafs, trading JVR is secretly my number-one priority.
Stats Comparison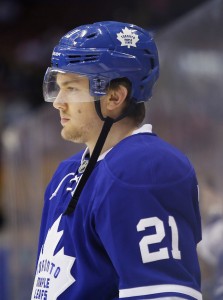 Maybe you aren't sold.  Maybe you still think: hey, he's on the right side of 30, he's got the talent, let's let build around him.
But the problem with that is that he's one of the worst defensive players in the NHL and by the time the Leafs are ready to compete, he'll be much too close to 30 to be as effective as he is today. Hey may be young, but unless the Leafs are fast-tracking their rebuild for some reason, they'll be better off letting him play his prime elsewhere.
Check it out:
These stats are from waronice.com and are from the last three seasons at 5v5.
Player A:  199 GP/ 36 G /57 A  for 93 points 
Player B: 210 GP /44G /52 A for  96 points   
Player B get's  3 extra points in 11 extra games, averaging one full minutes per game more, suggesting that Player A is a far better player.
Player A:  +58 penalty differential 47.30 CF%
Player B: -4 penalty differential 44.68 CF% 
We see that Player A gets you 20 extra power-plays per year, and has much better possession numbers. (3% is huge when it comes to Corsi For and 47% is very good on a team as collectively bad as the Leafs are). If you look at the graph you can see that Player B plays against tougher competition, but that Player A gets much less favorable zone-starts. It should also be noted that Player A plays with much worse players.
Once again, Player B doesn't even appear to be anywhere close to Player A when you evaluate all factors.
If you look at the Power Play numbers, this is what you get:
Player A: 14 G/ 17 A/ for 31 points
Player B: 23G/ 16 A/ for 39 points
Here it looks like Player B has an advantage until we look and see that Player A averages almost a full minute less per game on the power-play and (obviously) plays with worse players on the second unit.  What would Player A accomplish if only he had the same advantages as Player B? Who knows, but at least half of Leafs Nation wants to give him away before we find out!
The only conclusion to draw from these stats is that Player A is the superior player since he puts up comparable stats with less minutes and more disadvantages.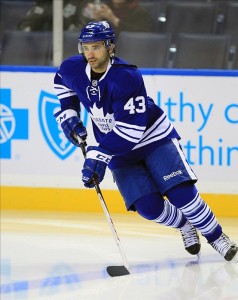 Since Player A is a centre (i.e a more valuable position to a hockey team) and two years younger, why do so many Leafs fans want to keep player B and refuse to buy into just how great player A is and can be when he's used properly on a top line?
I don't think this will surprise anyone, but Player A is Kadri and Player B is JVR. If you remove their reputations from the equation, it's clear that Kadri is the superior player.
By light years.
If you are rebuilding, then you should be willing to move the player that will bring you back the most assets, given his contract, reputation and undeniable size/talent combo, JVR is that player for the Leafs.
Conclusion: JVR is the first player they should be trading this off-season. And Kadri should be untouchable.