The three biggest names rumoured to be available at this year's NHL trade deadline are — in no particular order — Kevin Shattenkirk, Matt Duchene and Gabriel Landeskog.
If St. Louis decides to sell — and that is still a big IF — Shattenkirk will be the biggest fish among the rental market and also the most coveted defenceman. However, the Blues are in a playoff spot and may be inclined to keep Shattenkirk despite the probability of losing him as a free agent at season's end.
Shattenkirk is unlikely to re-sign in St. Louis and the Blues won't get more than a mid-round draft pick for his negotiating rights in a deal leading up to July 1. Seeing Florida acquire and sign Keith Yandle ahead of free agency this past summer should prompt some team to make a similar move for Shattenkirk, but that return would pale in comparison to what St. Louis could fetch for the premier puck-mover prior to the March 1 trade deadline.
NHL Trade Rumours: Gossip on Shattenkirk's trade price, Flyers, Islanders, Senators, more… https://t.co/xgfn8FQSeL pic.twitter.com/vU5V1M6HwC

— luke fox (@lukefoxjukebox) February 20, 2017
Meanwhile in Colorado, the Avalanche are bringing up the rear in the NHL standings and Joe Sakic could be tempted to blow up the team's core. That might mean moving Duchene and/or their captain, Landeskog, at the trade deadline, but both those forwards have significant term left on their contracts and thus those deals could wait until the draft in June or even later in the offseason.
Unlike in St. Louis, with Shattenkirk on an expiring contract, there is no rush for Colorado to trade either Duchene or Landeskog. They could both be on the Avs' roster to start next season, although that is sounding more and more unlikely with all the speculation surrounding them.
Sakic is certainly open to offers and several teams who are closer to contending for the Stanley Cup will be aggressively pursuing the 26-year-old Duchene, who is signed for two more years at an annual salary of $6 million, and the 24-year-old Landeskog, who is locked up for four more years at $5.57 million.
#Avalanche GM Joe Sakic continues to listen to offers as trade deadline approacheshttps://t.co/tMqY6U2JQC by @TFrei #Avs pic.twitter.com/d1nESR4mz2

— Denver Post – Avs (@avsnews) February 16, 2017
So there is potential for a deal to be made by Wednesday afternoon if that is the route Sakic wants to go. Even without those two, Colorado would have Nathan MacKinnon and Mikko Rantanen up front with Tyson Jost on the way and the best odds of selecting another top-end forward first overall in this year's draft — be it Nolan Patrick or Nico Hischier.
Any and all of these trades are long-shots, but I decided to explore that potential and see what St. Louis and Colorado could possibly get in return for Shattenkirk, Duchene and Landeskog.
Truth be told, the motivation for this piece came in the fallout from my annual trade deadline predictions, published Tuesday morning — which had Shattenkirk staying put in St. Louis, with the Blues wanting to keep the band together for one more playoff run. A reader on HFBoards.com commented that he would "love to hear what the trade for Shattenkirk would have been in your mind."
#NHL Trade Deadline Predictions: 26 Potential Deals, 11 Involving Canadian Teams https://t.co/BMiEoiw60S #THW pic.twitter.com/dMXZZ1xIjZ

— The Hockey Writers (@TheHockeyWriter) February 21, 2017
So let's start there and take a look at what I think Shattenkirk could be worth at the deadline — not as a rental, but under the assumption that a contract extension is negotiated as part of the deal — before shifting the focus back to Colorado's forwards. I came up with five trades for each and listed them in my order of likelihood. Drum roll, please . . .
Kevin Shattenkirk
Trade 1
To Montreal Canadiens = Kevin Shattenkirk
To St. Louis Blues = Nathan Beaulieu, Noah Juulsen and a 2017 first-round pick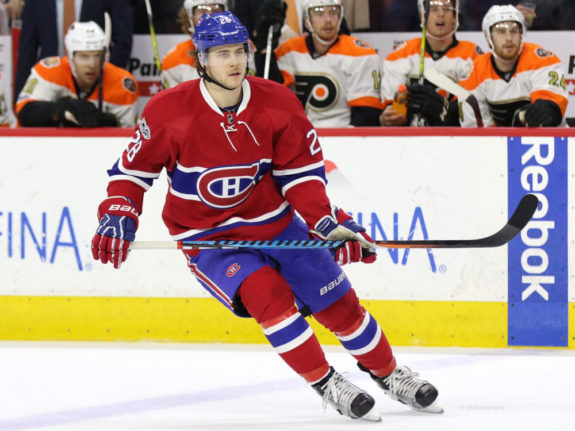 ANALYSIS: Montreal is in win-now mode, wanting to bring the Stanley Cup back to Canada before Shea Weber and Carey Price surpass their prime. The Canadiens made the bold move to change coaches beyond the midway mark of the season and general manager Marc Bergevin is believed to be big-game hunting at the deadline. Bergevin may be willing to go "all-in" on either Shattenkirk or Duchene. Montreal would like a proven puck-mover to pair with Weber, both at even strength and on the power play. Andrei Markov has lost a step and neither Beaulieu nor Jeff Petry are at that elite level. Shattenkirk is, and he could seemingly put Montreal over the top.
Beaulieu is a good fit for St. Louis, a nice complement to Alex Pietrangelo or Colton Parayko in the Blues' top four. Juulsen was a first-round pick in 2015 and is tracking well to be a two-way defender in the NHL within the next few seasons. Juulsen would join the likes of Jordan Schmaltz, Jake Walman and Vince Dunn as the future of St. Louis' back end. Doug Armstrong always does well at the draft, so adding a second first-round pick would be a priority for the Blues in any Shattenkirk deal.
Trade 2
To New Jersey Devils = Kevin Shattenkirk
To St. Louis Blues = Damon Severson, John Quenneville, a 2017 second-round pick and a 2017 third-round pick (via Colorado)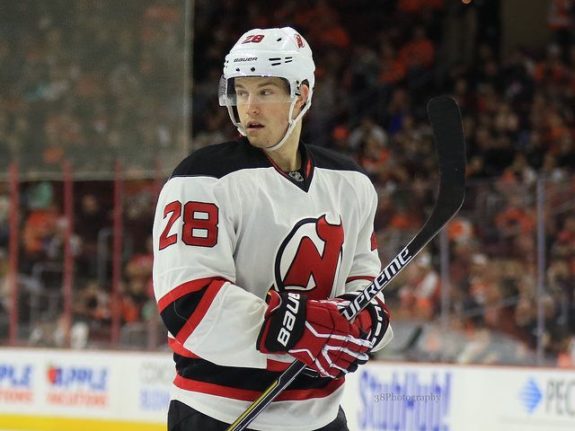 ANALYSIS: The Devils probably won't make the playoffs even with the addition of Shattenkirk, so a contract extension is essential as part of this deal — more so than the other four, though a sign-and-trade is in St. Louis' best interests to ensure the best possible return regardless of where Shattenkirk is going. New Jersey GM Ray Shero isn't one to sit on his hands and he'd love to get his hands on a puck-mover like Shattenkirk to help spark the Devils' offence. Adding Taylor Hall and Shattenkirk within a calendar year would be a step in the right direction for New Jersey, even if those moves don't pay immediate dividends in the form of a playoff berth this spring.
St. Louis does well here again, getting Severson to plug the same hole as Beaulieu in the previous deal. Neither of them possess the offensive upside of Shattenkirk, but Severson and Beaulieu are both going to be quality defenders for the next decade and would be capable of contributing on the power play. Quenneville was a first-round pick in 2014 and he's been impressive as a first-year pro in leading New Jersey's farm team in scoring. Quenneville isn't the flashiest forward, but he's going to be a player and could end up being a Troy Brouwer type at the NHL level. Given their slim playoff odds, the Devils likely wouldn't be offering their first-round pick in this year's draft, but two darts are sometimes better than one — especially when Armstrong is throwing them — so that might not be too much of a deterrent for St. Louis.
Trade 3
To Boston Bruins = Kevin Shattenkirk
To St. Louis Blues = Colin Miller, Joe Morrow, Jakub Zboril, Jakob Forsbacka-Karlsson and a conditional 2017 first-round pick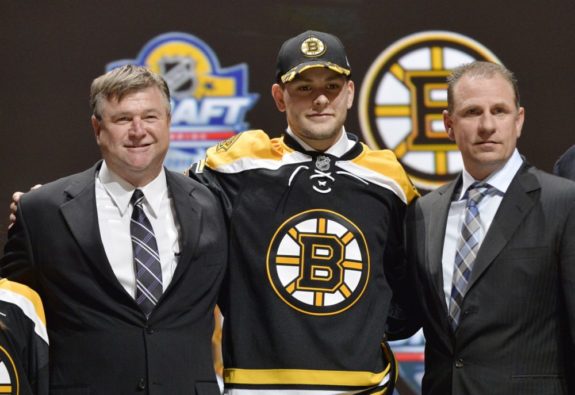 ANALYSIS: Boston would be another ideal landing spot for Shattenkirk and the Bruins probably wouldn't want to part with Torey Krug or Brandon Carlo as part of the package. Add in the aging Zdeno Chara and Boston's top four is in good shape for the immediate and foreseeable future.
The Bruins have stockpiled enough assets to the Blues' liking to get this deal done without Krug or Carlo going back to St. Louis. But it would cost Boston either Zboril or Charlie McAvoy, perhaps at the Blues' preference. It would also cost Forsbacka-Karlsson or Zach Senyshyn, mixing and matching at the Blues' preference. That draft pick would be lottery protected and deferred to 2018 if Boston missed the playoffs with Shattenkirk and also lucked out to end up picking in the top three. Miller and Morrow are more or less throw-ins, depth additions for St. Louis until that next wave of defenders are NHL ready.
Trade 4
To Toronto Maple Leafs = Kevin Shattenkirk
To St. Louis Blues = Martin Marincin, Frank Corrado, Travis Dermott, Jeremy Bracco, a conditional 2017 first-round pick and a 2019 third-round pick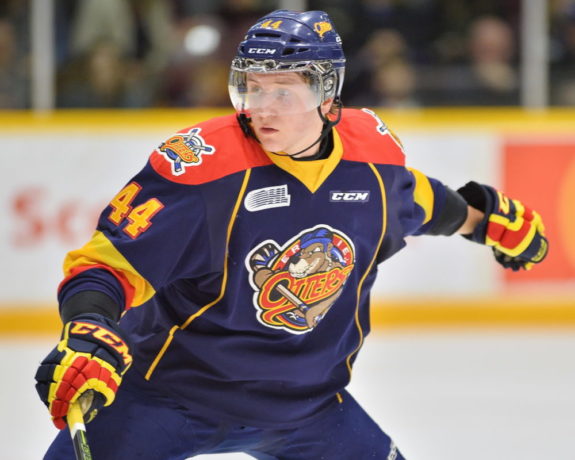 ANALYSIS: Similar in a lot of ways to the Boston deal, but this draft pick would be playoff protected, not only lottery protected. So if Toronto missed the playoffs, the pick would automatically be deferred to 2018 whereas if Boston missed the playoffs, St. Louis would still get the 2017 pick as long as it wasn't a top-three selection. Make sense?
The return is much the same, with the Blues taking back two depth defenders as temporary filler in Marincin and Corrado. Dermott and Bracco are comparable prospects to Zboril and Forsbacka-Karlsson, though I would suggest slightly inferior. Thus the extra pick from Toronto, and also due to the discrepancy on the condition of the first-rounder.
Trade 5
To New York Rangers = Kevin Shattenkirk
To St. Louis Blues = Adam Clendening, Brandon Pirri, Pavel Buchnevich, Sean Day and a 2017 first-round pick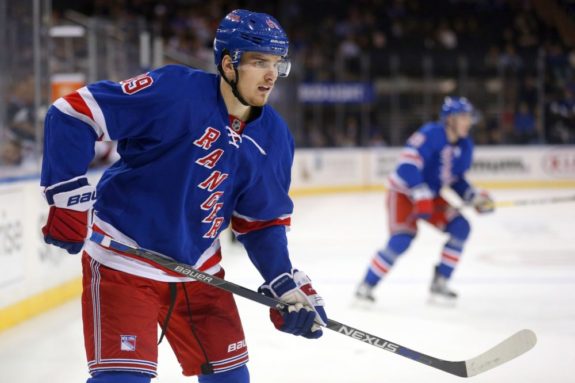 ANALYSIS: This is a tricky one because the Rangers might be the best fit of all for Shattenkirk, but they don't necessarily have what St. Louis wants in return. The Rangers won't want to give up Brady Skjei, who has been a pleasant surprise as a rookie — much like Carlo for the Bruins — but unlike Boston, New York doesn't have other top-end defence prospects to offer.
The Rangers wouldn't want to give up Buchnevich either, but St. Louis doesn't make this deal without getting back at least one stud. You have to give in order to receive, so the Rangers relent on Buchnevich as the key piece. Clendening and Pirri are essentially throw-ins again, while Day is an enigma with all the tools to be the next Drew Doughty and yet his stock is trending towards bust territory. So the Blues are mostly targeting Buchnevich and the first-round pick in this package, two top assets that would suffice in offsetting the loss of Shattenkirk.
Matt Duchene
Trade 1
To Anaheim Ducks = Matt Duchene, Duncan Siemens and a 2017 fourth-round pick (via New York Rangers)
To Colorado Avalache = Sami Vatanen, Shea Theodore and Kevin Roy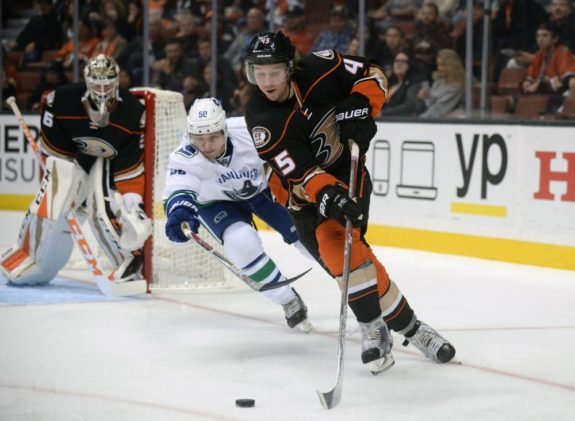 ANALYSIS: Anaheim is likely interested in both Duchene and Landeskog, perhaps more so the latter. This may be viewed as an overpayment by the Ducks if the Taylor Hall for Adam Larsson trade from this past summer drove up the value of top-four defencemen like Vatanen. I'm not convinced that is the case, and I still think Duchene — an established top-six centre — has significantly more value than Vatanen. I don't think Sakic gives any thought to that 1-for-1 swap.
As a 1-for-2, getting back both Vatanen and Theodore, the Ducks would have Sakic's undivided attention. If Anaheim is moving out two blueliners, it might want one back and Siemens' time in Colorado's system is likely coming to an end. The 11th overall pick from 2011 isn't panning out — sure, defencemen take longer to develop, but he'll be 24 in September and is spinning his wheels in San Antonio — and despite being out of the playoff race for months and having other defenders go down to injury, the Avs haven't called up Siemens. His AHL stat-line leaves a lot to be desired, so the writing is likely on the wall for Siemens in Colorado and a change of scenery couldn't hurt.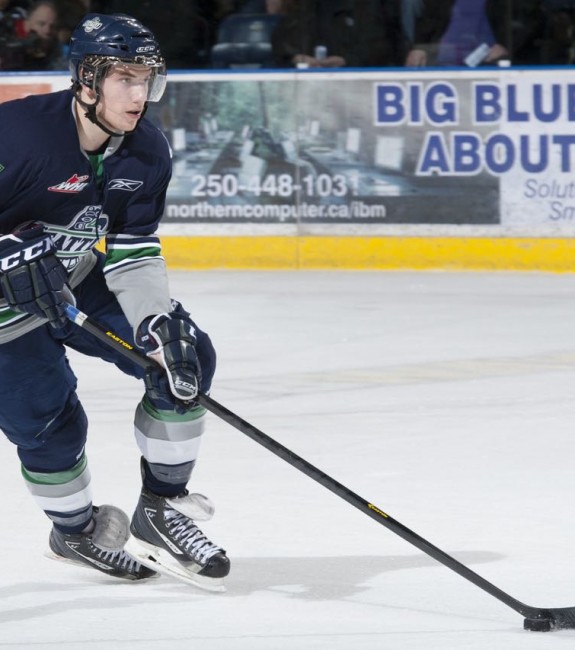 Roy, on the other hand, is showing plenty of promise for Anaheim's farm team as a rookie pro and could possibly step right into Colorado's depleted, post-deadline lineup. Theodore has even more upside and would play a prominent role for the Avs from Day 1, much like Vatanen.
Duchene is a natural centre, but he's played wing at times — including for Canada at the World Cup — and a few of the teams interested in acquiring Duchene wouldn't be deploying him down the middle. Anaheim already has Ryan Getzlaf, Ryan Kesler, Rickard Rakell, Antoine Vermette, Andrew Cogliano and Nate Thompson for centre depth, so Duchene would presumably play the left side — potentially flanking Getzlaf and Corey Perry on the top line, though Landeskog is a natural left-winger and thus the more logical target.
It's a bit strange to see the seller giving up the only draft pick in a deal, but that fourth-rounder is there just to balance everything out. Seems fair enough.
Trade 2
To Montreal Canadiens = Matt Duchene
To Colorado Avalanche = Nathan Beaulieu, Nikita Scherbak and a 2017 first-round pick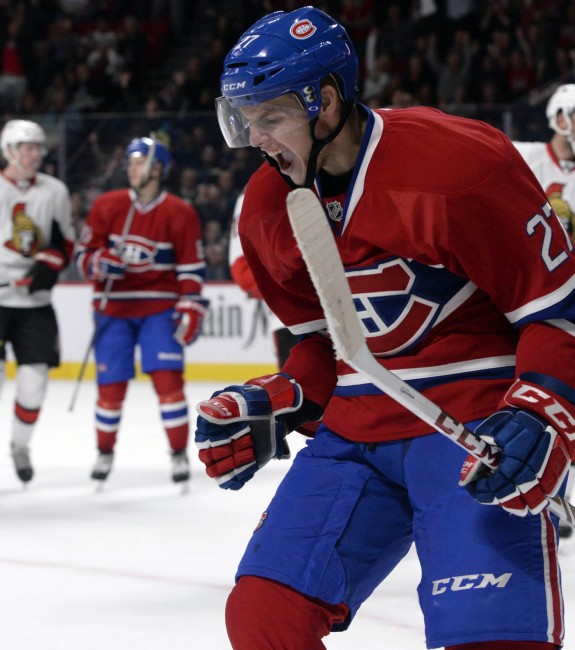 ANALYSIS: If St. Louis takes Shattenkirk off the block, Bergevin would likely target a centre — preferably Duchene, but possibly Arizona's Martin Hanzal — instead of a lesser defender. The Canadiens have been longing for a No. 1 centre and although Alex Galchenyuk is developing into that role, Duchene is more established and would give the Habs an enviable 1-2 punch. It would also allow Montreal to move Tomas Plekanec and/or David Desharnais in separate deals.
Colorado's roster needs reshaping at every position, with an emphasis on the defence. So, in addition to a first-round pick, Sakic will likely be seeking a blueliner who can immediately slot into the Avs' top four. Beaulieu, like Vatanen, meets that criteria. Scherbak was a first-round pick from 2014 and he's progressing nicely in the AHL, a skilled forward who should be capable of cracking Colorado's roster out of training camp next season.
Trade 3
To Columbus Blue Jackets = Matt Duchene
To Colorado Avalanche = Ryan Murray, Sonny Milano and a 2017 first-round pick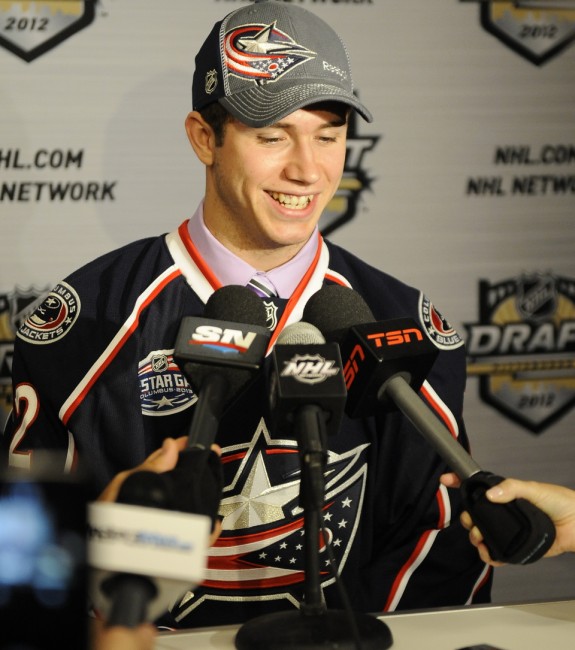 ANALYSIS: Almost identical to Montreal's package, it may come down to personal preference for Sakic and his scouting staff. Do the Avs prefer Beaulieu or Murray? Scherbak or Milano? Or would they rather give a little extra and go without the first-round pick in order to get Vatanen and Theodore? Decisions, decisions.
Murray was the second overall pick in 2012 and although he's outperformed first-overall Nail Yakupov, that isn't saying much and Murray has had his struggles in Columbus too. Mostly due to injuries and his inability to stay healthy, but Murray has been surpassed on the depth chart as a result and has been playing a third-pairing role for much of this season with lacklustre stats. Milano hasn't been able to stay up with the Blue Jackets, but the first-round pick from 2014 is proving to be an offensive catalyst in the AHL and is arguably more NHL-ready than Scherbak and Roy from the previous trades.
Trade 4
To Pittsburgh Penguins = Matt Duchene and Duncan Siemens
To Colorado Avalanche = Derrick Pouliot, Jake Guentzel, Daniel Sprong and a 2017 second-round pick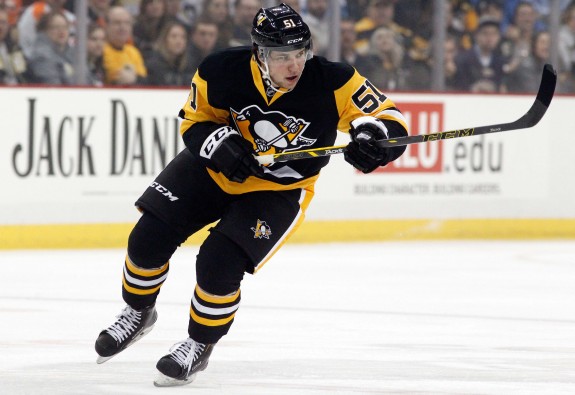 ANALYSIS: These last two are quite different from the first three. This Pittsburgh deal only works if the Penguins are able to dump Marc-Andre Fleury's contract in a separate trade for mostly future assets in order to offset Duchene's incoming salary and stay under the cap. That would be easier said than done.
Pouliot, the eighth overall pick from 2012, isn't held in as high regard as Theodore or any of the proven NHL defencemen from the aforementioned deals — namely, Vatanen, Beaulieu and Murray. Pouliot might not be in Pittsburgh's future plans, considering he hasn't been called up with Olli Maatta and Justin Schultz recently going down to injuries. Cameron Gaunce and Steven Oleksy were promoted in their absence, which can be interpreted as a red flag for Pouliot. Similar to Siemens being stuck in the minors despite Colorado's ongoing woes and the season-ending injury to Nikita Zadorov this week. Pouliot still has more value than Siemens, but they are both seeing their stock go down in their current situations.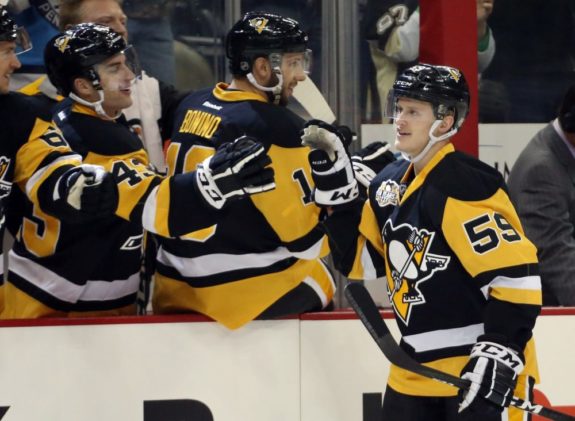 Conversely, Guentzel and Sprong are both trending up — towards becoming top-six wingers in the NHL as early as next season. Colorado might have to pick between them if Pittsburgh refuses to move both in the same trade, but they would presumably be part of the Avs' initial asking price for Duchene, who would also play wing in Pittsburgh — likely replacing Guentzel alongside Sidney Crosby.
Some will argue that Pittsburgh should be the team receiving the draft pick in this deal, not Colorado, but it really depends how badly the Penguins want Duchene. My assumption is that one of the above teams will want Duchene more if a bidding war breaks out.
Trade 5
To Tampa Bay Lightning = Matt Duchene and a 2017 fourth-round pick (via New York Rangers)
To Colorado Avalanche = Jonathan Drouin and Valtteri Filppula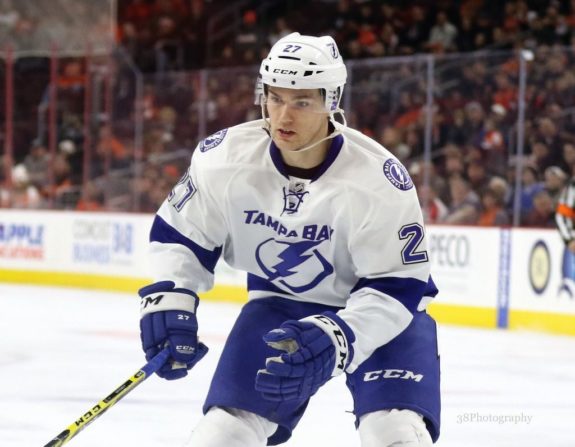 ANALYSIS: Drouin formed a dynamic duo with Colorado's MacKinnon in junior — winning a Memorial Cup together in 2013 — so Sakic would be hoping they could reproduce that magic in Denver. Drouin will be a restricted free agent following the season and looking for a big raise this summer — presumably preferring a long-term extension rather than a bridge deal. Steve Yzerman may not be ready to open the vault for Drouin and might be reluctant to give him Duchene-type money on his second contract. Lest we forget last year's holdout for a trade that didn't materialize — cooler heads prevailed — but there could be tension and hard feelings between Yzerman and Drouin as well as his agent when it comes time for those negotiations. Drouin could also be an offer-sheet target for other teams, including Colorado, given Tampa's tight salary-cap situation.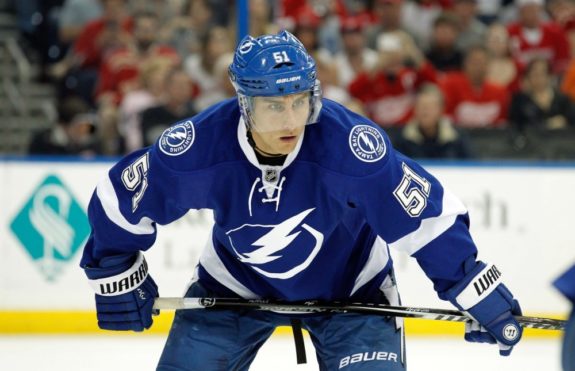 So this trade could make sense for a variety of reasons. Duchene is every bit as good and arguably better than Drouin as of today, which could improve Tampa Bay's playoff chances down the stretch. Depending on the health of top centre Steven Stamkos and the timing of his return, Duchene could play either position for the Lightning, who also have Tyler Johnson as a pivot. As a wingman for Stamkos, Duchene could be deadly in future seasons too.
Filppula is a salary dump here to make room for Duchene's cap hit, but Filppula would be a welcome addition to Colorado's depth chart and could possibly get Carl Soderberg going again as a third-line pairing for next season.
That draft pick just happens to be my go-to throw-in from Colorado, since the Avs have two fourth-rounders this year (including their own).
Gabriel Landeskog
Trade 1
To Anaheim Ducks = Gabriel Landeskog, Jarome Iginla (salary retained) and a 2017 fourth-round pick (via New York Rangers)
To Colorado Avalanche = Cam Fowler, Brandon Montour and Troy Terry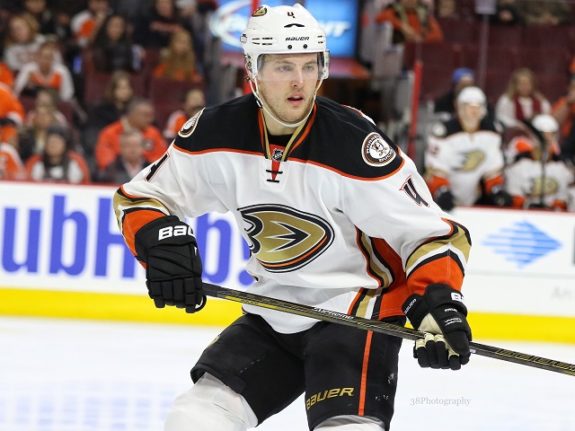 ANALYSIS: Similar to the Duchene deal with the Ducks but, as mentioned, Landeskog would be more of a plug-and-play fit alongside Getzlaf and Perry. Landeskog's playing style — with a physical edge — might also be more attractive to the type of team Bob Murray and Randy Carlyle are trying to build in Anaheim. Iginla is cut from that cloth too, and he'd be familiar with Getzlaf and Perry from past Olympics and other international events. Adding those two wingers in the same deal would make the Ducks a handful for any Pacific Division foe come playoffs.
Fowler and Montour are essentially alternatives to Vatanen and Theodore, so that defence combination could go either way depending on Colorado's preference. Vatanen and Montour are right-handed, while Fowler and Theodore are lefties, so the Avs could seemingly ask for one of each as a starting point for either Duchene or Landeskog. That would likely be the premise of any Colorado-Anaheim trade and the GMs could tweak it from there.
Terry, the American shootout hero from this year's world juniors, is a younger version of Roy and they could be interchangeable in that package as well. Again, the token pick goes back to Anaheim as a means of offsetting the inclusion of Terry or Roy.
Trade 2
To Boston Bruins = Gabriel Landeskog
To Colorado Avalanche = Colin Miller, Jakub Zboril, Zach Senyshyn and rights to Alexander Khokhlachev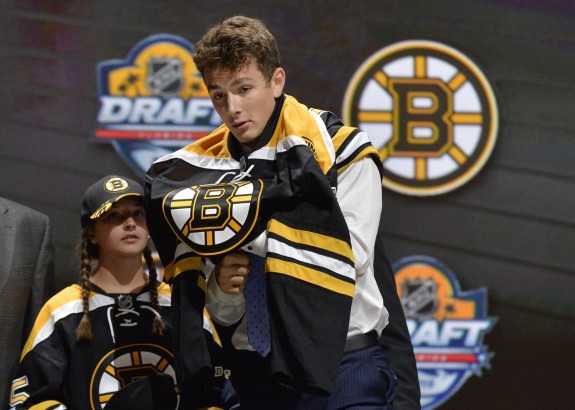 ANALYSIS: The Bruins could use another big, physical forward. When they were at their best — in winning the 2011 Stanley Cup — they had Milan Lucic and Nathan Horton. Now Boston has David Backes and not much else for size. Brad Marchand plays bigger than he is and the additions of Matt Beleskey and Jimmy Hayes have backfired. Enter Landeskog, who would bring more of that jam and mojo in complementing Marchand on the left side. Landeskog would certainly be a big acquisition for the B's.
The Avs would want mostly futures in return and might prefer a mid-round draft pick to Khokhlachev, who is toiling in the KHL and not exactly lighting it up there, though he could pair with Mikhail Grigorenko on a forward line if Colorado retains that inconsistent Russian for next season. Zboril, a top defence prospect and potential partner for Zadorov, would be the key piece coming back from Boston, along with Senyshyn, a power forward in the making. Miller is a decent defenceman with a bit of offensive upside and he's signed through next season, which might make Miller more attractive than fellow fringe defender Joe Morrow, who is an RFA this summer. Colorado could also ask for a goaltending prospect, any of Malcolm Subban, Zane McIntyre or Daniel Vladar.
Trade 3
To Philadelphia Flyers = Gabriel Landeskog
To Colorado Avalanche = Matt Read, Travis Konecny and Travis Sanheim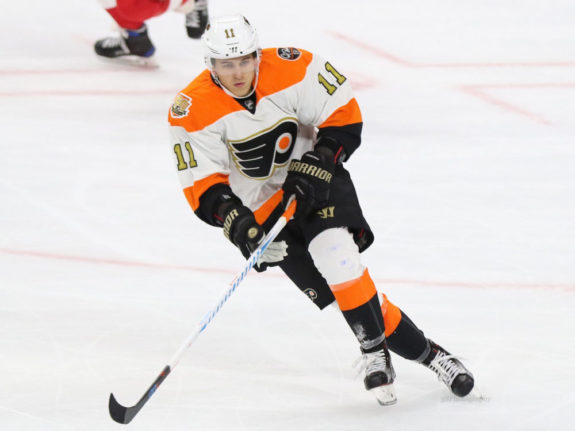 ANALYSIS: If not the big, bad Bruins, then surely the Broad Street Bullies would be a good fit for Landeskog, who strikes me as a prototypical Flyer and the perfect complement to right-winger Wayne Simmonds. Those two could do some serious damage on the same line, with Claude Giroux as their middleman.
Colorado would have to take back some salary in Read — a serviceable top-nine winger — but could also pry a couple top prospects out of Philadelphia. Konecny was enjoying a productive rookie season prior to getting hurt, and he's put up points at every level despite being an undersized forward. Sanheim would bring size and skill to Colorado's blue line, and he has also been impressive as a first-year pro in the AHL.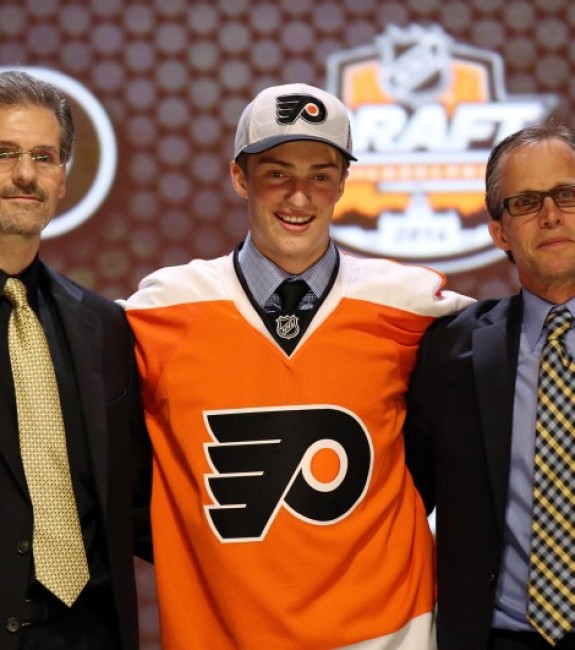 Philadelphia has draft picks to spare if need be — with 10 total selections this year, including two in each of the third and fourth rounds — and also has a plethora of goaltending prospects in Carter Hart, Felix Sandstrom, Anthony Stolarz, Alex Lyon and Matej Tomek. Colorado is lacking in that department and the Avs don't have a third-round pick either. Therefore, the Flyers could seemingly make this deal without including Konecny. Read, Sanheim, Hart and a third-rounder would be equal value in my opinion.
Trade 4
To Detroit Red Wings = Gabriel Landeskog
To Colorado Avalanche = Dylan Larkin, Ryan Sproul and a 2017 third-round pick (via Toronto)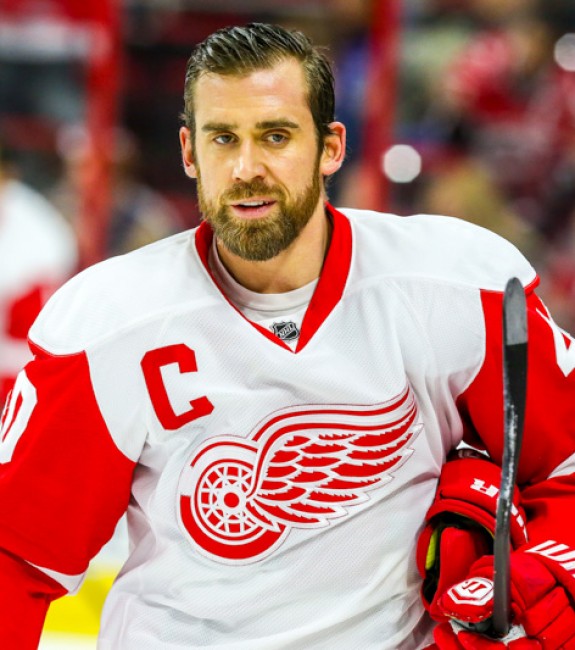 ANALYSIS: Do the Red Wings want to make one last run with Henrik Zetterberg as their captain and honour Mike Ilitch's legacy by prolonging their playoff streak to 26 years this spring? If so, Landeskog would be a better win-now contributor than Larkin — and Landeskog would also be a natural successor to Zetterberg in terms of wearing the 'C' in Detroit. Zetterberg still has four more years left on his contract, but he'll probably retire in the meantime like Pavel Datsyuk.
The Red Wings love their Swedes and Landeskog would join Gustav Nyquist in keeping that tradition alive. Landeskog is already a veteran by NHL standards, but he won't turn 25 until November, so he should have a lot of good hockey ahead of him. Nyquist, by comparison, will be 28 in September, though they both debuted during the 2011-12 season.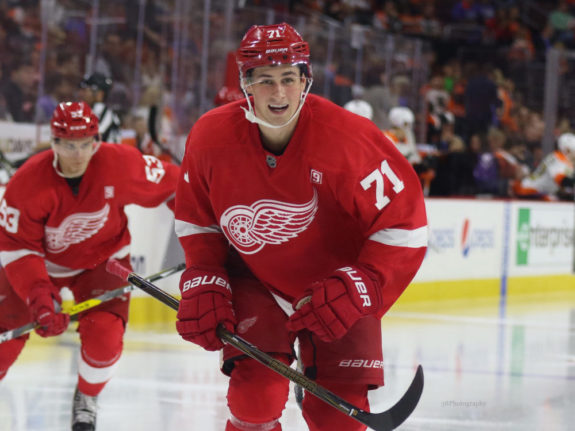 Larkin will celebrate his 21st birthday in July — yes, he's only 3 1/2 years younger than Landeskog — and is in the midst of a trying season, having fallen victim to the sophomore jinx. Everything went right for Larkin as a rookie — heck, he even broke the NHL's fastest-skater record at the All-Star Game — but he's had no such luck this season and will likely fall well short of his goal and point totals from a year ago, barring a late surge. Regardless, the Avs would love to land Larkin — especially if they plan on also trading Duchene — and Larkin would be a better fit age-wise with Colorado's new core of MacKinnon, Rantanen, Jost and Patrick or Hischier. Add Larkin to that list and the Avs would have five of their future top-six forwards all 22-or-under to start next season. Let the rebuild begin!
Sproul is a budding defenceman with an offensive-minded skill-set who is just breaking into the NHL at 24 years old. Colorado may prefer Xavier Ouellet, a somewhat similar defender who turns 24 in July. They were both second-round picks in 2011 — Ouellet taken 48th overall and Sproul at 55th. If Colorado wanted a younger defence prospect, Detroit could offer Joe Hicketts (20), Vili Saarijarvi (19) or Filip Hronek (19).
Lots of options here too, strange as it would be to see a blockbuster trade between these arch-rivals, though that hatred has subsided a bit since Detroit shifted to the Eastern Conference. That said, Avs fans are probably getting queasy just picturing Landeskog in a Red Wings' jersey.
Trade 5
To San Jose Sharks = Gabriel Landeskog
To Colorado Avalanche = Tomas Hertl, Mirco Mueller and Nikolay Goldobin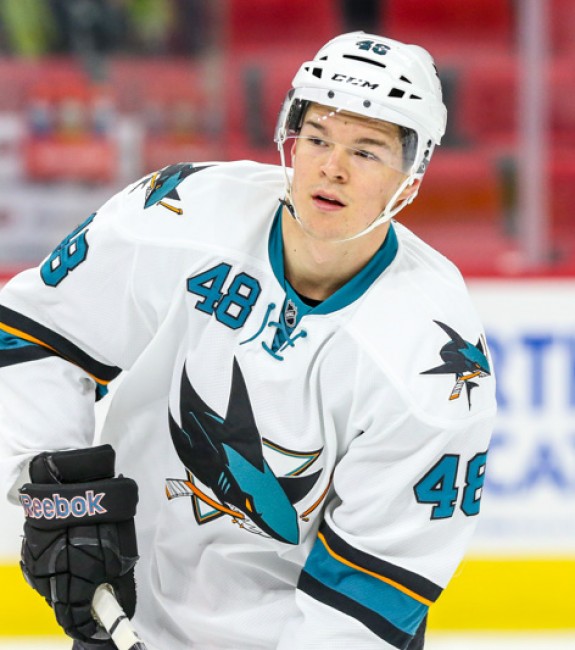 ANALYSIS: Like Anaheim, San Jose has long had a left-wing hole on its top line, alongside Joe Thornton and Joe Pavelski. Unlike the Ducks, the Sharks have had more success plugging that hole in recent years with the likes of Hertl and other youngsters such as Kevin Labanc and Timo Meier at times this season. Still, San Jose would be that much more lethal with Landeskog flanking the Joes. If Doug Wilson could pull off this deal, the Sharks would be odds-on favourites to come out of the Western Conference again.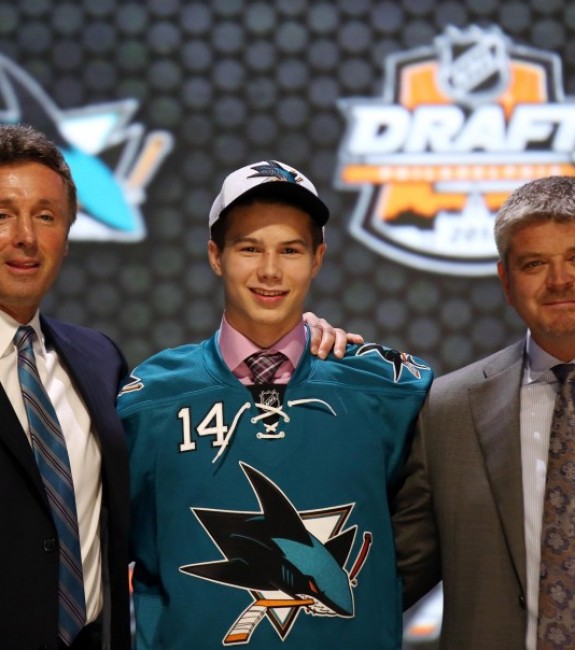 Colorado would be adding Hertl and Goldobin to those aforementioned four — MacKinnon, Rantanen, Jost and Patrick/Hischier — and thus would have the makings of a potent top-six for years to come. Mueller's development hasn't been a straight line, but he still has top-four upside on defence too. Mueller would come into the Avs' organization as a comparable talent to Chris Bigras.
The Sharks are already short on draft picks this year — without a second- or third-rounder — so Wilson may want to hang on to their first-rounder and instead part with Goldobin, a first-rounder from 2014 who has been lighting up the AHL lately. The Avs might still prefer picks to prospects, and if that was a deal-breaker, Wilson would probably give up this year's first-rounder to get Landeskog.
---
The question is — what would you do with Shattenkirk, Duchene and Landeskog? Keep them or trade them? Which one of these five deals — or which of the 15 in total — would you find most tempting?