With the Panthers long-eliminated from the playoffs it's time for us to look at all of the possibilities for the Cats' 2016-17 season.
In this article I'm going to share five prospects that I believe could earn a spot on the Panthers' roster next year, whether it be out of training camp – or midway through the season.
I'm going to exclude Michael Matheson from this list because of the role he played in the playoffs for the Panthers, there's really no doubt he'll start the year on the NHL roster.
1) Lawson Crouse
I've already written an in-depth article on what the Panthers should expect from Crouse if he makes the roster this year, but he is the Panthers' top prospect, and deserves top spot on this list.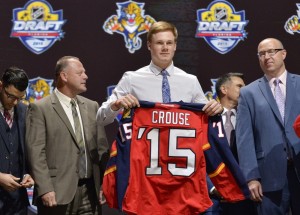 Crouse, of all the others on this list, is the most likely to make the team out of camp, and that's due to his size.
He's very, very big – especially for someone who isn't even 19 years of age yet.
Crouse will without a doubt start the season on a line with Nick Bjugstad and a veteran right winger like Teddy Purcell.
Crouse's ability to use his body to win puck battles and cause havoc in front of the oppositions net will be a huge addition to the Panthers' roster; which is severely lacking both of those attributes on a nightly basis.
2) Connor Brickley
After last year's training camp, Brickley all but forced the Panthers to give him a spot on their opening day roster.
He looked good on the fourth line with Derek MacKenzie and Quinton Howden, they all brought speed and physicality to each game, and even generated some offense at times.
As his time with the Cats wore on, Brickley started to take too many penalties and thus, quickly fell into Gerard Gallant's dog house.
While only 24 years old, Brickley still has plenty of time to develop into a versatile checking-winger at the NHL level. Here's a look at his first career NHL from this past season.
If we look at Brickley's AHL numbers, we can see that he actually has very little to prove at that level, scoring at a .5 point-per-game pace in both of his seasons in the league.
This year he should be given a shot at a permanent role with the Panthers, that is, assuming the Panthers choose to re-up his contract for another year or two.
If Brickley fails to impress the Panthers this season, that might mean he could be lost to waivers or traded as a depth piece to another team.
3) Jayce Hawryluk
Hawryluk, in my eyes, is the Panthers most underrated prospect.
He is a smaller forward, but he plays an incredibly gritty style and is capable of putting up a very good amount of points.
Hawryluk and the Brandon Wheat Kings just won the WHL Championship and are now headed on to the Memorial Cup to face off against the best junior teams in Canada.
In his four seasons with Brandon, Hawryluk's point totals increased every year, and they exploded in his final year.
In 232 regular season games, Hawryluk posted 119 goals and 278 total points. In the playoffs we saw more of the same. In 45 playoff games he scored 22 goals and 60 points.
Although he has scored at an impressive rate in juniors, Hawryluk will likely be a middle-six player in the NHL. A fair comparable would be Brendan Gallagher of the Montreal Canadiens, due to the aggravating style of game he plays on top of the offensive production he can add.
Here's a clip of Hawryluk fighting Tampa Bay Lighting Prospect Brayden Point.
Hawyrluk will likely start next season in the AHL, but if he has a strong camp he could very well see some games alongside Crouse and Bjugstad on Florida's third line.
4) Mackenzie Weegar
It's not often that a team will rely on a 7th rounder to turn into an NHL player, but Dale Tallon believes Weegar can become an impact player at the NHL level and has even said that he sees Weegar running the powerplay in the future.
Without a pick in the last round of the 2013 draft, Tallon traded his 2014 7th to the Canadiens for thier 2013 7th rounder, and that's where Tallon took Weegar.
In his two seasons in the QMJHL, with the Halifax Mooseheads, Weegar acumulated 103 points in just 123 regular season games. In 33 playoff games he had 27 points.
The past couple seasons have allowed Weegar to work on his defensive game and overall positioning while in the ECHL and the AHL, and his offense has begun to come into its own a little.
Last year in the AHL, Weegar scored 7 goals and 24 points in 64 games. While he didn't come close to shattering any records, he took another step in a long road towards becoming that offensive specialist Tallon thinks he can be.
The Panthers' right side is set on defense, so Weegar will begin the year in the AHL. If one of Alex Petrovic, Erik Gudbranson, Aaron Ekblad or Steven Kampfer go down to an injury, Weegar could see a few games with the Big Club in 2016-17.
5) Ian McCoshen
A former teammate of Matheson, McCoshen was selected by the Panthers in 2013, with the 31st overall pick.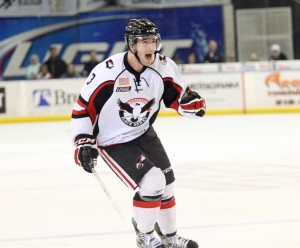 McCoshen stands at six-foot-three and weighs almost 220 pounds at just 20 years of age, but despite his size, he is a fairly mobile defenseman, and is responsible on both sides of the ice.
Despite increasing his offensive production each year at Boston College, McCoshen will very likely be more of a hitter, rather than a scorer, which the Panthers left-side desperately needs going forward.
With Willie Mitchell retiring this season, Matheson will likely play his minutes. But if the Panthers were to lose Brian Campbell to free agency, there would be a gaping hole in the Panthers' D-corps, one that McCoshen could potentially fill.
Assuming the Panthers do bring Campbell back, then we should expect another year of NCAA hockey for McCoshen. If he chooses he wants to turn pro, then the Panthers AHL team could use him without a doubt.
Worth a Mention
Linus Hultstrom – Hulstrom was omitted from this list because I know very little about the Swedish defenseman. He is a right handed shot, so his path, like Weegar's, is blocked by four NHL proven defensemen.
What we do know, is that he is capable of putting up points, which the Panthers blueline is desperatly hurting for. If he produces well in his first year of North American pro-hockey, in the AHL, then he could be an injury call-up for the Cats.
Rocco Grimaldi – In my opinion, Grimaldi's time with the Panthers is probably done.
He is an undersized player with a lot of visible talent, but he cannot seem to put the pieces together when given his chances in the NHL. The Panthers top-nine all but set, he is probably going to be the odd-man-out for another year.
I expect Grimaldi to be a piece in a trade, either this offseason, or during the year, but there is a chance that he makes the Panthers out of camp; there's no doubt he possesses the talent to do so.