Colorado's Tyson Barrie is a restricted free agent this summer. At $2.6 million last season, he was a steal, posting positive relative possession marks for the fourth straight year despite seeing his zone starts start to shift back toward the defensive zone more than in any other year. He also ranked 13th among all NHL defensemen in points (49) and 23rd in shots (172).
That's why it's surprising that the Avalanche are looking to trade him, according to reports.
The Avalanche ranked 21st in goals against at even strength and allowed more shots against per 60 minutes of even strength play than any team in the league.
Nonetheless, Sportsnet's Elliotte Friedman has said that Barrie is "definitely in play."
"I just got the impression from everybody involved that [Colorado and Barrie's agent] weren't really even in the same ballpark," he said.
Barrie is a young puck-moving defenseman who can easily slot into the top-four of almost any team in the NHL. If he gets moved, it's a bit of a perplexing decision, given Colorado's deficiencies.
However, if he's going, what teams have enough pieces to move, are in the market for a defenseman and would be a good home for Barrie?
Edmonton Oilers
The worst kept secret in the NHL is that the Oilers are shopping for defensemen, and that their greatest need is a righty. They're willing to move forwards, they're willing to move the fourth overall draft pick, they're willing to throw in a free month gym membership and an autographed Connor McDavid stick.
There are a lot of options for Colorado here. It may not be entirely clear what Colorado wants in return, but Edmonton has options. They've got picks, prospects and proven offensive assets like Ryan Nugent-Hopkins, Nail Yakupov and Jordan Eberle.
http://gty.im/502029608
Arizona Coyotes
Arizona, under new management, is in a similar situation to the Buffalo Sabres in the summer of 2015. The rebuild is in progress, but it's time to start pushing the needle. Their defense has holes, but is close. Barrie might bring them close to where they want to be.
Between Oliver Ekman-Larsson, Michael Stone, Connor Murphy, and some young players like Klas Dahlbeck or Jarred Tinordi, they'll have the nucleus of a group that can help build on their surprising success from this season. But their defensive depth thins out pretty quickly.
However, their offensive depth doesn't. They have prospects, veterans and picks they can put together for Colorado to bring Barrie in.
Plus, new GM John Chayka may value Barrie's skill set, noting that he's one of the few players in Colorado who is pushing play in the right direction regularly and can create a lot of offense.
Florida Panthers
Another team with a strong analytics bent, the Panthers are a team on the brink and Barrie is the right age to jump into a group of mostly young players that are poised to become a force for years to come.
One of the problems in Florida will be their blue line. They have some really great pieces, but it's an incomplete group and the retirement of Willie Mitchell will leave a big hole in their defensive group. Barrie could fill that, and give them a power play threat. Add him to a group that includes Aaron Ekblad, Erik Gudbranson and Michael Matheson, as well as Dmitry Kulikov, Alex Petrovic and the recently signed Linus Hultstrom, there's the foundation of a young blue line that runs deep. It may also help ease the sting of losing Brian Campbell if he walks in free agency.
The prospect pool is deep in Florida and they ought to have something that could interest Colorado.
http://gty.im/499347226
New York Islanders
The Islanders proved once again this year that there's a lot of good happening in the organization, but they aren't quite there. There are a lot of young forwards who are taking steps forward and their most exciting prospects are forwards like Josh Ho Sang, Anthony Beauvillier, Michael Dal Colle and Mathew Barzal. Adding a defenseman seems crucial (even assuming that Quinnipiac's Devon Toews makes a nice transition from college to the pro ranks).
When they were hit by injuries midseason, it revealed their lack of depth on D. Adding Barrie — as well as discovering that Travis Harmonic wants to stay now — gives the team better depth, a serious weapon on the power play, and fulfills a need.
A hoard of goaltenders and forward prospects might help them find something that the Avs are willing to deal for.
Chicago Blackhawks
Chicago proved in their opening round loss to the St. Louis Blues that they need to fix some issues on the blue line. Barrie would thrive in Chicago, as most players with a modicum of talent seem to be able to.
Chicago could wind up being an interesting partner for Colorado, because they have a couple of pressing problems. One: They're always up against the cap and are often willing to move out cap to acquire something, even if it's a short-term solution, because they're perpetually in "win now" mode.
The second issue is the possibility of an expansion draft. Chicago has too many players they have to protect and too much cap space in those players under the current proposals. It's not clear how they'll have to deal with that, but it will prevent them from protecting some younger (and cheaper) players they might have a desire to keep around. Could they trade some of those guys instead of losing them for nothing? That's a scenario that we'll probably see play out a few times around the league.
---
RELATED: What Teams Have the Least Flexibility In An Expansion Draft?
---
Dallas Stars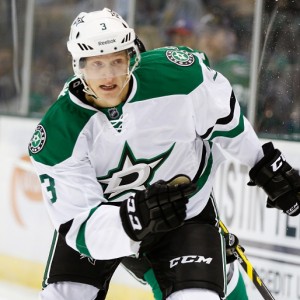 The Stars offense was second to none this season. Their blue line and goaltending proved to be their Achille's heel. How close are they to getting into Cup form? They took the Blues to Game 7 and didn't have Tyler Sequin at all in the series. GM Jim Nill is going to need to make some moves to fix those two issues and it's not all going to be able to be done in free agency.
Barrie would be a start. His particular skill set somewhat mirrors that of John Klingberg, but having two young, potentially elite puck-moving defenseman who can thrive on the rush and on the power play isn't a problem so much as something you don't see that often. With a team as offensively dynamic as the Stars, having two players like that might suit them just fine.
It may also help provide a model for some of the young defensemen coming up like Julius Honka and Esa Lindell. How scary are the Stars if they solve some of their defensive issues while continuing to improve their offensive attack?
Other Teams That Could Fit the Bill: Vancouver Canucks, New York Rangers, Buffalo Sabres, Toronto Maple Leafs, Boston Bruins.
Dustin Nelson writes about news and the Minnesota Wild for The Hockey Writers.