Through nine games at the World Hockey Championship, Edmonton Oilers forward Connor McDavid has eight assists and no goals on 11 shots. Team Canada will play for the Gold Medal against Finland, and has plenty of other stars on the roster, so they don't necessarily need him to fill the net. He's dangerous every time he has the puck, he's always making something happen, and he's been responsible defensively throughout the tournament. But is his lack of scoring (against lesser competition for the most part) cause for concern?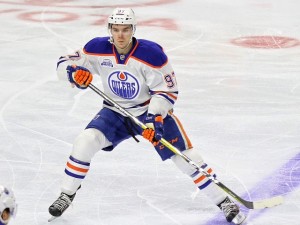 McDavid's stats over the course of his career look like this:
2012-13: 25 goals, 41 assists, 66 points
2013-14: 28 goals, 71 assists, 99 points
2014-15: 44 goals, 76 assists, 120 points
2015-16: 16 goals, 32 assists, 48 points
He has played in two World Junior Championships, where he scored a total of four goals and 15 points. Predictably, McDavid has drawn comparisons to another star centerman in Sidney Crosby, who was labelled a generational talent and phenom just like McDavid. Crosby has scored 40 goals just once in his NHL career, and it was in his Rocket Richard winning season of 2009-10 where he notched 51. The closest he ever got to that mark before or after was 39 in his rookie year. He has hit the 30-goal mark seven times, and that number would likely be higher had he not suffered long-term injury.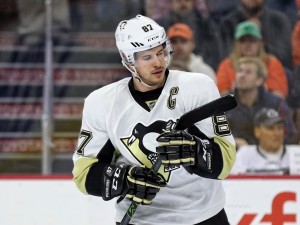 Crosby always looks most comfortable when he's dancing around the offensive zone with the puck on a string, using his lower-body strength to keep opponents at bay, and then dishing a perfect pass to a teammate in front of the net. Obviously, you'd like to see Crosby shoot more, but he's most effective on his back-hand (one of the best in the league), plowing through defencemen for a highlight-reel goal, or pounding in a re-bound at the side of the net. He tends to pass off rather than go for the shot if he thinks there's a better play to be made. Thus is the make-up of a true play-maker.
Unlike wingers, centermen are required to do more than just score goals. They are counted on to win faceoffs, go up against the oppositions top players and to cover up in the defensive zone. Its frustrating to see a guy like Crosby suffer goal droughts, (especially now that Penguins really need him), but as long as he's effective in other ways, and does the right things, you have to believe the goals will come. He has consistently been like this, not that its an excuse, because he needs to score more often than once every nine games, but its foolish to look at his latest slump and be shocked. When the team wins, you look past it, but then they lose, of course a guy with his skill-level will wear it.
McDavid can put the puck in the net, he's proven that, but he also makes magic in terms of controlling the play and then finding his teammates. That's fine, so long as he's got linemates who can finish. Jordan Eberle scored 25 goals last season, a lot of which were from McDavid passes. Connor, like Crosby, has the ability to make the players around him better. And that's what you want out of your top centerman. You want him to be creating, and generating offence, even if he's not the last guy to touch the puck. Crosby seemed to re-invent his game to shoot the puck more, and it worked, but we'll never know if his concussions problems played in a factor in that facet of his game looking like a one-off.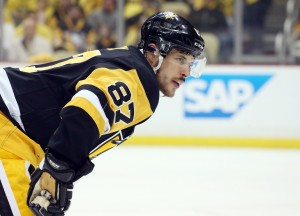 Crosby has been nominated for the Hart Trophy five times, and won twice (this year still pending). He's won the Ted Lindsay award three out of four chances, and has two Art Ross Trophies. Goals are valued very highly in this league, but there is more to centerman's repertoire than just goals. Judging Connor McDavid's performance based on goals isn't the best evaluation, because he's still making things happen. The problem for a guy like McDavid, as it always has been for Crosby, is that when the team is struggling, and the big guy isn't scoring, he wears the criticism.
McDavid has plenty of time to allow his game to evolve and work on becoming more of a goal-scorer. He's always going to put up points, and at the moment the majority of them are assists. Crosby felt the need to work on that aspect of his game. McDavid might have to do the same thing some day. But always keep in mind that having a guy who can generate chances is extremely important. McDavid will continue to get better. Does he have a pass-first mentality? Maybe, but that hasn't hampered Crosby's success over the years. It would be nice to see McDavid score a boatload of goals at the Worlds, but as long as he's making things happen, there isn't a need to worry about it just yet.
Marcy, a former hockey player, is a hockey correspondent on CTV News and TSN radio. She began her career as a Sports Journalist in 2009 and has been part of The Hockey Writers since 2010, where she is currently a senior writer and editor.