This morning, Dave Hakstol will be facing a brand new challenge as the Philadelphia Flyers open their official training camp. The Flyers are under the salary cap and have plenty of players attending camp, which should make for a few interesting position battles.
Although the Flyers seem to be in a relatively stable position, there are still plenty of questions surrounding the team. Here are five such questions:
Who Will Play Defense In Philadelphia?
The Flyers have eight defensemen who are one one-way, NHL contracts. On top of those eight defensemen, they have five highly touted defense prospects who could push for a roster spot in training camp. These 13 defensemen are as follows:
One-Way Contracts:
Mark Streit
Yevgeni Medvedev
Andrew MacDonald
Radko Gudas
Luke Schenn
Michael Del Zotto
Nick Schultz
Brandon Manning
Prospects:
Ivan Provorov
Sam Morin
Shayne Gostisbehere
Travis Sanheim
Robert Hagg
This list does not even include the likes of Mark Alt and Christian Marti. Alt, a big, 23 year old, right-handed defenseman is entering his third pro season. He earned a one game taste at the NHL level in 2014-15 and is out to prove that he should play in big leagues this year.
Marti is a 22 year old Swiss defenseman who has spent the last two seasons in the Swiss professional league. Marti, who is expected to start with the Phantoms, has size, mobility, and plenty of experience playing against grown men.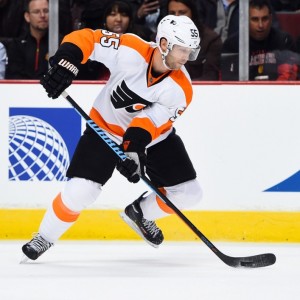 Therefore, there are 15 conceivable options for the Flyers blueline. Therefore, it will be fascinating to see how Dave Hakstol evaluates his options, how the Flyers prospects perform in the preseason, and how the "young veterans" like Marti and Alt approach training camp.
How Will the "Middle-Six" Shake Out?
For all intents and purposes, the Flyers top line is set. Michael Raffl, Claude Giroux, and Jakub Voracek are likely going to start the season together and rightfully so. They have been a great unit.
Likewise, there are a few players who seem to be earmarked for fourth line and/or 13th forward duty. Those players are Pierre-Eduoard Bellemare, Chris Vandevelde, Ryan White, and Chris Porter.
That leaves many players, with many different positional preferences in that middle six gap. Matt Read, Sean Couturier, Wayne Simmonds, Sam Gagner, Brayden Schenn, Vincent Lecavalier and RJ Umberger all seem penciled into second or third line duty. However, prospects like Scott Laughton and Nick Cousins could also push for a roster spot out of training camp.
Here are a few key facts that make this situation even more unclear.
Couturier, Gagner, Schenn, Lecavalier, Laughton, and Cousins all prefer to play center.
Lecavalier, Gagner, and Schenn prefer to play center over playing right wing, and right wing over playing left wing.
The organization has alsways been reluctant to move Couturier and Laughton from their natural center position.
Ultimately there are nine forwards vying for six spots. Furthermore, that list does not even consider a few older prospects like Taylor Leier and Petr Straka, each of who could make a push for the NHL team.
Who will pay center? Who will play on the wings? What line combinations will Hakstol try? The middle-six is loaded with both uncertainty and potential. How Dave Hakstol navigates this road will be interesting to watch over the next few weeks.
Which Prospects Are NHL-Ready?
Although this question has tangentially been raised in the previous questions, it deserves an explanation of its own.
Starting with the defenseman, a case can be made for each of the "Big Five" to make the NHL this season. They are all at a similar level in their development, despite their age differences.
Robert Hagg, 20, has now played multiple professional seasons in Sweden and has also played a full professional season in North America. Shayne Gostisbehere, 22, is the oldest of the prospects and is the only one to have any NHL experience. He is fully healed from his ACL tear and is now 185lbs.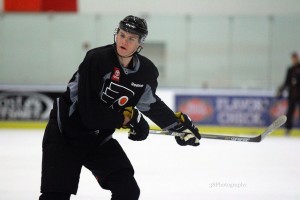 Samuel Morin, 20, was one of the final cuts from Flyers training camp last season. He has only gotten bigger and stronger since that time while also gaining international experience. Travis Sanheim is a more polished 19 year old than Morin was last year, and Morin was as close as one could come to making the team and not actually making it.
Finally, Ivan Provorov, 18, may be the most complete prospect the Flyers have. Even before the 2015 draft, many pundits were saying that Provorov could be NHL ready. He scored at a point per game clip last year in the WHL and has been praised in every aspect of the game.
So, will Hextall deem any of these prospects NHL-ready?
In terms of forwards, Scott Laughton, Nick Cousins, Taylor Leier, and Nicolas Aube-Kubel each have a chance to push for the NHL roster this season. Both Laughton and Cousins spent substantial time in the NHL last season, while both Leier and Aube-Kubel have underrated speed and tenacity that could bode well for them under Dave Hakstol.
It is not out of the realm of possibility that a couple of those prospects could force the hands of Hakstol and General ManagervRon Hextall in training camp.
Will The Flyers Make Any Trades?
The questions stated above beg this obvious question. With so many players vying for 18 spots, there have to be some trades, right?
On the one hand, the Flyers have a plethora of players and are close to the salary cap. A trade of a player could ease both situations. It would open up a roster spot while giving the Flyers some cap flexibility.
However, this is not Ron Hextall's first rodeo. He is well aware that injuries can hit at any time. Last season the Flyers saw 10 different defensemen suit up for them throughout the season. Also, forwards like Vincent Lecavalier and RJ Umberger have become increasingly injury-prone and are bound to miss some time this season.
With that said, it is very possible that Hextall will keep all of the players on the Flyers roster with the expectation that the Flyers will accumulate injuries. On the off chance that injuries do not hit hard in 2015-16, Hextall knows that he can always trade a few expiring contracts at the trade deadline.
How Will Dave Hakstol Handle NHL Sized Ego's?
Dave Hakstol is an accomplished coach. However, all of his coaching accomplishments have been at either the USHL and NCAA level. The fact of the matter is that he has never coached professional players.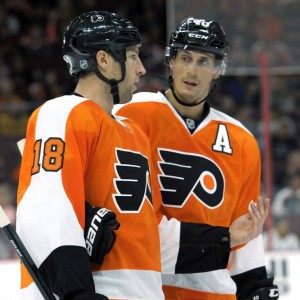 What is the difference between professional players and amateurs? The main off-ice difference is that professional players have contracts looming over their heads. These contracts usually breed ego's and other issues relating to player deployment.
For example, RJ Umberger has been in decline over the past few years. Although he claims to now be 100% healthy, the expectations for Umberger are very low this season.
What will Hakstol do if Umberger's play drops to the point of deserving to be scratched? Would Hakstol play someone like Bellemare, who makes $712,000 per year, over RJ Umberger, who makes $4.6M per year?
Although a coach should not look at these things, the fact of the matter is that contracts do play a part in player deployment. How Hakstol handles the different contract situations and their effects on the ice will be a key storyline both in training camp and throughout the season.
These storylines should make for a fascinating season in Philadelphia. Although these questions may seem daunting, both Hakstol and Hextall seem up to the task.
I am 23 years old and I've been a Flyers fan since I was six years old. I love to break down the game and take a look at prospects. I always appreciate your thoughts and feedback, so feel free to use the comment section or interact with me on Twitter.