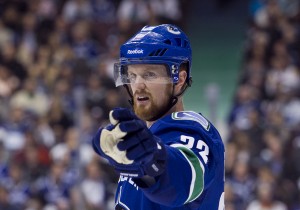 Finally the playoffs are here. After another long and grueling regular season we can focus our attention on the Stanley Cup Playoffs. We no longer will be forced to see highlights of the Blue Jackets or Maple Leafs. It is time for meaningful hockey.
For the Vancouver Canucks that means another chance to win the prize their franchise and fan base are so desperate to win. The Canucks came off their shortest, and maybe bitterest, summer in history and managed to end up with the NHL's best record again.
Already facing huge expectations, winning the President's Cup upped the ante even more. They start their playoff run Wednesday against the 8th seeded Los Angeles Kings. This is a rematch of an entertaining opening round series these two clubs played two seasons ago. Vancouver won that series in six games.
Can they do the same this year?
The Kings are a tough team to play against. They have a great goaltender, who will soon be picking up some hardware in Las Vegas, and a stifling defense that limits the number of great chances you will get. This will not be a walk in the park for the Canucks. On paper they have more talent than the Kings do, but history has shown us over and over again, that in the Stanley Cup playoffs, paper is irrelevant.
Here are five reasons that the Canucks will beat the Kings, and two reasons they won't.
Reasons Vancouver will win:
1. Team Speed:
One area that Vancouver will have an advantage over the Kings is overall team speed. The Canucks have speed throughout their lineup with players like David Booth, Jannik Hansen, Mayson Raymond and Chris Higgins they may be able to take advantage of the bigger and slower Kings. When at their best the Canucks generate a lot of turnovers and make a quick transition into offense. This may prove to be the difference in the series.
2. Overall Depth:
The Canucks have a very deep and versatile roster. They have three lines that can score, two lines that can be asked to shut down the opposing line, two top notch goaltenders and a defense that is very good and consistent. A big match up to watch is how the Kings handle the Chris Higgins/Sami Pahlsson/Jannik Hansen line that has been so good for Vancouver the past month. Not many teams can ice a third line that can score, win possessions and shut you down the way Vancouver can. It will be interesting to see if Alain Vigneault matches them up with the Kopitar line and is able to force them to play in their own end more than they would like.
The Kings were great on Defense this year and ended up the second ranked defensive team allowing just over two goals a game (2.07 to be exact). Vancouver was right behind them at 4th (2.33 goals per game) but Vancouver outscored the Kings by 54 goals this season. The Canucks can match defense with the Kings and have more guys who can scratch out the goal that could make the difference.
3. Goaltending:
This may seem like an advantage that goes to the Kings with the season that Jonathan Quick just turned in. Make no mistake about it, Quick was outstanding this season and does stand a chance to steal this series. But, he has yet to play at a high level in the post season. His career goals against average in the post season is 3.32 which is down from his career regular season career mark of 2.30. The same disparity is seen in his save percentage as well, going from .916 in the regular season to .900 in the post season. In his previous match up with Vancouver Quick's save percentage was a worrisome .884.
Vancouver's two goalies have both played in a Stanley Cup finals and Roberto Luongo has started 59 playoff games in his career and despite what the media reputation of him is has put up good post season numbers. His .915 save percentage and 2.50 goals against average in the post season are identical to his career regular season totals. That experience may push the Canucks over the top.
4. Overall Experience:
The core of the Kings roster has had a taste of the playoffs the past two seasons but has failed to make it out of the first round. On the other hand, the core of the Canucks roster has made long playoff runs. Guys like the Sedins, Luongo, Kevin Bieksa, Ryan Kesler and Alex Burrows have experienced all the ups and downs of the Stanley Cup playoffs. They know that it always seems like you are playing worse than you are on the road, they have seen what happens when you let your foot of the gas after winning the first three games of a series.
This series will be a grind and having the experience of persevring grinds like this will come in handy for Vancouver.
5. Road Warriors:
The Vancouver Canucks were the best road team in the NHL this season and there is no reason to think that won't carry over into the playoffs. While they laid eggs in Boston last year, they won big playoff games on the road in Nashville, San Jose and Chicago last season. Two years ago when they beat the Kings in the first round they won two games in Los Angeles, including the series clincher. They won't be intimidated by a loud and raucous Staples Center crowd.
The other interesting road game storyline worthy of watching will be how many Vancouver fans end up in Staples Center for this series. The past couple of seasons have seen Vancouver fans flood road games during the regular season. Last year, during Game 5 in San Jose they also filled the building giving the Canucks a taste of home while on the road. If Canucks fans are able to snatch up tickets for Games 4 and 5 next week it could be interesting.
Two reasons the Canucks will not win:
1. Jonathan Quick:
For Canucks fans, the specter of a hot Quick has got to be nerve-wracking. He is a great young goalie who, despite his playoff history noted above, could easily take this series away from Vancouver. He is supported by a very strong defense in front of him that only yielded only two goals a game during the season. The Kings limit quality shots and chances and Vancouver will have its patience tested. Everyone in Vancouver saw what Tim Thomas did last season and nobody should be surprised if Quick stands on his head the same way.
2. Kings Forwards:
With talented offensive players like Anze Kopitar, Mike Richards, Dustin Brown and Jeff Carter it is surprising how few goals the Kings score. These guys can all light the lamp and if they are given room to bust out the Canucks will be in trouble. A Kings team that starts scoring goals will almost be impossible to beat with the guy they have between the pipes. The Canucks will have to be diligent to shut these guys down. With Quick, Vancouver has very little room for error. If they fall down by a couple of goals it could be lights out.