It's that time of the year again!
No, not Thanksgiving. Even Christmas and New Year's are things of the past now. Still haven't got it? Well, it's January… also known as the annual time of the year that sees the Minnesota Wild plummet and go through a disastrous stretch of play.
At this time last year, Vezina Trophy favourite Josh Harding, became sidelined for the remainder of the season. After that, the Wild fell down the standings to a point where they were clawing and scratching just to keep a playoff position. This time around, the results may be much worse.
Usually, the Wild's problem is injuries. Not this time. The team simply isn't playing well at all. Of course, there are some individuals who are doing their part, but it never seems to come together all at once. Winning only 2 of the past 13 games, it's looking like a snowball effect type of season for Minnesota. What makes this season's woes even more worrisome is the fact that the Wild began their horrible stretch of play while they were already out of a playoff spot. They've continued to drop down the standings, as they're now sitting in last place in their division, six points out of a playoff position.
Major Concerns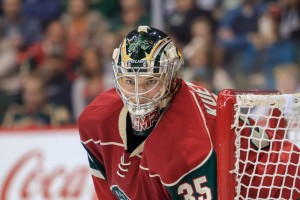 Usually, when there's a problem, there's a root of it. A point which started the Wild's downhill slope from the top of the league, to nearly the bottom of it by now. So, what is the root in Minnesota? It's simple, goaltending. Entering the 2014-15 season, they were expected to have Josh Harding as their number one with Backstrom behind him, and of course, Kuemper in the AHL as a fantastic call up if they needed help. Well, Harding got hurt which forced Kuemper into the starter spot.
In the beginning it looked like a fantastic situation, with Kuemper shutting out his first two games of the season. Since then, it's continuously been a disaster in the making. As the goaltending performances constantly worsened, the Wild found their team's true form. Now halfway through the season, the Wild find themselves sporting a quite embarrassing .900 SV%. Allowing one goal on every ten shots is terrible, and it's very difficult to win a hockey game with that state of mind.
How To Fix It
Nicklas Backstrom just isn't good enough anymore, simple as that. He's old and brittle and doesn't often give his team much of a chance to win. Darcy Kuemper could be given a longer chance given his previous periods of play, but he definitely needs to step up his game soon. Josh Harding could be very good, but he's a high risk, high reward player. You could make him the team's starter, but who knows when he'll be injured next, like he currently is. Minnesota doesn't have many promising goalie prospects in their system either, so the solution seems obvious. Make a trade for a young promising goalie.
Trade Possibilities
There are many younger goalies in the league who could play now and have a positive impact. Although the price may be high, the Wild must pay it if they want to have any chance of making the playoffs this spring. Here are some possible trade options, listed in order of cost, highest to lowest.
1: Andrei Vasilevskiy for Charlie Coyle and a 1st round pick.
The 19th overall pick in 2012 by the Tampa Bay Lightning has the potential to be the best Russian goaltender ever. After tearing up the KHL as an 18/19 year old, Vasilevkiy has made a seamless transition to North America this year. In 19 AHL games he has an 11-3-5 record with a 2.25 GAA and a .923 SV%. He's also been called up to the Lightning for a few short stints. In four starts he has a 1.76 GAA and a .937 SV%. Vasilevskiy could very well be a starting goalie in just two years, but that won't happen with Ben Bishop in Tampa Bay. GM Steve Yzerman wouldn't easily give up this piece, but the Wild should take the chance.
2: Petr Mrazek for Matt Dumba and Kaapo Kahkonen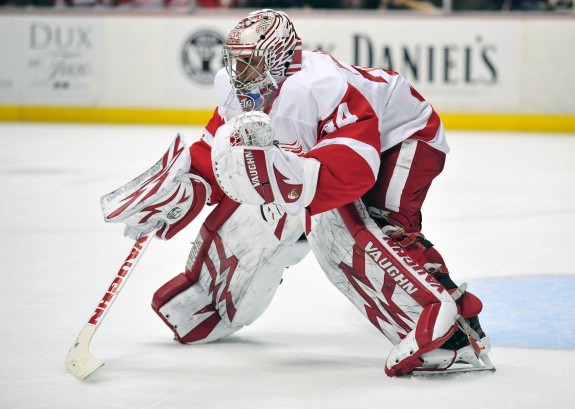 The Detroit Red Wings current backup was a 5th round pick in 2010 but has proven he can be an NHL goaltender already. At just 22 years old, he has a chance to really prove himself right now with the injury of Jimmy Howard. So, maybe at the trade deadline would be more ideal. It's obvious Howard is the Red Wings starter for the considerable future, so Mrazek may have no where to play. His value is rising but he could come into Minnesota and become the starter right away. In 9 games in the NHL this year, he has a 2.29 GAA and a .916 SV%. He would be much easier to acquire than Vasilevskiy.
3: Cam Talbot for Nicklas Backstrom and a 3rd round pick
Talbot may arguably be the best backup goalie in the league for the past two years. The undrafted 27 year old has been lights out in New York behind Lundqvist. From how he's played the past two seasons, he looks like he could very well play as a starter right now. It would cost a little bit, but nothing the Wild couldn't give up. This trade would open up room for Talbot to be the starter and for Kuemper to battle and prove himself again for more playing time. There's no doubt Talbot offers much more than Backstrom does and he could possibly give the Wild a shot at making the playoffs still this year.
4: Robin Lehner for Keith Ballard and a 2nd round pick
The 23 year old Ottawa Senators backup is having a down year, so now is the time to try to pry him away at a low value. The 2009 2nd round pick started off his career hot but has since cooled down. At the beginning of the 2014-15 season he was given split time with Craig Anderson to determine the starter. Anderson played well and Lehner did not. in 15 games this year he has a 3.03 GAA and a .904 SV%. Hey, with those numbers he would fit right into Minnesota. He could be given a second chance, given split time with Darcy Kuemper, with the better goalie getting the starts. It would create a healthy rival for Kuemper, boosting both goalies play, hopefully.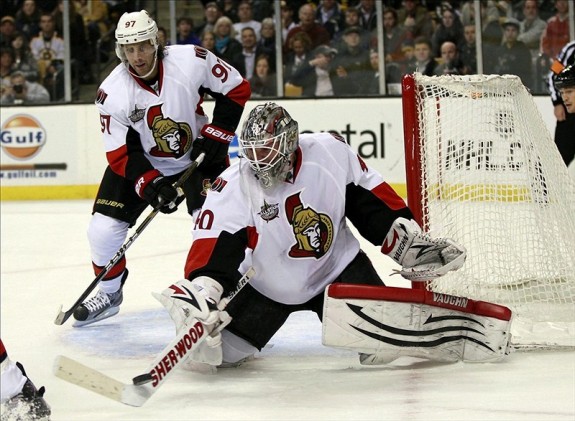 5: Dustin Tokarski for a 3rd round pick
The Montreal Canadiens acquired their backup goalie in a trade with the Tampa Bay Lightning in 2013. The 25 year old has improved since joining the Habs, playing his way into their NHL roster. In 11 career games with Montreal he has a 2.10 GAA with a .931 SV%, spectacular numbers for a backup. Montreal has a very suitable backup in Mike Condon if they traded Tokarski and also have Zach Fucale in their system too. Because of that, the Wild could likely get him for a reasonable price. If he came to the Wild he would have to battle for ice time but could benefit from that. He doesn't exactly have starter potential, but he could stop the current bleeding, for a while.
Who do you think the Minnesota Wild should acquire to save their season? Discuss in the comments!