Two games were played in the National Hockey League last night, and both ended in identical 1-1 stalemates.  In Toronto, it was the Rangers and the Maple Leafs each scoring a goal, while at the Montreal Forum, the Detroit Red Wings and the Canadiens were also only able to manage one marker apiece.
Rangers tight checking stifles Leafs
Maple Leaf Gardens welcomed 14, 106 eager fans last night, all hoping to see their beloved Leafs extend their unbeaten streak to five games.  While the assembled throng was not disappointed in that respect, they did not witness a classic display of hockey skill by either club.  In fact, the Toronto team's performance was downright lacklustre, and they were only able to salvage a single point thanks the inferior level of their youthful competition and the sharp work of goaltender Johnny Bower.
Rookie Ron Ellis gave Toronto the early 1-0 lead in the first period.  It was a power play goal, set up by Don McKenney and Frank Mahovlich. Ellis had missed a great scoring chance moments earlier, but on this occasion, he took his time to beat Ranger netminder Marcel Paille.
The New Yorkers tied the score two minutes past the game's half-way mark with the game's final goal.  Rod Gilbert was set up by Camille Henry and fired a quick shot that was blocked by Leafs' Tim Horton.  Gilbert scooped up the rebound and slipped it past Bower for the score.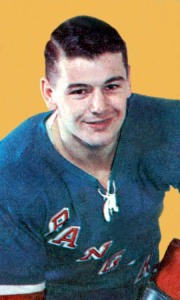 Davey Keon was one of the more energetic Leafs and should have escaped Leaf coach Punch Imlach's post-game wrath.  Ranger coach Red Sullivan asked after the game, "What do they feed that Keon?"  Davey's reply:  "Horton's hamburgers, of course."  Dave is referring to the hamburger joint recently opened by the Leaf defenceman.
Habs come from behind
The game in Montreal was a tense affair, highlighted by standout goaltending at both ends.  Detroit puckstopper Roger Crozier continued his fine rookie performance by stopping 18 of the 19 shots directed his way.  The only goal to beat him was a power play marker by John Ferguson with less than five minutes remaining in the game.
After two scoreless periods, the Red Wings finally broke the ice in the first minute of the final frame on an Alex Delvecchio tally.  Montreal goalie Charlie Hodge had made great saves on Bill Gadsby and Ron Murphy before Delvecchio lifted the puck over the prone Canadiens backstop.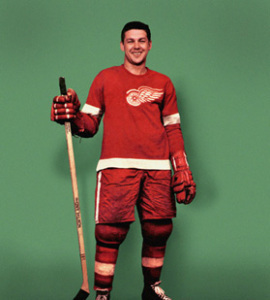 Hodge was the reason that Montreal avoided a loss. He made standout stops on Gordie Howe, Normie Ullman, Pit Martin and Delvecchio, in addition to a game-saving spectacular save on Parker MacDonald in the second period when the Detroit winger burst in alone on him.
Ted Lindsay, attempting a comeback with the Red Wings, had a very poor game. He was  described by Pat Curran of the Montreal Gazette as "excess baggage"and he  was the victim of an enormous body check by rookie defenceman Ted Harris.  A feeble attempt at revenge by Terrible Ted earned him an elbowing penalty, even though he failed to connect on Montreal rookie right winger Claude Larose.