Canadians unimpressive
The Canadian National Hockey Team defeated the United States squad 5-2 yesterday in a generally unimpressive game at the world championships in Tampere, Finland.
Former NHL'er Allan Johnson was the scoring star for Canada, potting three goals.  Gary Dineen and Bob Forhan added singles.  Paul Coppo and Tom Roe were the American snipers.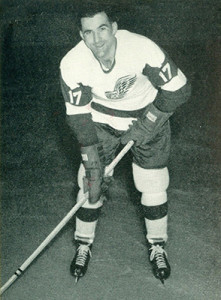 Canadian goaltender Ken Broderick gave up his first two goals of the tournament.  The Americans scored at 3:22 of the third period, ending a string of 163 minutes of shutout goaltending by the Canadian netminder.
Canadian coach Gord Simpson was not terribly pleased with his team's indifferent performance.
"I'm not too happy with the way things are going but there's no reason to panic. The boys got a little mad with   themselves after the Americans scored and they started wandering a bit from what we had arranged.  But our main trouble is that our timing and  passing are still  just a bit off."
U.S. coach Ken Yackel was delighted with the play of his team, if not the result.
"It was the best game we've played yet.  We made mistakes and they cost us goals.  We let Johnson break us up three times and three times he scored."
The Americans actually outshot Canada 39-35.  It was easily Broderick's busiest night so far, but he was more than equal to the task.
Regan plans European hockey school
Former National Hockey League player Larry Regan says he will carry on with his plans to operate a hockey camp in Europe this summer.  This comes despite warnings from IIHF president J.F. (Bunny) Ahearne that the activity will not be approved by the IIHF and that sanctions could be imposed against those running the operations and any participants.
Regan's school is to be held in Innsbruck, Austria.  Regan is partnered with a local lawyer who advised him to go ahead with the project.
"I was in touch with my partner, Dr. Rudolph Wieser, an Innsbruck lawyer, and he told me to go ahead.  Dr. Wieser told me on the phone this morning that the people of Innsbruck were behind me 100%.
"Since the government owns the Innsbruck arena, I don't see what the IIHF can do to stop the hockey school."
Ahearne said Sunday that his organization will not allow Canadian professionals to play on IIHF controlled ice in Europe, or even conduct hockey schools.  The ban, first announced Friday, applies to "the performance of professional hockey players in any way, shape or form."
Regan's plan is to take six NHL players, three each from Detroit and Toronto, to Innsbruck to teach at the school.  Toronto players are slated to be Tim Horton, Terry Sawchuk and Ron Stewart.  Marcel Pronovost, Alex Delvecchio and Gordie Howe will represent the Red Wings.
Regan says that no one from the IIHF has contacted him about the ruling, and that he has been given no reason for it.  He says he has a commitment to the people of Innsbruck and he intends to honour that commitment.
Voss, Hawks' publicist in shoving match
The referee-in-chief of the National Hockey League, Carl Voss, and the publicist of the Chicago Black Hawks, Don Murphy, engaged in a shouting and shoving match during Sunday evening's game at the Chicago Stadium.  No blows were landed and no injuries sustained by the two parties.  Chicago general manager Tommy Ivan intervened to put an end to the festivities.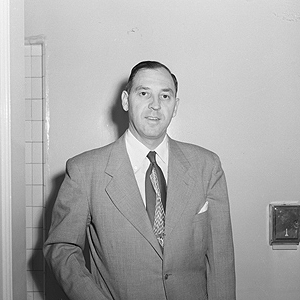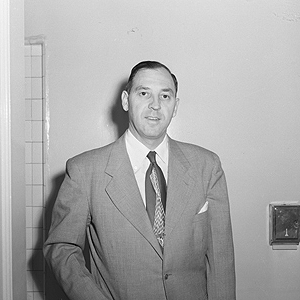 The incident occurred during the second period when referee Art Skov called a holding penalty on Chicago rookie Dennis Hull.  Murphy got up from his seat at one end of the press box and approached Voss to voice his objection to the call.  The discussion quickly escalated into a shoving match, at which time Ivan inserted himself between the two men to put an end to it.
Voss said, "He came rushing down to where I was sitting and started to scream in my ear about the call, and I wasn't about to stand for it."
Voss complained that the Hawks constantly run pictures in their programs that denigrate the competency of NHL officials.
Murphy's version of what happened was, quite predictably,  a little different  than that of Voss.
Murphy said he wasn't unhappy about the call against Hull.  "Why should I be?  We were ahead 5-0 at the time.  I started down to ask Carl how Skov could call a holding penalty on Hull when he had the puck.  I didn't even get the words out when he jumped out of his chair screaming and started to push me around. I don't know what would have happened if Ivan hadn't gotten between us."
AHL Prez awaits referee's report
American Hockey League president Jack Riley will wait to see the referee's report on Sunday's game in Buffalo before making a ruling on a wild brawl that included players coaches and Buffalo fans.  Referee Frank Udvari, who handed out 104 minutes in penalties, is expected to submit his report any time, and AHL publicity director Jack Button says the league expects to receive Udvari's report some time today.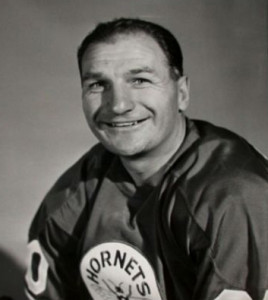 The main altercation involving the fans took place at the end of the overtime session, which ended in a 1-1 tie.  As Pat Hannigan and Ed Van Impe of the Bisons were making their way to the dressing room, Pittsburgh coach Vic Stasiuk directed some rather salty comments in the direction of Buffalo bench boss Phil Watson, who is no shrinking violet himself.
A fan took exception to Stasiuk's comment and charged the Pittsburgh coach. He managed to land a few blows before Hornets defenceman Pete Goegan intervened and summarily dismissed the rowdy patron.
Irv Spencer of the Hornets then led a band of players into the stands where full-scale fighting broke out.  It spilled into a corridor where the local constabulary became involved to put an end to the fisticuffs.  There were no arrests and no reports of injury.
OHA Junior A All-Stars
The OHA Junior A Series All-Star teams were announced yesterday.  There was one unanimous choice, right-winger Kenny Hodge of the St. Catharines Black Hawks.
Other members of the first team included goalie Bernie Parent of Niagara Falls, defencemen Bobby Orr of Oshawa and Jim McKenney of Toronto, centre Andre Lacroix of Peterborough and left-winger Brit Selby of the Marlboros.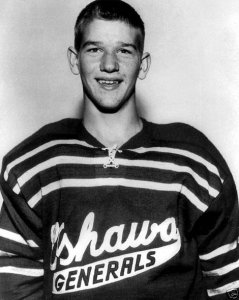 The second team consists of goalie Chuck Goddard, Peterborough, defencemen Serge Savard of Montreal and John Vanderburg of Peterborough, centre Ron Buchanan, Oshawa, Montreal left-wing Jacques Lemair and right-wing Danny Grant of Peterborough.
The team was selected through a poll of league coaches.  Coaches were not allowed to vote for anyone on their own club.
The only holdover from last year's team was Oshawa defenceman Bobby Orr, not yet 17 years old.  Hamilton coach Danny Lewicki was the only coach not to vote Orr as a first-team player.
Retired police detective, involved in hockey at all levels for over 50 years. Member of Society for International Hockey Research and presently a video analyst for the leader in advanced hockey analytics (we work exclusively for 2 NHL clubs, and provide advice on an ad hoc basis to many other clients). Currently the Assistant General Manager for the Pelham Pirates of the Greater Ontario Junior Hockey League. Previously owned the Faceoff computer hockey simulation and also provided all player ratings for the EA Sports series of NHL computer games from the late 90's into the mid 2000's.