The Toronto Maple Leafs, playing without four key players, went into the Chicago Stadium last night and skated to a surprising 3-1 win over the Black Hawks.  In the other NHL games, Detroit upset the Montreal Canadiens 5-4 while the Rangers dropped the Bruins 5-2.  And besides the games played, lots of other hockey news was floating around.
Bower big for Leafs
Toronto's win over Chicago on the road was due in large part to the best game veteran goaltender Johnny Bower has had this year.  The 40-some-odd year old veteran made 30 saves, most at key intervals, to keep the Leafs one step ahead of their hosts.  The crowd of 14,794 at the Chicago Stadium was a raucous one, and had no difficulty in displaying their displeasure with the proceedings.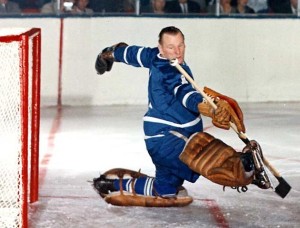 After a scoreless first period, Bob Pulford opened the game's scoring, giving the Leafs a 1-0 lead only 15 seconds into the second stanza.  It was Pulford's 10th of the season and came while Toronto was a man short.
Things stayed that way until the first minute of the final frame when rookie Brit Selby notched his second in as many games.  Frank Mahovlich upped the Toronto lead to three about two minutes later.  At that point, all the horses were out of the barn for Chicago.
Bobby Hull, with his 33rd goal of the season finally managed to get one past Bower near the half-way mark of the third, but it was not going to be near enough to be any cause for Toronto concern.  Hull's goal came in typical Golden Jet fashion.  He completed an end to end rush by splitting the Toronto defence of Bob Baun and Allan Stanley before drawing Bower out and sliding the puck around him.
Hull must have had sore arms after this one.  He fired 18 shots during the game, 12 of them which Bower had to stop.
Referee Frank Udvari called 17 minor penalties in the game, 11 of which were assessed to Toronto, a fact that greatly displeased Leaf coach Punch Imlach.
Toronto played without Andy Bathgate George Armstrong, Ron Ellis and Dave Keon.  Eddie Shack was on the bench, but did not see any ice time, while Don McKenney played only one shift.  Defenceman Tim Horton played the game on right wing and was the best of the Leaf skaters.
The Leafs also announced that Ron Ellis, suffering from a mild concussion, will be out of the lineup for another two or three weeks.
Ullman clutch for Wings
Norm Ullman scored his 19th goal of the season with only 18 seconds left in the game to propel the Red Wings past the Canadiens in a thriller in  Montreal.  The goal came on a close-in play that was set up by Floyd Smith and Marcel Pronovost.  The veteran Detroit centre also added two assists for a three-point night.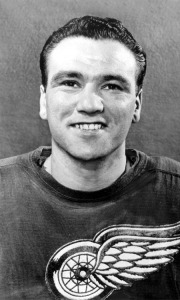 Other Detroit goal-getters were Ron Murphy, with two, along with along with Alex Delvecchio and Bruce MacGregor.  Ralph Backstrom fired a pair to pace the Habs.  Henri Richard and Claude Provost added the others.
Ted Lindsay was a surprise starter for the Red Wings.  Lindsay had been suspended prior to the game by NHL president Clarence Campbell for disparaging remarks he made against Campbell and the league's officiating staff.  The suspension was apparently lifted only moments before he stepped onto the ice for warm-ups.  More on this later in this article.
Goyette leads Rangers
In New York, Phil Goyette's two goals led the Rangers to their win over the Bruins.  He also added an assist for a three-point performance, setting up a Rod Gilbert goal.  Other Ranger marksmen were Lou Angotti and Don Marshall.  Tommy Williams and Johnny Bucyk replied for Boston.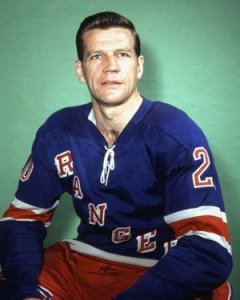 Lindsay suspended for 95 minutes
Tempestuous Ted Lindsay, whose comeback attempt this season in the National Hockey League has been eventful if nothing else, was suspended indefinitely by NHL president Clarence Campbell yesterday.  Indefinite in this case, however, meant just a little more than an hour-and-a-half.
Campbell announced the suspension yesterday after Lindsay refused to issue an apology acceptable to the NHL prexy.  Campbell then revoked the suspension 95 minutes later when Lindsay agreed to sign a letter of apology that was dictated by Campbell.  The letter was typed by Campbell's secretary and delivered to the Detroit dressing room at the Forum in Montreal.  Lindsay had to sign the letter and also provide a $75 personal check in order to suit up for the Red Wings.
Campbell was present at the Forum when all this took place, but the actual delivery of the letter was made by NHL publicity director Ron Andrews.
Campbell had spelled out to Lindsay by way of a telegram the conditions the player had to meet to be able to return to playing:
Retraction of the challenge to the league's disciplinary powers.
Acknowledgment of the authority of the disciplinary provisions of the league's by-laws and playing rules.
Acknowledgement of the integrity of the president in their enforcement.
Apology for the embarrassment caused.
Delivery of a personal cheque for $75 to cover the automatic fines.
For his part, Lindsay said he would sign the letter, but that he was doing so "under protest."
Pollock offers "help" to Bruins
Sam Pollock, general manager of the Montreal Canadiens, says he has made a trade proposal to the Boston Bruins that would help them escape the cellar in which they dwell in the NHL standings.  Pollock said he wasn't going to make any details of the offer public until he hears back from the Bruins' management.
The Bruins are apparently using former Montreal left winger Ab McDonald as bait in any transaction.  McDonald was acquired by Boston in a trade last summer with Chicago.  He has been a huge disappointment for the Bruins.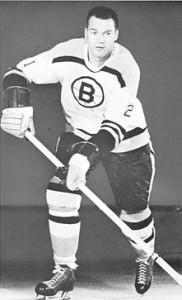 Pollock alluded to the Canadiens' interest in McDonald: "I'd like to deal with Boston if I can be sure to block any help they could give to Toronto.   We'll just have to wait and see."
Toronto manager Punch Imlach got into the act when told of Pollock's statement.  "Last time he helped the Bruins they got Wayne Connelly, Billy Carter and Cliff Pennington.  A lot of help that was."
Imlach elaborated, "I'm interested in any good player.  But the way things are right now, how can I trade a fit player for a guy who's hurt?  I could really fix Pollock.  I can have McDonald tomorrow if I say the right word."
McDonald is presently out of the Boston lineup with a groin injury, hence Imlach's reluctance to engage in a deal right now.
It is thought that Imlach could have McDonald from Boston if he would surrender forward and Toronto crowd favourite Eddie Shack.  Boston owner Weston Adams offered the Leafs $50,00 for Shack last season, and now it's believed he has offered McDonald.
Rangers checking out Czech star
Vaclav Nedomansky, a 21-year-old mainstay for the Czechoslovakian national team, has been placed on the New York Rangers' negotiation list.  Dennis Ball, the Rangers Western Canada director of player personnel said that the Rangers made the move after watching the Czech star during his team's recent exhibition tour.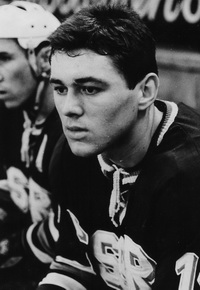 "I'll tell you, this guy really impressed me. He first caught my eye during their Saturday afternoon workout.  I kept my eye on him all Sunday afternoon. His goal came on a major league shot."
Once a player is placed on a teams negotiation list, that club has exclusive rights to the player's services.
Mickey gets the call
The Chicago Black Hawks have recalled forward Larry Mickey, 20, from their St. Louis farm team in the Central Professional Hockey League.  Mickey is in his first professional season and has scored 12 goals and 13 assists for St. Louis.
In other player news, the Rangers have promoted winger Ted Taylor to the NHL club from Baltimore of the AHL.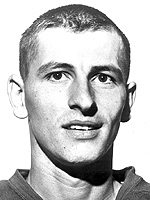 The Bruins have announced that left winger Dean Prentice, who was their leading scorer when he was injured, will be lost for the remainder of the season with a back injury.  Niagara Falls junior star Bill Goldsworthy was brought in as a replacement for last night's game with the Rangers.
Ten points for Hodge
St. Catharines Black Hawks, winless in eight games, broke the string in a big way last night by bombing the Kitchener Rangers 14-7.  Right Winger Kenny Hodge, one of Chicago's brightest prospect gave perhaps a glimpse of what the future holds with an astounding 10-point performance.
Hodge fired five goals and added a like number of assists in a dominating performance.
CPHL Stats: Simmons top goaler
Former Toronto Maple Leaf goaltender Don Simmons, who has played all 33 games for the Tulsa Oilers, Toronto'f CPHL farm team, is the loop's leading goaltender according to a league release.  Simmons has a 3.24 goals-against mark.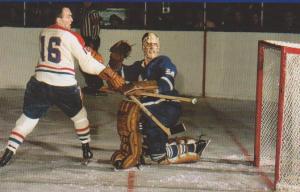 Marc Dufour of St. Paul is the leading scorer with 21 goals and 20 assists, two ahead of Tulsa's Tom McCarthy.
Retired police detective, involved in hockey at all levels for over 50 years. Member of Society for International Hockey Research and presently a video analyst for the leader in advanced hockey analytics (we work exclusively for 2 NHL clubs, and provide advice on an ad hoc basis to many other clients). Currently the Assistant General Manager for the Pelham Pirates of the Greater Ontario Junior Hockey League. Previously owned the Faceoff computer hockey simulation and also provided all player ratings for the EA Sports series of NHL computer games from the late 90's into the mid 2000's.